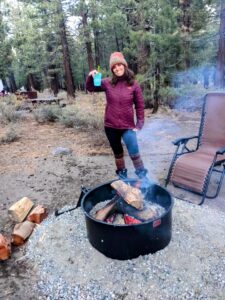 No one expects to go on vacation and face the thought of being evacuated in the middle of the night. Camping vacations are for good times; Making smores around the campfire under the stars of the Milky Way, hiking sixteen miles a day through pine forests and swimming in alpine lakes. When you are faced with the thought of evacuating in the middle of the night it can take your camper's vacation from fun to stressful in just a few late-night minutes. If you were to get evacuated at midnight on your camping trip does your family have a wildfire evacuation plan in place?
Our family likes to holiday in the eastern Sierras every July. We pack the motorhome with a month's worth of steaks from Costco, Bitchin Sauce from Whole Foods and margarita mix from Trader Joe's. We attach our tow car and cruise up the 395 towards Mammoth Lakes and all that the outdoor recreation the eastern Sierras has to offer.
Every July we make Inyo and Mono Counties our outdoor wonderland home away from home. This summer we decided to drive one hundred and forty miles further and explore Lake Tahoe. Then, I fell head over heels in love with Lake Tahoe. It's breaking my heart just a bit this week to watch the Caldor Fire as it inches closer to south Lake Tahoe and residents prepare to evacuate. I'm praying every day for the wilderness of the El Dorado National Forest and for the firefighters to get a handle on this, at this hour, 143,000-acre wildfire. My heart breaks as I watch firefighters putting out flames right beside the Echo Lake Lodge and I pray the firefighters can save the cabins along the lakeshore.
Any time you adventure in the wilderness of California you run the risk of being on vacation during wildfire season. Wildfire season used to be in the autumn and now it's pretty much year-round for us Californians. Stupid drought. This is life in the southland in 2021. It feels more and more like a Stephen King novel every day.
Ten years ago planning a camping trip was as easy as loading the tent and the camp stove in the bed of my Subaru Baja. Here in 2021, our idea of camping involves packing up our 34-foot Fleetwood motorhome and driving a month's worth of essentials to the eastern Sierras. And yes, we have a wildfire evacuation plan because we live in a different world these days where mother nature is ready to throw all kinds of global disasters our way.
That being said, of all the outdoor adventures we have ever had, we have never been on an evacuation warning ten minutes after checking into camp. As we hooked up our RV to sewage and electricity, we barely even had the propane grill set up as the wildfire smoke from the nearby Tamarack Fire became denser and denser. By the time we set up camp and were preparing those Costco steaks on the propane stove outside our RV a camp host rode over on a bike to tell us to put out our propane stove immediately. As of ten minutes ago, even propane stoves were not allowed. This was a new burn bane waning that the forest service had just handed down to the Lake Tahoe area. Literally, we were told an hour earlier when we checked in to the campsite that propane stoves were fine.
What was with this trip to the eastern Sierras and the multiple campsites not communicating with campers when there were burn banes or no campfires allowed? I really don't understand why the existing burn bane in place, was not communicated through email clearly. The burn bane on campfires was made weeks ago but none of the campsites we stayed at in July communicated this to us until after we checked in. I think the burn bane is a great idea because the forest service doesn't need any more issues this disastrous fire season. And let's face it, some campers make crazy big ass fires. I just don't understand how hard it would be to send an email to campers in advance to communicate all this. Our family brings so many supplies from home when we go out for a month of vacation on the road. It would have been way less weight for us to carry in our rig and way less packing in advance if we had been told in advance fires were not allowed.
Here in southern California, mountain resort town residents are the ones who were used to being evacuated during wildfires. We got used to packing up our animals, wrangling the cats and throwing angry hissing felines in pet carriers and getting the hell out of Dodge ahead of forest fires. It;'s something that is second nature for us at home but not a situation we planned to run into on vacation.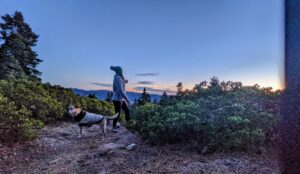 In these crazy times of 2021, you see on the news beach resorts in Turkey being evicted, tourists running for their lives in the middle of the night ahead of the flames. It's just an insane and devasting world we live in these days. Are we going to be telling our grandkids "I remember when we had pine forests and they hadn't all burned to the ground between the years 2017 and 2025?
These wildfires we have every summer these days are heartbreaking for the environment and these rural mountain towns. If you happen to be one of those smelly campers making your way to alpine towns like Big Bear Lake, Lake Tahoe or Mammoth Lakes this spring just what should you know about how to safely evacuate ahead of time?
Have a wildfire evacuation plan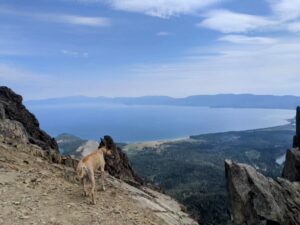 I usually spend more time planning our menu for our month-long summer trip to Mammoth Lakes every year than I would to planning out an evacuation route in case of wildfires. But this is the year 2022 and you need to be ready for anything. Plague! Floods! Firestorms! Before you plan your first hike near June Lake, it's a good idea to know all the highways in and out of the area you are camping in, in case the terrible happens and your campground is evacuated in the middle of the night. As in don't plan on just going to the nearest big ass lake if evacuated.
While on holiday in Lake Tahoe this summer you actually see signs posted telling people don't go to the big ass lake if they get evacuated. This is obviously a plan in place for a lot of people if the government in Lake Tahoe has to actually print up flyers warning against it.
Everyone hopes and prays that lightning snags and thunderstorms won't start another wildfire but sometimes it happens. Campgrounds are usually way ahead of time to let campers know if there is a chance of an evacuation.
Also smoking a grip of weed while your campground is under an evacuation warning is a bad idea. Perhaps put down that bong, pack up your camp as much as possible as soon as there is a slight fire danger. Be alert and prepared just in case an evacuation happens.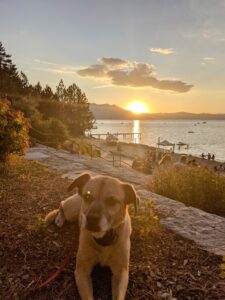 If you are under an evacuation warning put down the bong bro!
Seriously, when the camp host comes around to tell your jolly group of campers that there might be an evacuation due to wildfire, maybe that's a good time to stop partying and think about organizing your camping area in case you get evacuated at 2 a.m.
Wildfires are serious business these days. It hampers firefighters efforts when the ill informed traveler is not prepared to evacuate or insists on taking down their entire campsite at 2a.m. and loading up all their ATV's in the middle of the night in the middle of an evacution emergency. Don't be that person. No one wants the camping vacation fun to end early because of  a wild fire threat but try to be a team player and have a plan ahead of time incase the unthinkable happens. Our first responders are out there in the middle of the night just trying to do their jobs safely. It helps no one when they have dumb-dumbs who are too stoned to drive their fifth wheels and rigs out of the campground or yahoos who refuse to evacuate.