Today I learned the hard way that mule's ears are softer than RV toilet paper and it's always a good idea for a hiker to carry an extra wag bag. Especially if that hiker had spicy Mexican food the night before. As a local expert on edible plants, I usually know just where to find raspberry bushes on our local mountain trails in Big Bear Lake. I know where the wild onions bloom in the springtime. I'm an expert on the best way to harvest a Beavertail cactus prickly pear. And I know exactly which plants to use to wipe my ass in case of a disastrous bathroom emergency.
Last night I accidentally made the spiciest carne asada fries ever. I would like to say that many beers were involved with my decision to add extra Asian chilies but I think I was just tired after trekking up mountain trails all over Lake Tahoe. That must have been why I didn't pay attention to how many Asian chilies I added to the crispy potatoes.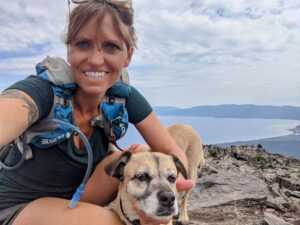 I woke up this a.m. absolutely jazzed to go out and explore a new Lake Tahoe Trail. Oh I was also so very pleased we were still in Lake Tahoe and we didn't have to evacuate in the middle of the night. Because that almost happened two hours after we checked into our campsite.
No one expects to go on vacation and face the thought of being evacuated in the middle of the night. Camping vacations are for good times; Making smores around the campfire under the stars of the Milky Way, hiking sixteen miles a day through pine forests and swimming in alpine lakes. When you are faced with the thought of evacuating in the middle of the night it can take your camper's vacation from fun to stressful in just a few late-night minutes.
Every July Inyo and Mono Counties are our outdoor wonderland home away from home. This summer we decided to drive one hundred and forty miles further and explore Lake Tahoe. Then, I fell head over heels in love with Lake Tahoe.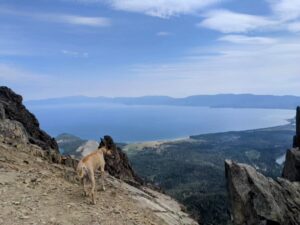 Of all the outdoor adventures we have ever had, we have never been on an evacuation warning ten minutes after checking into camp. As we hooked up our RV to sewage and electricity, we barely even had the propane grill set up as the wildfire smoke from the nearby Tamarack Fire became denser and denser. By the time we set up camp and were preparing those Costco steaks on the propane stove outside our RV a camp host rode over on a bike to tell us to put out our propane stove immediately. As of ten minutes ago, even propane stoves were not allowed. This was a new burn bane waning that the forest service had just handed down to the Lake Tahoe area. Literally, we were told an hour earlier when we checked in to the campsite that propane stoves were fine.
The campers across from us decided to stay up late smoking weed, partying loudly and not pack up their situation whatsoever. We hail from a mountain town in southern California where we have been evacuated many times. Our family is nothing if not prepared when it comes to wildfire season. We had all our campsite essentials put away when we went to bed in case we got evacuated in the middle of the night. All we had to do was pull the motorhome off the jacks and pull our slides in if we got evacuated at midnight and we would be ready to go.
But thankfully the fire bedded down later in the evening and we never got evacuated. That evening as the smoke enveloped the Tahoe Basin it was an incredibly stressful first evening in Lake Tahoe. We had just hours earlier motored up the 395 from Mammoth in our 34 foot RV. The drive up the Kingsbury Grade was mega stressful as we crested state route 207 at over 7,000 feet around twenty miles an hour hairpin turns before we descended into the Lake Tahoe region. This was our first real trip to Lake Tahoe and we were so excited for days of alpine hikes, golfing the best resorts in Tahoe and a relaxing vacation in Douglas County. We were so excited for this part of our vacation in South Lake Tahoe and we had been through a stressful drive to even just reach this alpine town, we did not want to just pack back up and leave. So maybe I drowned my stress in a little too much Carne Asada Fries.
The Carne Asada Cleanse
Suffice to say this morning I had the ultimate carne asada cleanse and it just so happened I was already hiking deep into the forest. Far from any toilet. On my guided hikes people are constantly asking me about edible plants you find on the trail. I'm always quick to point out burgundy manzanita berries, gooseberries, wild dandelions, sage and rose hips, not to mention the pine nuts you can pull straight from the cones during the correct season. A very quintessential plant in the Alpine Forest is the mules ear. Mule's ears are more famously known as cowboy toilet paper. Cowboy toilet paper came to my rescue about 2 miles into a 14-mile hike this morning.
And luckily for me, the carne asada cleanse took place at the one place on the trail where I did not happen to pass twenty mountain bikers. This was just my second hike in Lake Tahoe and I had no idea I had chosen a trail that was just crazy busy with BRAP and BMX. Luckily I had the perfect timing, hiding in the bushes in between Cannondale's cycles whipping by me and managed to find a fuzzy bush of perfect mule's ears. I was thanking God for the mule's ears this morning. And praying my trail dog would stay with me through the ordeal and not take off after a random mountain biker. And also wondered why I hadn't thrown any of those leftover wag bags we have in my backpack for nature's emergencies.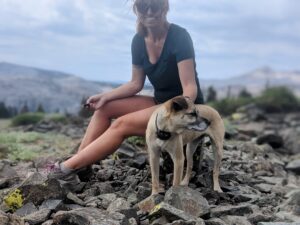 I definitely learned a spicy lesson this morning; Don't OD on hot chilis the evening before a long hike up a mountain in an area that could be chock full of athletic strangers. And always pack an extra wag bag just in case.