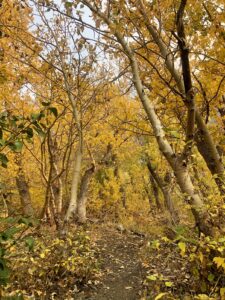 Of all the trails I ever trekked in the eastern Sierras, the trails above high elevation Rock Creek Lake leading to Mosquito Flats were one of the first aspen-lined paths that made me fall in love with these rugged mountains. Even if this was the first place I ever experienced altitude sickness and spent a whole hike trying not to puke. Then I got stung by a bee. Not the happiest all of the hikes I have ever trekked, but the beauty of this place astonished me. (Even as my arm stung and my stomach churned)
Rock Creek Lake is one of the highest elevation lakes you can drive to in California at over 9,600 feet. I've lived most of my life above six thousand feet and was not too worried about altitude sickness. Until that autumn afternoon when I went for a high-altitude trek above Rock Creek Lake. I made it to our goal that day, Mono Pass at just about 12,000 feet but I still don't know how I did it. That is the worst I have ever felt while hiking. As we rested at the pass, I starred up at the granite of Mt Starr at above 12,800 feet in wonder. We had trudged up this, the easiest of eastern Sierras passes to summit and knew I had to come back here as soon as and often as possible.
Sitting on the southern edge of Mono County, the trails above Rock Creek Lake are a great introduction to the nature and solitude of the Mammoth Lakes area. Speaking of the eastern Sierras, JohnMuir said, "Climb the mountains and get their good tidings. Nature's peace will flow into you as sunshine flows into trees. The winds will blow their own freshness into you, and the storms their energy, while cares will drop away from you like the leaves of Autumn." I truly feel at peace, one with nature in this scenic place.
Spring break! Snowshoes?
On the first day of spring, 2022, no I didn't spring break in Cancun or Cabo. Who on earth would want to step on a plane at the tail end of a global pandemic? Instead, I choose to drive to the eastern Sierras and explore the tail end of winter in Mono County. I packed my snowshoes, my zinc and my trekking poles and drove up towards Rock Creek Lake arriving just before ten a.m. after a very early morning road trip up Highway 395 north. On the first trek of this vacation, I parked at the locked gate at the East Fork Campground. It might be the last week in March but it is still winter above 8,000 feet in the eastern Sierra Nevada and that means most higher elevation roads are closed to traffic at the snowline. After four hours on the road, I was ready to stretch my legs and hike!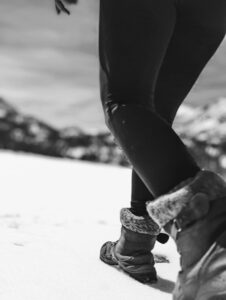 So just where exactly do you go to snowshoe when half of Eastern Sierra's are covered in seven feet of snow? Come with me on a first day of the spring celebration of the snow Eastern Sierras. When planning this trip I found very little current info about what areas had a lot of snow or what roads were actually open. As I arrived at Rock Creek Lake, I had a guess of how I would fill my days on the trails near Mammoth Lakes but no concrete plan at all.
Spring Break at Rock Creek Lake
I started my journey through Eastern Sierras just north of Bishop at the East Fork
Campground. I parked at the locked gate, filled my backpack with snowshoes, cat tracks, a few liters of water and enough snacks to last me half a day. I had no idea what kind of gear I would need for this hike and found no updated information online. At the locked gate the main road was black and dry in most places but I had a feeling I would definitely need snowshoes on this warm forty-six-degree spring day about a mile up the trail. I honestly was also not even sure if I was going to head up towards the Hilton Lakes or towards Mono Pass so I grabbed more than enough supplies just in case. I literally had six hours of daylight to spend in the Rock Creek Lake area, so I planned to make the most of it under the sunny blue skies of the Eastern Sierra's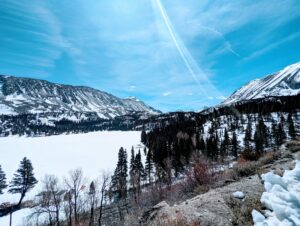 I only passed one or two other hikers going up the trail and neither of them had any idea what the snow was like up ahead. They were very obviously All Trails Hikers and peppered me with so many questions. Look man, I just want to start hiking. They were asking me every newbie question, how far is the lake, what kind of backpack do I have, where didI buy those snowshoes. When they got to how much gear I'm packing I handed them one of my business cards for my website. I entertain beginner hikers for a living as a hiking guide in Big Bear Lake California. I was on vacation. I just wanted to hike for me! I basically stole everyone to look at my blog. Can't live in the business card and a way I went.
This right here is why I write a blog, so that I can hit the trail on my days off and not spend half of my morning explaining everything from post-holing to the best hiking shoes you can buy on Amazon to newbie hikers. After I managed to lose the newbie hikers I started trekking up the main road and after about three miles up Rock Creek Lake Road hiking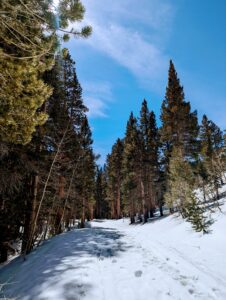 , I was absolutely kicking myself for not bringing my mountain bike on this trip. I literally could have mountain biked up this paved section and cut out six miles of hiking that I did today. The road was that free of snow.
But once I reached the upper gate above the Rock Creek Lake pack station it was two feet of packed down snow. This was where my snowy journey was going to begin. I strapped on my snowshoes, got my hiking poles out and away I went into the Mono Wilderness.
At this point, I hadn't seen another hiker in an hour. It was just me enjoying being underneath the aqua blue skies of the Eastern Sierra. This right here, is how you celebrate the first day of spring.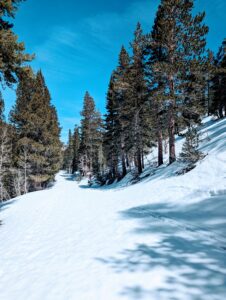 That snow was absolutely perfect for snowshoeing and the grade was not too bad as I followed the sounds of Rock Creek under the snow and continued to up the narrow paved road under two feet of snow towards Mosquito Flats.
Unfortunately, I didn't even make it up to Heart Lake on this first day of spring 2021 because I was planning to meet my friends at the hot springs at 2:30 and by the time I hit my turnaround time I was just barely making it to the Mosquito Flat Trailhead. Which was just unbelievably beautiful under so many feet of snow. Everyone says the Eastern Sierra has a terrible snowpack this year but as far as I can see, there are still feet of snow in the Eastern Sierra from this first day of spring. But you have definitely have to trek into the backcountry to find it. As usual, the most scenic of the backcountry treks are never the easiest to find.
How can you prepare for snow hikes early spring in the eastern Sierras?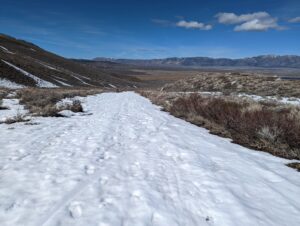 Bring your mountain bike, just in case.
Pack your snowshoes and trekking poles.
Basically, pack all your snow gear for an early spring day in the eastern Sierras.
Always bring chains in case of late-season storms.
If you plan to trek here, absolutely do not walk onto frozen Rock Creek Lake.