Here we are in the backend of the year 2020. There is no end to this pandemic in sight and the holidays right around the corner. Do you even want to sit around sharing turkey with family members who may or may not tell you to rot in hell because you are pro-choice? What if every time you take grandma out in public she yells at someone in a MAGA hat? In this just insane world of 2020 where we have a reality star in the White House and most families can't even hug grandma, you would expect sisters and cousins and aunts and uncles to want to spend time together around the turkey. How can we possibly do that when no one can stop arguing about how important it really is to wear a mask in public?
I don't understand why we can't live in a world where everyone can get along and not be dicks to each other over their political ways of thinking. I mean we are blessed to be protected by first amendment rights in this country and yes that freedom of speech gives you the ability to say what you want. But that does not mean you have to be a dick and insult your family members because you are not all voting for Joe Biden and socialism. Here come the holiday's folks. Let's at least try to all get along.
Happy Holidays?
Family members might be barely speaking as this holiday season fast approaches but you know what can still unite us as a country? Sports ball. Yes, that's right, those fancy men in their tight white uniforms can make us forget our dislike of whatever politician for just one week a year before we delve into election season and grandma bitch slaps someone with a Trump bumper sticker on their car. (Okay that someone could be her granddaughter. (Me) Perhaps she thought she would knock some sense into me.

I saw this phenomenon for myself last night on our friends and dogs RV camping trip. Now on this particular night of the trip as we arrived at the Mammoth Mountain RV Park. It took us a bit longer than normal to set up camp as our friends we were on h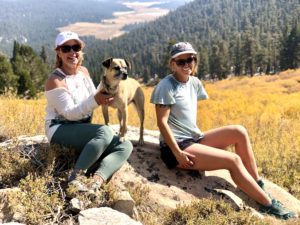 oliday with had just purchased their brand new RV. They were just learning how to work all the different high tech RV gadgets. Our personal rig might be twenty years old but my boyfriend was all over the situation offering tech support on everything from how to level their new rig correctly to how to set up the awesome outdoor t.v. to our cable account. That is the great thing about Mammoth Mountain RV Park; Full hookups meant we had electricity to play the sports ball game all evening if we wanted to! (Did we? Did we really?)
It did take us longer than expected to get camp set up and part of that could have been because we had a long day of fun prior to setting up camp. The girls went on an eight-mile hike to Five Thousand Dollar Pass and the guys golfed in nearby Lone Pine. Then we caravanned the two hours north to smoky Mammoth Lakes. So we may have been a little tired by the time camp setup happened. But that didn't really explain why every other smelly camper in our campsite stopped to stare at us as they wandered by.
Is that a coyote? In a sweater?
I was starting to think this was getting to be quite strange when I realized finally that it was because we had the baseball playoff game on our outdoor t.v. And all ou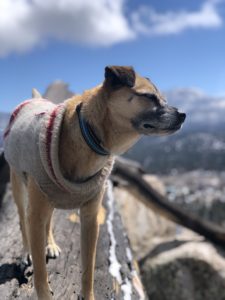 r neighbors were wandering through to check the score! I honestly thought they were just admiring this majestic dog in a sweater. I was waiting for someone to ask me if she was a coyote. Again. As the sun started to set on our first official day of adventure in the eastern Sierras I invited multiple camp neighbors to move their camp chairs closer ( as long as they stayed six feet away of course) and enjoy watching the game on our outdoor screen.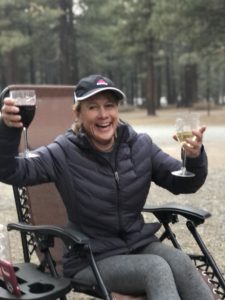 I'm not a sports ball fan myself so I enjoyed watching some Bambi's eating the bushes next to our camp while the other campers had no idea that the deer were having a snack right next to them. They were too busy watching men in tight white pants galavanting after a tiny ball. It was a lovely if yet smoky sunset for the Bambi's and me.
It was a pretty cool thing to see our multiple camp neighbors all huddled under blankets, political beliefs set aside for a few hours all enjoying America's national pastime. That was however two nights before we also watched the debate while camping outside. As you can clearly see here, my democrat friend Donna needed a glass of wine in each hand to get through watching this debate with us. 
But that's the thing about our group of friends; We all have differing opinions and yet we can sit around on a camping trip, set our political beliefs aside for one evening and enjoy a night of conversations. I really hope as the holidays approach families can enjoy Thanksgiving together and forget about who may or may not be president for just one late autumn evening.  And if they can't, maybe they need a glass of wine in each hand as Donna clearly shows us while enjoying the debate with us!