Should I really be wearing a bathing suit after five days of vacation inhaling every deep-fried food I could find in the south? Well, it's hard to help yourself from dunking in that gorgeous lake over yonder when it's nearing one hundred degrees outside with seventy, yes seventy percent humidity. Spending five days inside this wet mouth of a state, although stunning, had me missing the dry heat of southern California. Where I'm from in the alpine mountains of Big Bear Lake, California when we get humidity it's like forty-two percent.  I don't think my hair has dried in three days. I'm tired of literally wringing the sweat out of my bra. At this point, I don't know why Dolly Parton loves it here.
Welcome to Tennessee, y'all!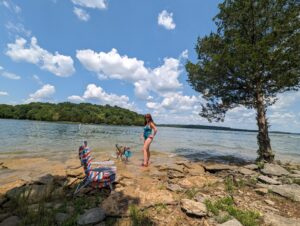 Sure I'd love a cold cut sandwich on a hot and humid Tennessee summer day. But do you have any idea how many carbs I've ingested while traveling across Tennessee? How can you visit this state and not enjoy Deep Fried Banana Peppers? Or Deep-Fried Pickles or Deep-Fried Gator? Shoving Deep-Fried Pickles at my face helps me forget how humid it is outdoors. Maybe I've just ingested way too many deep-fried goodies the last few weeks but I could totally go for a Beet Salad with Goat Cheese or a Mango Curried Chicken Salad or actually any of my favorite salads I whip up at home in my southern California kitchen. That would be over three thousand miles away from all the boob sweat in western Tennessee.
Here we are camping in our motorhome, so blessed that our air conditioning is working thanks to my amazing boyfriend and all his electrical knowledge. Traveling across the United States in a twenty-three-year-old motorhome is not for the faint of heart. Or anyone who does not know their way around electrical whatnots. See how I threw out the technical phrase electrical whatnots? I'm definitely not the one in the motorhome with the electrical engineering degree. You don't see a lot of other road-weary travelers driving seven thousand miles across the United States and Canada this summer in a twenty-three-year-old motorhome. That could be because it is seriously not for the faint of heart, the unprepared or those who are not up for adventure.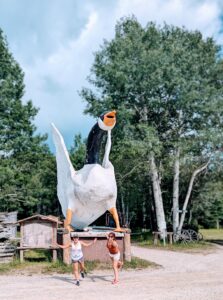 At every RV park we stayed in on the east coast and in Canada we didn't see any other travelers from even two states away. As our wanderlust took us up, up and around Lake Superior, why yes we ran into one other group of campers with a California license plate near Wawa, Ontario. But they were in a brand new Mercedes Sprinter van. I don't see them trying to fix the leaking roof during an insane upstate New York hail storm.  Or wondering if the original shocks in the motorhome would survive those just God-awful Minnesota highways.
I may not be the mechanic on this holiday, I am however the queen of the salad. I'm not up to changing a sixty-pound motorhome tire but I look really cute in a romper handing my boyfriend tools. I also am the one who stocked the entire kitchen with every Indian spice you could imagine, even ground cardamom for our coffee.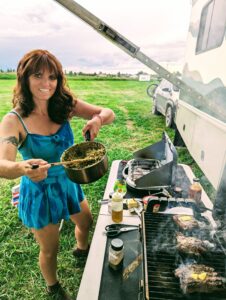 One thing about vacation. I have not been eating enough salad. One thing I stocked our motorhome kitchen with back in California was my girlfriend Kirstin's amazing Orange Cholula Salad Dressing. And then I ran out of Orange Cholula Salad Dressing in the middle of Tennessee. We were three thousand miles from home and all those ethnic ingredients I stocked up on months ago. So I improvised and used Korean Gochujang sauce took this Orange Salad Dressing to a whole new level.
There are all kinds of variations of this easy summertime salad. You can really use any leftover cold cuts you have in the fridge. You can also use any extra shredded cheese. I prefer this with Swiss or an aged cheddar.
Pickled Pepper and Cold Cuts Keto Salad
Sliced ham, chopped up (Or your favorite cold cuts)
Swiss cheese, shredded
Sliced pickles, chopped  (I highly suggest Famous Dave's Devil's Spit Pickles)
Pickled Jalapenos (Trader Joe's has the best!)
Pickled red onions (If you are at Costco in Little Rock they sell them or here's how to make them easily)
Shredded romaine lettuce
1 avocado, sliced into pieces and salted
Gochujang Orange Aioli Dressing
1/2 cup mayonnaise
1 teaspoon aioli
1/4 teaspoon turmeric
1/4 teaspoon pepper
1/4 teaspoon salt
1 teaspoon sweet chili sauce
1 teaspoon grated fresh ginger
Whisk up all the dressing ingredients and then drizzle over your salad with all the chopped what-nots.