Yesterday I almost died on the trail. Now if its my time to go than I guess I would want to die doing something I love, but really, I'm very glad yesterday was not the day.  Last year 24,00 people were killed by lightning strikes. The only thing that saved me from being part of that statistic was prayer. I couldn't decide which way was safer to get back to the car during an absolutely terrifying lightning storm and through the power of prayer I chose correctly. When I heard lightning destroy a tree on the trail through the forest just seconds later and I was taking the road, the longer way back to my car, I knew I was damn lucky. I was soaking wet, shivering and terrified as I heard shards of the tree the lightning had struck exploding into the sky around me.
The safest place to be during a lightning storm is indoors. With some unprocessed foods. Like an Almond Butter Smoothie
Some people don't understand why I eat so very healthy and live this athletic life style. Honestly some of my friends look at me like I'm crazy when I tell them how I ran up a mountain a few months back or how I hike fifteen miles in a day just for the hell of it. Or how I just out ran a lightning storm.The thing is I want to live to be one hundred. Sure In and Out might tempt me some days (I mean it tempts all of us Californians!) but you can't give into In and Out and the dangers of soy and hydrogenated oils and cane sugar and corn syrup and all those lovely processed foods full of GMO's. ( Yes, I gave in and ate some Pringles the other day, but I'm only human)
I look at my friends who smoke cigarettes and eat fast food daily and I pray for them that their hearts and lungs are strong enough to keep them going for another sixty years but the sad thing is I know I will not be friends with these people when we are in our seventies and eighties.
Because they will probably be dead.
It makes me sad to think that, but it's the honest to God truth.
That's why I stay away from soy. It's hard, really hard to avoid this Roundup drenched crop. I'm already at a high risk for Breast Cancer for hereditary reasons and keeping away from soy is a great way to keep my chances as low as I can. I've already had four benign tumors removed from my breasts (And that was back in the day when I used to drink soy milk) and I don't want to go through that again any time soon. Cashew milk and almond milk are a great substitute for soy milk and wont give you Alzheimer's years down the road.
Trader Joe's years ago had a pre-made banana smoothie that I loved! I think it had soy in it but that was back in the day when I was not as healthy as I am now. I was at Stater Brothers the other day and I gave in and bought a smoothie with soy. It sounded similar to the smoothie I used to buy years ago, and I never, ever eat soy so I figured it wouldn't kill me. It was Odawalla Brand and it seems like their products are pretty healthy, I mean even Whole Foods carries their smoothies!
Here is the "nutritional" information on the label.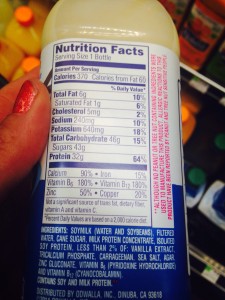 See how sugar is the third ingredient?
This smoothie was not even good at all. It tasted like a chalky protein drink. I took it with me in the car as I was running out the door and it was all I had for breakfast so I still drank half of it.
Now this amazing Cashew Almond Milk is what I really should have had for breakfast.
You can do variations of this tasty milk and make it more smoothie like by adding coconut, raspberries, dark chocolate chunks or a banana.
Cashew Almond Smoothie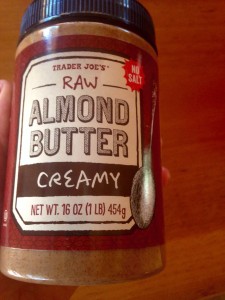 1 cup cashews
3 cups water
4 dates
1 teaspoon organic vanilla extract
1/2 a  cinnamon stick
1/4 cup almond butter
Cut the dates into bite size pieces.
In a gallon size container add water, the cashews and the dates. Let sit on the counter 4-6 hours. Put in the fridge over night.
in a nutri bullet or food processor blend up the cinnamon stick.
The next morning, in a blender or nutri bullet, combine the water, cashews, dates, cinnamon, vanilla and almond butter.
Love this healthy recipe? Don't forget to pin it!