As a travel writer and outdoor adventurer, I have news for you, Pete, there are so many more incredible outdoor adventures to be had outside of our national park system here in California. Don't get me wrong, Yosemite National Park has the awe-inspiring Tuolumne Meadows full of more mule deer than you will see grazing anywhere else in California. It also has incredible traffic, arrogate Tesla drivers throwing cigarettes out the windows and electric Rivian trucks parked in the middle of the Tioga Road to get a photo of all the bambis at the hike for Cathedral Peak Then there is Half Dome, the most crowded beautiful rock in California. You too can join the three hundred other tourists each day on these famous cables if you apply for a permit in March and pray you win the crowded Half Dome lottery, yea, in advance. In 2017 you had a 17% chance of snagging a Half Dome permit through their lottery system. This is for a hard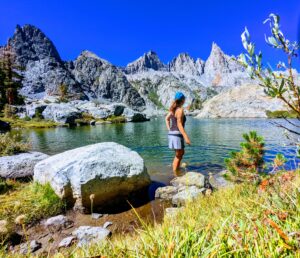 -to-get permit for a hike most trekkers train six months for! So what if you don't get the lottery for that Half Dome permit? It could easily happen with the popularity of national park travel here in 2022. As a lifelong Californian, let me tell you, hiking Yosemite National Park is not as scenic as so many travelers make it out to be when you add in traffic, tourists and trash.
Every year three point three million tourists head to Yosemite National Park. On a summer morning, you can wait up to four hours just to enter the park from Tioga Pass! I don't have time for that kind of queue on my holiday when I should be out in the wilderness hiking.
Thousand Island Lake to Garnet Lake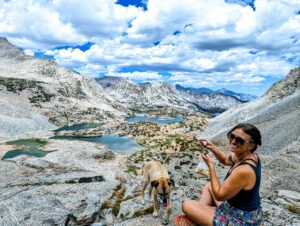 What other awe-inspiring nearby hike should you do instead of hiking Yosemite National Park? Well, there is no big ass four thousand foot rock to scale but the twenty-mile Thousand Island Lake hike is one of my absolute favorite in all of the eastern Sierras. I don't know how on earth Half Dome with hundreds of strangers side by side with you taking selfies could possibly compare. Yes, this trail might be named for Americans' favorite salad dressing but I spent eight hours on the Thousand Island/ Garnet Lake Trail loop this past week and the beauty was just awe-inspiring. You can not find this kind of alpine beauty and tranquility in any of our national parks that I know of. You can get camping neighbors blaring Kanye and leaving their coolers out for the bears at any of our national parks. If you are looking for the true serenity the eastern Sierras have to offer, drive up Highway 395 north and go for a hike off the beaten path.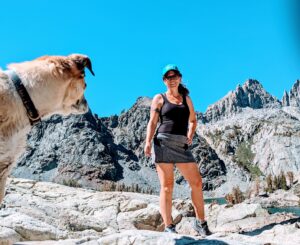 Step off the beaten path and don't go hiking at Yosemite National Park
Don't get me wrong, some people dream of summiting Half Dome but it's the Disneyland of outdoor adventures. Expect long lines, bumper-to-bumper tourists and someone in a MAGA hat will probably photo bomb your perfect family Christmas card op. Now, who really wants that?
Someone yelled at me in a Facebook group recently for dissing hiking Yosemite National Park because it's a "national treasure" There may be some pretty areas in Yosemite National Park I am not denying that but the raw beauty is just spoiled for me by the long lines of traffic and tourists blasting Justin Beiber out the windows of their Teslas. Every  Volkswagon Passat driver throwing monster energy cans out of their windows into the nature just makes me think this is not a zen place to enjoy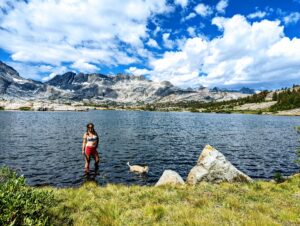 the wilderness. I go to these meadows and these alpine streams to get away from humanity. I don't want to be
shoulder to shoulder with other day hikers on a trail just like when you hike in Los Angeles. That is not relaxing in nature to me, folks.
Are you planning a trip to California this year to enjoy Sequoia National Park or Yosemite National Park? There are other options that are way more kumbaya. You can find all that zen you are seeking in the eastern Sierras, you just have to get out of your comfort zone and off the beaten path. Let's start just south of Mammoth Lakes.
The forgotten Cottonwoods Lakes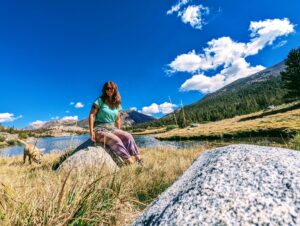 The Cottonwood Lakes are a hidden wonder with this trailhead starting at over 11,200 feet. The Cottonwood Lakes are one of my favorite easy longer-day hikes. Over the summer I trekked up to Long Lake from the Cottonwood Lakes trailhead. This trail is one of my favorite hidden adventures just two hours north of Los, Angeles. From my home in southern California in Big Bear Lake, I can be at the trailhead at Horseshoe Meadows in just over three hours, and hiking under the two thousand-year-old ancie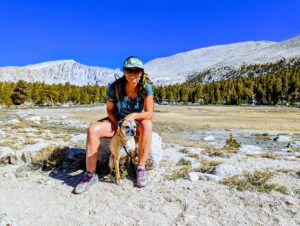 nt foxtail firs soon after that. The hike back to the Cottonwood Lakes is very easy for a high sierra trek. I like to take the least travel South Fork Lakes route. Last time we did this trek in mid-July we didn't even pass another hiker until we reached South Fork Lakes five miles into the hike. Now doesn't that sound more zen than any hiking Yosemite National Park? I have seen the elusive big-horned sheep on this hike as well as more marmots than people most times I trek here. When I was here hiking in late May I was blessed to hang out at Cirque Lake for a half hour with three bald eagles as they fished for golden trout in these Cottonwood Lakes.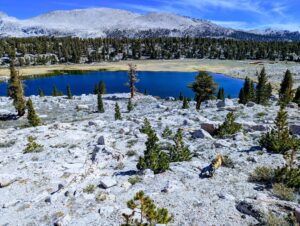 So many travelers to Southern California love to experience hikes with views of Half Dome, or trek to Yosemite Falls for hiking Yosemite National Park. As for me, I'm just not a fan of hiking shoulder to shoulder with other vacationers. Especially in the time of a global pandemic. I'm definitely the kind of outdoor adventurer who likes the more secluded off the beaten path trails.
Adventure's near Red's Meadow Resort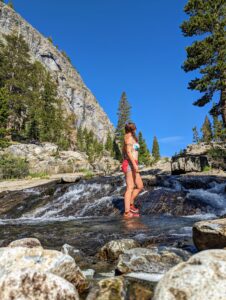 On my recent outdoor adventure vacation to the grand eastern Sierras, I was so lucky to go the weekend before Labor Day. As luck would have it, there was absolutely nobody on the trails of Red's Meadow. Red's Meadow can be one of the crazy touristy areas of the Mammoth Lakes area. I learned that heading to Mammoth Lakes right before Labor Day weekend was a great way to avoid the hordes of tourists and vacationers. No matter where you holiday in California, if you know which hikes to do, you can avoid a lot of the tourists at the Uber popular destinations such as Devils Postpile or Rainbow Falls. Both of these trendy destinations are so popular with the Instagram set and anybody who wants a selfie by a giant waterfall.
But did you know if you do the amazing hike to either Thousand Island Lake along the River Trail or the northern Pacific Crest Trail or you go for a half-day trek up to Minaret Lake you will see just amazing waterfalls along the San Joaquin River. There are multiple spots on both of these hikes where I always stop and go for a swim, especially when I'm hiking back to my car midway through a twenty-mile hike.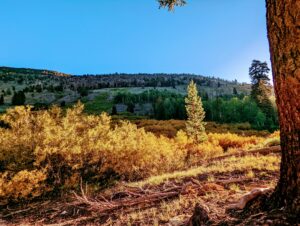 On this last Eastern Sierras voyage, I tried taking the Pacific Crest Trail north to Thousand Islands Lake and found this was the easiest route of any way I've ever gone to Thousand Island Lake so far. It made me wonder as I trekked along this scenic trail, just me, some marmots, a pair of bonded grouse and one stupid trail dog, why is hiking Yosemite National Park so popular. These deserted trails are so much more epically scenic.
Not only that, I'm pretty sure the fall colors here in two weeks are going to be just outstanding. The fall colors above 10,000 feet were already starting to change when I was here and it was still late August! Thousand Island Lake has to be one of the most beautiful of all of the lakes in the eastern Sierras I have visited. Saying that it's not easy to get there. When I do this twenty-mile round trip hike I'm usually the only day hiker that I see. This is such a popular route for a backpacking destination, but most people choose not to day hike this. I love how that makes it such a challenge.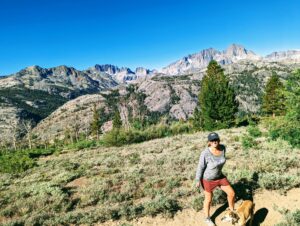 The trek up the PCT  to Thousand Island Lake took me all along the ridgeline and the views were just outstanding looking out over that eastern Sierras. Not only that, my trail dog and I were lucky enough to come across a pair of bonded grouse. Grouse are unbelievably rare and they usually travel as a couple. You also always find them in the same area year after year. On this Thousand Island Lake trek, we were lucky enough to see multiple deer, a few marmots and those elusive grouse. Of all the hikes I've ever done in Yosemite National Park we really have not seen that many wild animals because the trails are so populated with vacationers.
Hidden Minaret Lake
On my third day of this outdoor adventurer vacation, my trail dog and I checked out Minaret Lake which is in my opinion also, one of the most beautiful lakes in the high Sierras. Minaret Lake is a slog uphill of about eight miles to reach the most beautiful aspen lake you might have ever seen. Minaret Lake is hugged by the Mammoth Minarets.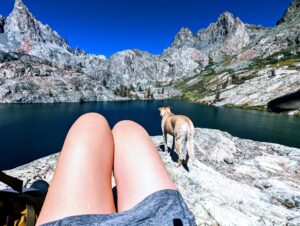 After you make this trek up the final switchbacks at 9,800 feet the view of the Minarets is just outstanding when you finally go up that last batch of switchbacks and reach this pristine alpine lake. I don't know of any hike within Yosemite National Park that you can see a lake this beautiful. When I tried to trek Minaret Lake on one of the last days in August, it might have still been summertime, but on the trek up I only ran into two other hikers the entire time. That's the kind of blissful outdoor adventure I am looking for. That is why hiking Yosemite National Park with all those influencers with Iphones is not for me.
Adventures up the Sonora Pass; Leavitt Lake and beyond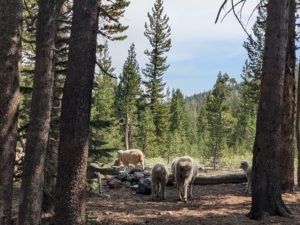 Most travelers to the Eastern Sierras have not even heard of the Sonora Pass. The hikes up the Sonora Pass are breathtakingly beautiful high altitude and you are lucky to see more sheep being grazed than you are other hikers on these forgotten trails. One of my favorite trails back here is Leavitt Lake. If you have a fancy Jeep you could actually just four-wheel it up the dirt road to the lake. This entire hike does go up a very not very well-known dirt road,
This alpine lake is known for its awesome fishing including golden trout that have been spotted here. I always try to do this hike right around the time the fall colors are changing and this is just an absolutely beautiful autumn hike. And it's made much more unique when you see 300 sheep being grazed in the chaparral. This really does not seem like a hike you would come across in California.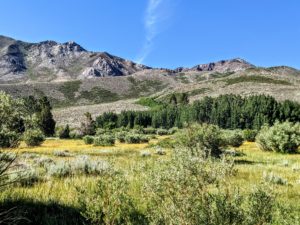 The trek to get to Leavitt Lake is only 7.8 miles round trip and makes it one of the easier hikes that I like to do in the eastern Sierras. This trek is really beautiful in the autumn months as well.
On this outdoor adventure to the Eastern Sierras, I was lucky enough to snag a campsite at Obsidian Campground among the aspens and pines, which is just at the base of the Sonora Pass. This is a great hidden campground that is not crowded whatsoever. It is first come first serve so you have to take your chances of snagging a spot. But if it's not a busy summertime weekend you can usually easily get a spot here. The campsite is hardly ever full during the week and this is a great base camp to get to hikes like the PCT at the very top of Sonora Pass. The hike to Emma Lake which is only two miles roundtrip starts walking distance from this campground and is a really nice after-dinner hike.
As an eastern Sierras high country trekker, it took me over ten years of adventuring to make it to the scenic Sonora Pass. Wow. What the hell took me so long? Last early September I had a sheep-filled adventures on these trails that lead to Leavitt Lake. After that experience, I knew I had to come back for some adventures hiking Sonora Pass. These hikes up the Sonora Pass are so much better than hiking Yosemite National Park. l traversed the flank of Leavitt Peak (11,569′), the highest mountain in the vicinity,  and marvelled at how this area is so not crowded. You can truly enjoy the zen of nature. Another option nearby is the scenic trek through Leavitt Meadows to Millie Lake and Roosevelt Lake. That one is about eleven miles of deserted wilderness trails the opposite of hiking Yosemite National Park.
Hiking south on the Pacific Crest Trail from the Sonora Pass is another great outside of the national park adventure with great beauty to be found. This rugged trek traverses the flank of Leavitt Peak (11,569′), the highest mountain in the vicinity, as you follow the crest and have views looking down on Leavitt Lake. You could hike out just three miles here, checking out the fields of wildflowers, mules ears and lupine here in early June or trek this all the way to the Mexican border.
Where the hell is Kennedy Meadows?
Kennedy Meadows is the hidden part of Sequoia National Park that tourists never see. The hiking and camping is magical here in the early spring. It does get a bit warm here by June. My favorite time to adventure and dispersed camp near Kennedy Meadows is late March when there is still snow on the trails or early May before it gets too hot and snaky here. There are campgrounds at Kennedy Meadows but just an FYI, they are first come first serve. Honestly, the campgrounds are not the prettiest areas and I prefer to dispersed camp near the creek instead.
The drive up from Pearsonville up Nine Mile Canyon Road through Kennedy Meadows is just stunning. I've never driven this over the pass up to Sherman Pass Road and the info about this area is very hard to find online. It seems like the info I can find online says you can take the road all the way across the Sierras to Sequoia National Park to the Kern Plateau and Johnsondale (in Tulare County) but you do need a four-wheel drive vehicle as it does turn into a rugged dirt road many miles up.  The views at the top of the pass above two thousand feet offer stunning views of the Sierra Crest and Mt Whitney. This is such a scenic area of the eastern Sierras that most tourists never see. Cell phone reception is hard to come by, there is no gas for so many miles and no provisions. If you plan to drive this route, make sure you have a spare tire, extra water and snacks for a day truly out in nature of California.
Fishing at the Lamarack Lakes
The Lamarack Lakes are the most pristine fishing lakes you have never heard of just outside of Bishop, Califonia. But first you have to trek up a big ass mountain. The most secretive of the California honey holes are the successful fisherman's secret for a reason. Like hiking three and a half miles straight uphill in the hot summer sunshine. This is the kind of wilderness serenity you would never find among the crowds of tourists in Yosemite National Park.
Avoiding the crowds hiking Yosemite National Park
It's a 2-hour wait on a random Monday to get into Yosemite National Park in late September. I don't have enough podcasts to listen to make me sit in my car on a mountain highway for two hours when I could be out trekking trails like nearby Mount Dana, where there's not a single other hiker today. Mount Dana also sits right above Tioga Lake, which is one of the most pristine beautiful and deserted lakes in the high Sierra. And a great place for a picnic.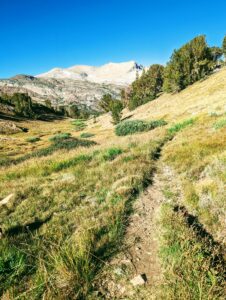 I was inspired by a random travel Facebook group to write this post after I commented on how overrated hiking Yosemite National Park truly is to the California adventurer. Hiking Yosemite National Park is like the Disneyland of hiking. Sure it's the popular thing to do, you can take a selfie with Smoky the Bear and be shoulder to shoulder with other tourists from all over the world and all the trash and pollution they leave behind. Personally, I'm an off-the-beaten-path kind of traveler who likes to ignore the hordes of vacationers when my wanderlust carries me out into the wilderness.
It's truly amazing how so many travelers to California are dying to check out Yosemite National Park. The eastern Sierras are full of rugged mountains, vast wilderness, and colorful aspen trees in the autumn months; and that is all off-the-beaten path places you can adventure and hike! This autumn step off the beaten path and into the serenity of Inyo County and Mono County trails. Ignore the crowded hiking in Yosemite National Park. You can thank me later.