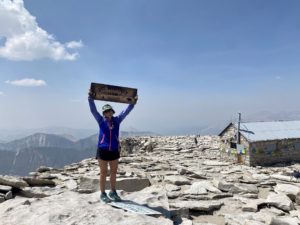 I will be the first to admit, I climb 14,000 mountain peaks so I can consume delicious fried foods, or the foods formally known as fried foods because now I own an air fryer! Turning forty years old obviously means trying to maintain somewhat of an athletic body. ( Even if we are in the midst of a stressful global pandemic) Eating healthy is hard to do when buffalo fried chicken sometimes calls my name. I am so excited about all the kitchen shenanigans to come soon with our new kitchen toy!
Happy birthday to me!
The last week in August I struggled to the top of the highest mountain peak in southern California to celebrate my 40th birthday. Before and after the thirteen-hour hike my friends and family showered me in gifts. I was given more bottles of wine than I can count and something I had been dreaming about for six months now; My own high-quality air fryer! During the days of COVID-19, like so many millions of Americans, I have been furloughed until God knows when. Buying an air fryer myself was just not an expense I could justify. Purchasing expensive kitchen toys was just out of the question until I went back to work.
Luckily my sweet, thoughtful boyfriend knows how much I enjoy spending time in my kitchen. He also knows I enjoy eating fried foods. We struggle to eat healthily and try to eat keto and gluten-free as much as possible. As soon as I opened the massive box I was so very excited! It was so big, could I make a turkey in this baby? I'm not going to lie; It's now day three with the air fryer and I have not turned the oven on or the BBQ. I have made basically every meal in it. So why buy an air fryer, you may be asking?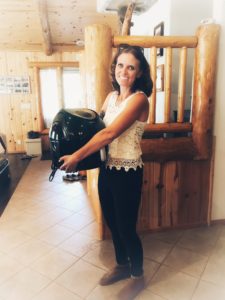 Make (Almost) mess-free bacon
Can you make breakfast in an air fryer? You sure can! You can't talk about the keto diet without mentioning bacon in the same sentence. We eat a lot of bacon goodness in our family. Thank God for Costco's affordable bacon. I'm constantly destroying our oven with the bacon grease mess, not to mention smoking up the entire house. Making the bacon in the air fryer was just so easy!
There is one huge hint I can give you when using your new contraption with very fatty items; Always add a bit of water to the bottom when making something like bacon. This will really help control the smoke. We have also made sausage in the air fryer and sweet potato breakfast latkes. This coming week I'm planning on trying out my favorite homemade turkey scorpion chili breakfast patties.
The great burger taste-off
Sure everyone loves to grab a cold beer and barbeque on a summer evening but there is no need to turn on the Barbie anymore. You can also do burgers in your air fryer! Just for shits and giggles the other night I tried making a batch of my world-famous Lamb Burgers on the grill and another batch in the air fryer. The burgers I made in the air fryer actually had more of a grilled crisp on them.
I love the fact that this new kitchen contraption will help me too in the winter months when it is snowy to barbeque. On those snowy cold evenings, we may be craving protein burgers but I don't want to go out in the cold to barbeque. I will definitely be grilling my burgers and even sausage links in the air fryer all winter long.
Kale (Or I like to poo)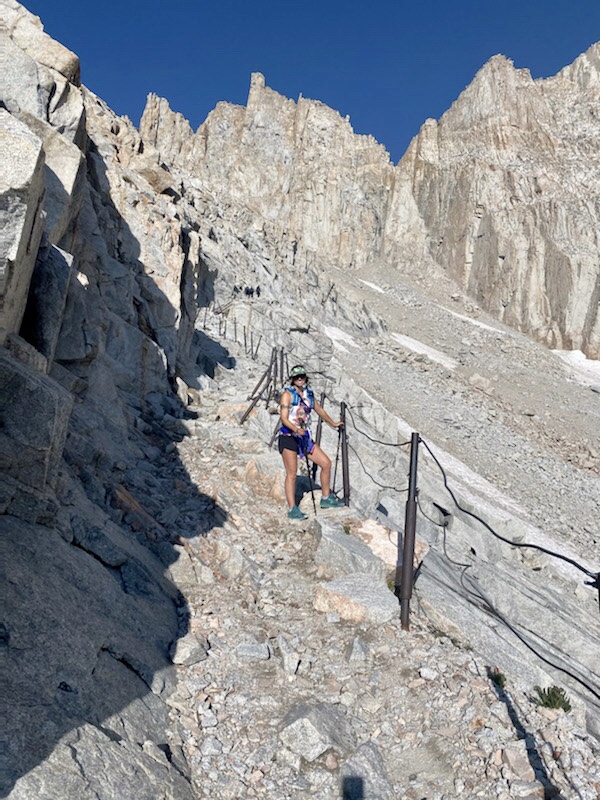 Learning to air fry seems like it would be a healthier option if I would stop making things like bacon and wontons in it. Did you know you can make kale chips in an air fryer? Making my own kale chips in the air fryer was a game-changer for me. Since the kale is so light (And yet full of fiber) it blows all around inside the basket, making the pieces cook all at the same temperature. No more half raw, half-burnt kale chips for us! I don't have a fancy recipe for kale chips on my blog, but I do really enjoy this easy kale chip recipe. I love to pack a baggie full of healthy kale chips to take with me on a butt busting hike.
There are so many healthy veggie snacks you can easily make in your air fryer. These Masala Chana (Chickpeas) are one of my favorite early afternoon snacks. They are also a great treat to take in a baggy along on a hike.
What's for dinner?
So you just bought an air fryer; It's mid-August and so damn hot outside. In my opinion, my air fryer does not heat up my house the way that my oven does. That makes it a great summertime option for dinners. You can easily make so many great summertime dinners just like Keto Gochujang Korean Meatballs without heating up your entire household in July and August.
Do you love scallops the way that I love scallops? These scallops are delicious and easily made in the air fryer. And the cauliflower risotto I serve with them is keto-friendly too. Looking for an easy mid-week healthy fish recipe? My Almond Crusted Dover Sole with Pesto is one of my favorite fish recipes and it tasted so great when I cooked the fish in the air fryer. Once I started breading my fish with an almond meal a few years ago, well, it was a game-changer for my healthy dinners.
One of my favorite go-to appetizers are my delicious Bacon Wrapped Jalapeno Poppers. I think these jalapeno poppers actually taste better made in the air fryer. The bacon grease drips into the grease tray down below the air fryer grate and they turn out even crispier than before. These are so great over a salad with some simple BBQ salad dressing.
The snack walla; Air fryer edition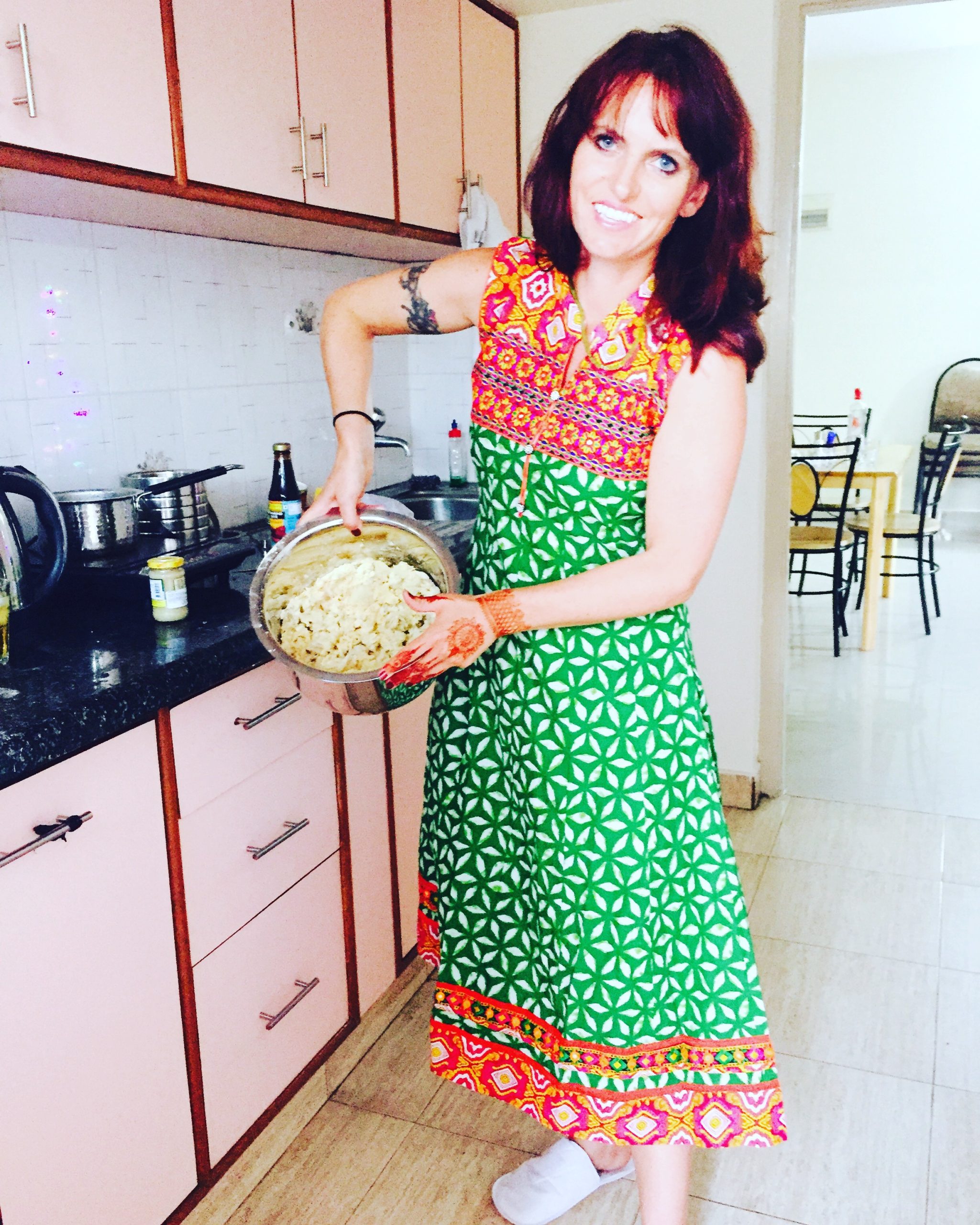 In Indian culture, the walla would be the one who brings the food things. At every party, I'm always the one who brings the appetizers (I'm the snack walla basically.) There are so many great Indian snacks you can make in your air fryer like healthy Indian spiced garbanzo beans or chicken wings. Boneless chicken wings were one of the air fryer recipes that inspired me to want an air fryer to begin with. These Gluten-Free Curried Chicken Bites are easy to throw together. Just form them into bite-size balls and crisp up in your new favorite kitchen contraption. An air fryer is also excellent for making party snacks. Throw some pre-made onion rings or sweet potato fries in the air fryer and you have easily snackables for your guests so fast!
An air fryer; A gardeners new favorite toy
Now that it's autumn the days are getting shorter, the nights colder and crisper. My garden is slowly freezing at night. Luckily my fresh grown herbs are some of the last plants to freeze as autumn freezes into shorter winter days. I have a huge sagebrush smelly problem in the front yard; I have a jungle of fragrant purple sage. I actually adore the smell of sage; It reminds me of hiking trails through the wilderness near Big Pine California ( the area is called Sage Flats actually) The smell of crushed sage under my hiking boots always reminds me of trailside adventures. I do however have way more sage growing in the garden than I could ever use in my lifetime.
Well, guess what? Did you know you can actually dry sage and other herbs in an air fryer? I know exactly what to do with all that fragrant sage. Once we get closer to Thanksgiving I'm going to air fry and dry so much sage, package it up in cute little jars and hand them out to friends and family this Christmas season. I'm even drying my own herbs in my air fryer this fall! Yes, you can dry fresh herbs in an air fryer.
Have you ever made beef jerky in an air fryer? I love beef and turkey jerky but I am picky about the brands I buy. It has to be antibiotic-free meat, low in sugar and not too chewy. So basically  Vermont Smoke and Cure Turkey Sticks are the only gluten-free and still delicious jerky I buy. I hate jerky that is super chewy, that makes me feel like I will break a tooth! The. The only reasonable option was to make my own. The most important thing to remember when making your own beef jerky is to use meat with very little fat. (I prefer flank steak) The other big tip I can offer is to marinate your meat for as long as possible. I like to marinate mine for at least twenty-four hours. I have friends that swear by making beef jerky in their ovens. I feel like leaving the oven on, even at low for half a day is kind of a waste of energy. (Plus it obviously heats up your house in the summertime)
The secret way to make beef jerky in an air fryer
How to properly use your air fryer for different recipes can be a bit of a mystery. The hardest thing I have found about using mine is so many recipes don't tell me what temperature to preheat it to. And that is how I ended up making the fastest beef jerky ever, the first time I attempted to make Sriracha Beef Jerky in the air fryer. The recipe said air fry it for two hours but didn't list what temp, so I just choose beef, 370 degrees. Let's just say I made beef jerky in thirty minutes. It was a bit well done, which honestly, the few times I eat beef I prefer it with a crisp but I have noticed a severe trend in air fryer recipes; No temp provided!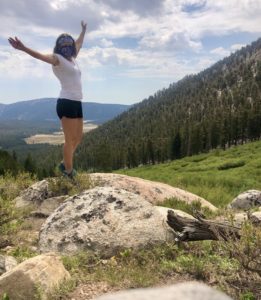 For my fortieth birthday, all I really wanted was to climb the tallest mountain around, followed by a delicious dinner that may or may not have contained fried foods. I also wanted to learn how to air fry to start out my fortieth year just a bit healthier. The healthy hiker in me was just thrilled with my fortieth birthday and all the friends along for the ride to make it such a special day. Here's to forty more plus years of good times, adventures and good health!