It was nine a.m. and I was struggling through four feet of wet snow, snowshoeing almost straight up a white mountain. It might have been forty degrees outside but I was sweating big time in my favorite North Face winter jacket, as I sucked in the arctic cold air and I perspired under my day pack. Surveying the pines trees at 10,000 feet and the jaw-dropping view down below me, it was hard to believe I could see these views here so close to Los Angeles; I could snowshoe southern California. Yup, here I was just a two-hour drive from California's concrete jungle of Los Angeles and I was having a fantastic day snowshoeing underneath the tall Jeffrey pine trees. I rested my exhausted body against my trekking poles and took a few minutes to soak in the divine beauty of my surroundings; Lot of snow, cedar trees and an alpine lake in the distance.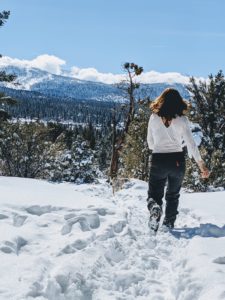 This might sound like Montana or somewhere up highway 395 towards the rugged eastern Sierras, but believe it or not, this adventure took place in the mountains of southern California. Just outside the outskirts of the Los Angeles suburbs there are thousands of acres of snowy trails just waiting for some eager outdoor lover to break trail.  If it's mid-winter, January and February then seven days a week, you can usually find me trekking through the wilderness snowshoeing in southern California.
Palm trees, Mickey Mouse and L.L. Bean snowshoes
California is well known for palm trees reaching into the smoggy heavens and sandy beaches. Tourists can't wait to pay one hundred dollars a ticket to stand in line for Big Thunder Mountain at Disneyland. Our beaches are crowded year-round with vacationers from all around the world and our freeways are usually congested in the concrete jungle of Los Angeles from Hollywood to Beverly Hills and beyond. The crowded pier at Santa Monica is not my idea of a good time in southern California. These metropolis areas might sound charming to some tourists hoping to spot a Kardashian while on holiday but my idea of a fun day takes place outdoors with snow to frolic through. Breaking trail and snowshoeing up a 10,000 mountain peak is my idea of fun. On a snowy trail is usually where you can find me most days of the week as a hiking guide in Big Bear Lake.
Most snowy days between January and early March I'm leading families on snowshoes into the wilderness. Did you know you can rent or buy snowshoes for kids as young as 5? Snowshoeing is a very fun activity for the whole family and you can even bring your pup with you as you trek through the snowy backcountry. And if you haul a sled out to the wilderness, there is always a scenic, deserted snow hill on nearly every locals-only trail.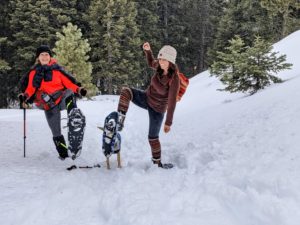 So what the hell are snowshoes anyway?
As a hiking and snowshoe guide, people ask me all the time just what the hell are snowshoes? One popular myth about snowshoes is that they are tennis rackets you wear on your feet. That is outdoor equipment fake news. I guarantee your closest REI does not sell tennis rackets you can lace onto your snow boots. Put down the tennis rackets and instead check out these awesome Tubbs Women's Xplore Kit Trail Walking Snowshoes
.
Old school snowshoes were known to be made out of a hardwood frame and rawhide lacings. Here in the Big Bear area, our native serrano Indian tribe made their snowshoes out of hardwood, typically ash. But this is not the late 1800's in Big Bear Lake when the Grizzlies and wild fox roamed our wilderness. These days snowshoes are a lot more durable and a hell of a lot lighter. And you don't need to skin a wild animal and cut down an ironwood tree to construct your own rustic snowshoes.
If you are looking to snowshoe in southern California then Big Bear Lake should be your first destination. Anytime in January and February most years, Big Bear Lake tends to have a few feet of snow. Here we are late in January 2021 and parts of the Big Bear Valley currently have three to four feet of fresh powder! Late January 2021 is the perfect time to hit the trails of Big Bear Lake with your snowshoes strapped over your snow boots. I prefer waterproof snowboots worn with my snowshoes, not running shoes or hiking boots. Waterproof snow boots definitely keep my feet dryer, especially when I am snowshoeing ten plus miles in a day.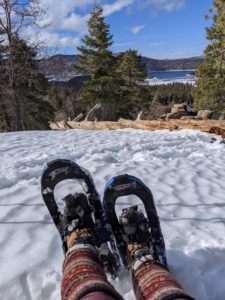 I purchased my L.L. Bean snowshoes fifteen years ago. I bought them used on eBay in 2005 for just over sixty dollars. Since then, I have snowshoed hundreds of miles all over the mountains of California in these blue lightweight metal snowshoes. Snowshoes are an item that you can easily buy used on eBay or that app OfferUp. Snowshoes seem to be one of those gear items people buy, rarely use then sell online.
Where is the best place to snowshoe in southern California?
California is not all beaches and crowded freeways. We also have stunning mountain peaks without driving up Highway 395 to where the eastern Sierras begins. Big Bear Lake California is a fantastic area with acres of snowy trails for beginner to advanced snowshoes. Don't own your snowshoes? No worries, local board shops like Goldsmith's carry snowshoe rentals with poles included for just $25. If you fill out the paperwork before, Goldsmith's even gives you a 15 percent discount on your rental. They also give free rentals if it is your birthday week! When you rent those snowshoes just remember that hiring a nature hiking guide is the best way to safely go snowshoeing in Big Bear Lake.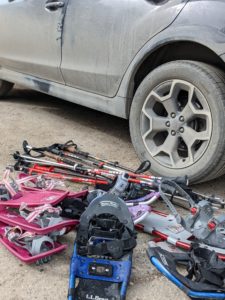 Big Bear Lake is so central to Los Angeles and Orange County, it truly is a great place to snowshoe southern California. Now the question is where to go in the snow? It's hard enough in the summertime without snow to find the perfect mountain trail! How can you find the best place to snowshoe southern California while on holiday in Big Bear Lake? Booking a snowshoe tour with a local hiking guide is the best way to experience all the winter wonderland Big Bear Lake snowshoeing has to offer. Don't have a nature guide with you but want to explore the San Bernardino Mountains on snowshoes? Snowshoe up Keller's Peak Road near Running Springs. The road is closed to traffic during the winter and the views are epic from the top of the road (Five miles uphill) There is even a hidden lake at the top!
Ice House Canyon a chilly snowshoe adventure
Ice House Canyon is well named. It's one of the coldest, breeziest places I have hiked in southern California. What that means is when there is snow near Mt San Antonio, the trails in Ice House Canyon are usually snowy and white for snowshoeing. Looking to snowshoe in southern California? Snowshoeing to the saddle at Icehouse Canyon is a tough uphill trek.
This trail does get insanely busy, especially near the bottom, easy part. I recommend never going on a weekend. You won't be able to find parking, for one thing! The parking lot is very small and sledding enthusiasts usually take up a lot of that parking space.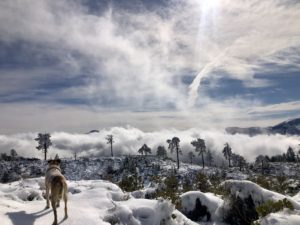 Mt Baldy, a treacherous area to snowshoe
Mt Baldy is an amazing place to snowshoe in southern California under the correct conditions. The lower few miles of the Baldy Bowl are usually snow-free and don't require snowshoes for many treks up this 10,600-foot southern California mountain. Crampons or ice cleats are a must for summiting Mt Baldy safely on most winter days. Mt Baldy Trails can be extremely icy and treacherous. Many people die hiking Mt Baldy when they hike without crampons, ice ax and have no idea how to traverse in very snowy and icy conditions. Mt Baldy trekking in the winter is not for the beginning hiker but it is a gorgeous place to get outdoors.
If planning to trek up M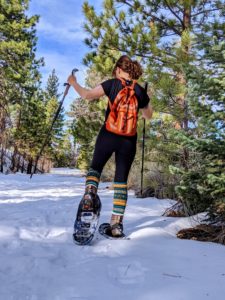 t Baldy in the wintertime, snowshoes are very helpful for the last few miles before the summit. This is where the snow can get very deep. If you are trekking up the Mt Baldy Trail, past the ski hut the trail tends to get very snowy and intense. And stunningly gorgeous. This is an epic southern California snowshoe day for those who are higher intermediate to expert snow hikers.
I wish I could snowshoe in the San Gorgonio Wilderness
The San Gorgonio Wilderness is my favorite place in southern California to snowshoe. The views from Vivian Creek Trail over 10,000 feet with views of snowy Galena Peak in the distance are truly epic. Unfortunately because of the El Dorado Fire burn scar, the San Gorgonio Wilderness is closed throughout 2021. Just one more ridiculous part of this disappointing year. I may be furloughed from my job for an entire year and I can't even spend my winter months snowshoeing the best trails in southern California all February long. Thankfully there are many options on where to go snowshoeing in Southern California from San Jacinto Peak, to all over the Big Bear Valley.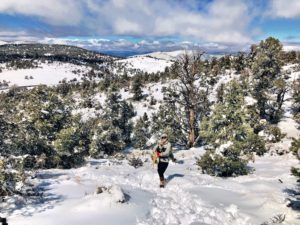 Fueling your body for a day of snowshoeing is key when snowshoeing in southern California. I tend to go for at least a half-day of snowshoeing and try to bring a lot of protein to fuel my snowy days outdoors. Sriracha Beef Jerky made in the air fryer is one of my favorite high protein snacks to throw in my day pack.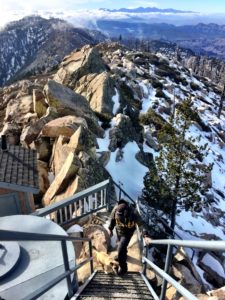 Although sometimes when I burn over a thousand calories an hour struggling almost straight up snowy hills, I have to bring a few of my favorite Gluten-Free Chocolate Chip Cookies on the trail with me. I will truly admit I do crazy shit like snowshoeing and breaking trail in four feet of snow at 10,000 feet so I can inhale Moroccan Lamb Stew after an all-day hike to Big Bear Lake's Butler's Peak.
Fun fact; Butler's Peak is the only place in the San Bernardino Mountains where you can see Big Bear Lake and Lake Arrowhead from the same spot. It's also a half-day snowshoe guide but so gorgeous. Book a half-day snowshoe tour with the Hungry Mountaineer to see how epically gorgeous this snowshoe adventure can be.
Bringing enough water and hydrating beverages is also key to a fun day of snowshoeing. carrying protein and electrolytes is sometimes not enough to power up 10,000 feet mountains so sometimes I will bring a workout supplement like this pre-workout crusher
What kind of equipment do you need to snowshoe southern California?
Water
Gingko Biloba (Helps with altitude sickness)
Trekking poles
Gloves
There is no better way to spend a winter's day than to snowshoe southern California trails. Snowshoeing is great cardio and a beautiful way to explore the great outdoors. Some of Californias rugged snowy peaks are so gorgeous to explore on snowshoes. It's a great way to have a fun day outside during this crazy pandemic, get away from the crowds and social distance.