As a horse racing lover watching the news here in California, all you will see in the last six months is the radical lefts biased opinion about what they consider "Those poor horses" That is nothing if not fake news. Last weekend Santa Anita Park hosted the Breeder's Cup Classic for the tenth time here in California. Yes, the tenth time as in, our track is so safe and loved by horsemen, you know, the experts on these animals, that horsemen from across the country and the world ship their horses out to Arcadia for this series of races. Friday morning I watched on a local news station, KTLA as their reporter made a very inacorrect and biased report about what is going on here at Santa Anita Park in Arcadia. Her tone of voice was so negative and I had a great laugh as in the background my coworker was giving her the dirtiest look. This is typical these days. Every day at dawn the news vans show up like vultures hoping for the worst to happen.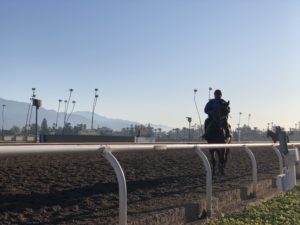 For the past five years, I have been a wagering ambassador and handicapper at Santa Anita Park in Arcadia, California. Not only am I one of just about seventy-seven thousand employees in the horse racing industry but I am a horse lover and I am passionate about the sport of Thoroughbred horse racing. I am always talking to my friends about how much I love the horse racing industry and most of them share my enthusiasm and some of those that do have fun using the best GG tips at Pick7.bet to make horse racing even more exciting by adding some extra action to it. But I am also terrified about what is to become of our sport here in California. Governor Gavin Newsom, Senator Diane Feinstein and radical leftist groups like Horse Racing Wrongs and PETA are telling just one half of a very complicated story to the masses, a story that in their eyes will end with horse racing being exiled in California. These anti-labor and extremist groups don't care one bit about seventy-seven thousand Californians being left jobless. If horse racing were to be eradicated in California between the breeding farms, the training  facilities like San Luis Rey Downs,  the race tracks (Santa Anita Park, Golden Gate Fields, Del Mar Thoroughbred Club, Los Alamitos Race Course, not to mention all the horse racing at the state fairs in the summertime) 140,000 Californian jobs would be indirectly affected. At Santa Anita Park itself, we have over three thousand laborers, most of them from incredibly impoverished central America countries who are housed on our backside of the race track. (Eighty percent of these workers live on the Santa Anita backside) They are the grooms and hot walkers who care for these beautiful Thoroughbred racehorses and they will be out of work, and yes most of them will end up homeless if horse racing is abolished here in California. We already have over fifty-nine thousand homeless here in Los Angeles, one would think Governor Newsom would not want to add to that staggering number.
If you watch the news in California you will only see the radical left's side of this story. Here in Arcadia, California, every morning racehorses start their daily workouts at four a.m. before the sun rises above the San Gabriel Mountains. Most days the news vans are here when the sun comes up waiting like vultures for something terrible to happen so they can report it on the nightly news. They never show the positive or how loved and well taken care of these horses really are. That's why, this week, I intend to reach out to the conservative unbiased media and say, please, show our side of this incredibly complicated story.
Beyond the job loss example, horse racing in California is a 2.47 billion industry. That is a lot of money for our state. Just Santa Anita Park annually adds 15.6 million to the local economy and homeowners in this suburb of Los Angeles will definitely feel that hit when their taxes go up if Santa Anita Park were to close down. (The goal of Horse Racing Wrongs and PETA) Santa Anita Park just hosted the Breeder's Cup here last week, our tenth Breeder's Cup we have hosted. This Breeder's Cup event was expected to generate over ten million dollars for the metro Los Angles area's local economy, over 532 full-time jobs and nearly 26 million in labor revenue.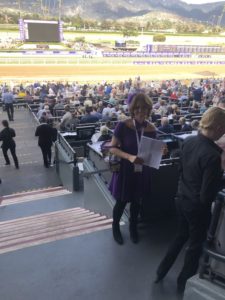 So I mentioned money and revenue for the greater Los Angeles area but the greater part of this story is our love for the horses and our love for our jobs in this industry. How many people can say they are happy to go to work each day, that they truly love their jobs? Well, that is me, and everyone I know who works in the horse racing industry. We take pride in our work, whether we are trainers, jockeys, handicappers, race track analysts or camera dudes. Whether we work in publicity, marketing or group sales; We love this beautiful race track, we love our sport and our future is looking bleak if you listen to the radical left. (And most Californians do)
As much as we adore our horses here at Santa Anita Park and race tracks across America, horses just like any athlete, football players, baseball players, etc do get hurt. These horses were born to run, bred from a cross of Arabian's, Barb and Turkoman horses. Hundreds of years ago they ran for hundreds of miles through the sands of Saudi Arabia and those bloodlines led to the extremely athletic athlete you see today. These beautiful fragile animals were bred to run and you can go to any pasture in America and see how much they naturally love to run.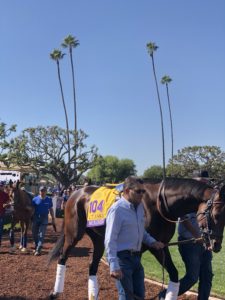 When football players get a concussion or a dislocated knee like the Kansas City Chief's Patrick Mahome, just two games ago, they may be out for a game or two. During the recent World Series when Nationals player Max Scherzer had a neck injury and received a cortisone shot, he was back in the game seventy-two hours later. When a horse fractures a cannon or a pastern bone it's often too severe of an injury for the horse to survive. When horses get badly injured they can't live on three legs like a goat, a cat or a dog. If a horse gets hurt (And horses can get so many ailments outside of leg injuries, including founder, colic, heart attacks, etc) the injury needs to be not so severe that they can get along in a cast to heal eventually. Horses have to walk and get out of their stall or they will get colic in their stomach which can be a death sentence to a horse. What the public doesn't understand and radical leftist groups like Horse Racing Wrongs and PETA just don't get, is athletes do get hurt and racehorses are very fragile athletes. Yes, horses can live to be thirty or forty years old but they often don't when so many things can go wrong every day, and they do. Through the end of our recent autumn, Santa Anita meet, nearly 3,000 horses had workouts in the morning or raced in the afternoon and sadly seven-horse have had to be euthanized this meet but that is such an extremely low percentage over all the thoroughbreds working out every morning and racing in the afternoon. Our horses here in southern California get the utmost care and are genuinely loved by the people who ride them, fed them, train them and even shoe them. In the last year, since Arcadia received record rainfall in February, sixteen inches in just two days, track management has gone above and beyond to make our dirt race track one of the safest in the country. Extra veterinarians are on staff and pre-race examinations have been increased. Santa Anita Park is going above and beyond to scrutinize the horses who run over our dirt and turf surfaces.
With all this being said and done, accidents do happen, recently in the Breeder's Cup Classic, Enebat Ganbat trained Mongolian Groom had a catastrophic injury while galloping down the home stretch. Groups like Horse Racing Wrongs want to convince the public this horse, and many others are neglected, unsound and abused. The backside of Santa Anita Park tells a far different story. Our barns and stalls at Santa Anita Park are full of horses being given baths every day, pets, hugs and love. You can't walk amongst the backside and not see the love for the horse in our employee's eyes.
At Santa Anita Park, safety is the highest priority. If a horse is not one hundred percent on race day that horse is scratched, not allowed to race. In the week before the Breeder's Cup, all Breeder's Cup horses were told to be shipped into Santa Anita Park seventy-two hours before they would race. These horses were then gone over by a team of fourteen different veterinarians. Vet teams went to every barn with a Breeder's Cup runner each of those mornings to inspect the horses. Veterinarian teams were also stationed around the race track during the Breeder's Cup and saw nothing wrong with Mongolian Groom or any of the other horses that ran on Breeder's Cup Friday or Saturday that would warrant reasoning for a horse not to run. But horses are athletes and athletes do get hurt while performing. I'm a distance runner and I can't tell you how many tiny injuries I have sustained while running. When a racehorse gets hurt, even if a jockey feels it happen, this hundred-pound jockey then has to stop this thousand-pound animal from running and hurting themselves further. It's very difficult, obviously.
It is maddening to anyone who works in this industry that yes, horses do get hurt. It's also heartbreaking. Everyone outside of the horse racing industry and groups like Horse Racing Wrongs will tell you this sport is all about money. It's not. It's about our love of the horse. But at the same time, we want our livelihood to succeed here in California. We want our children and grandchildren to be able to watch these horses run from high up in Santa Anita's green grandstand. Groups like PETA are so desperate to destroy us that they are paying homeless people to come out to protest in front of our gates.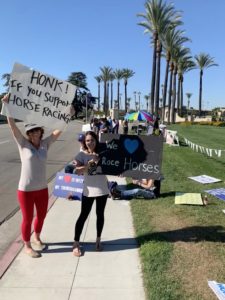 Then there is our side of the story. People like, Oscar De La Torre, a spokesman for the workers of the backside have organized events to promote our jobs and show there is a real cause and effect on everyone in the horse racing industry if our sport ceases to exist. Kentucky Derby winning trainers like Doug O'Neill have organized pro horse racing rallies nearly every Saturday of the meet so employees can come together and celebrate our love for our jobs and these animals and let our voices be heard. These events are so positive, in the face of so much negativity and that's what all of us in our game need right now. It's a very scary time in a sport with so much history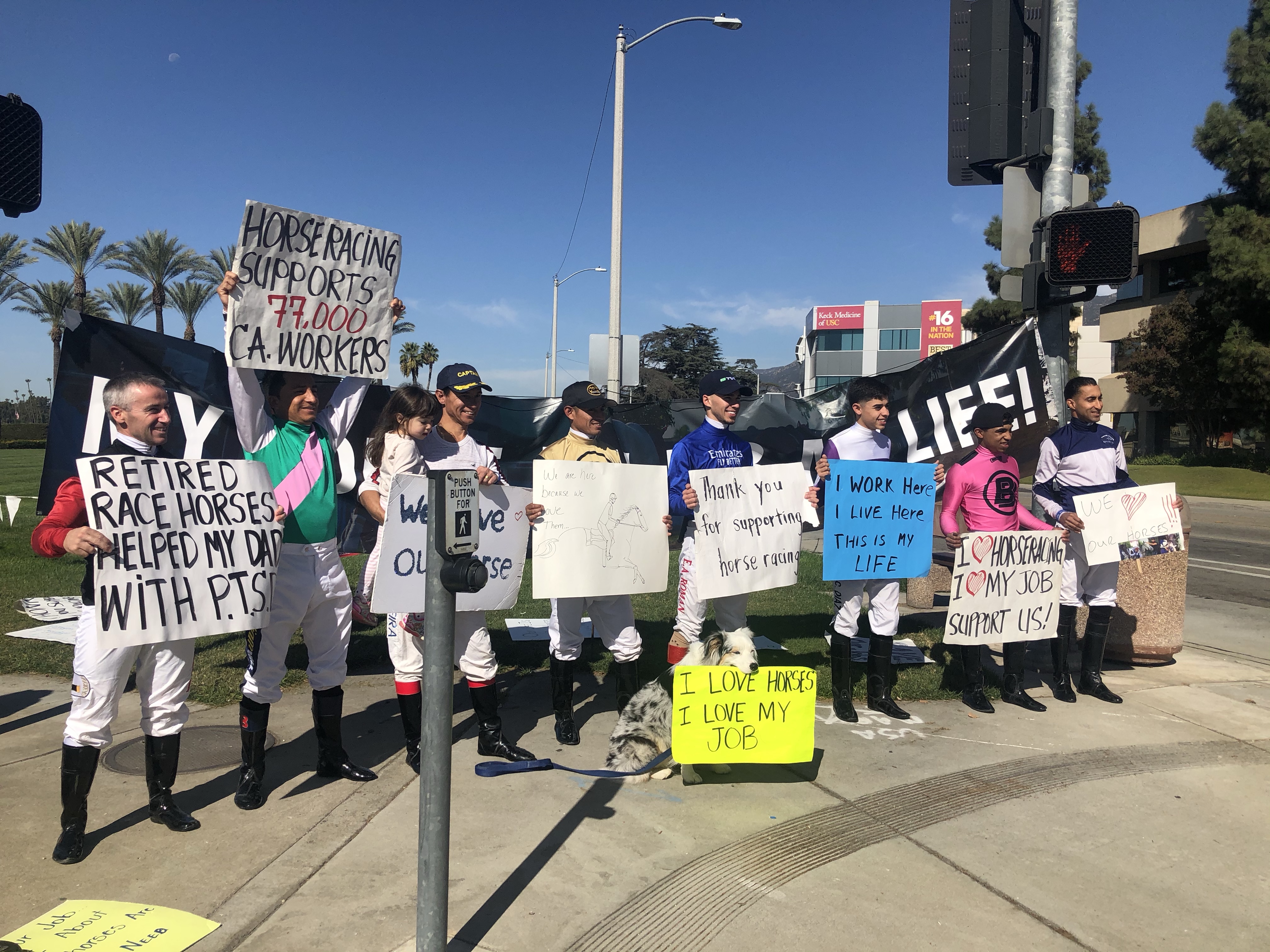 Even the jockeys came out to show the love for our sport.
Horse Racing Wrongs and groups like PETA want to start with eradicating horse racing in California but all race tracks across America are under a microscope for them. In the wake of Democrat Andrew Beshears being elected in Kentucky, I worry about what the future of Kentucky horse racing has ahead of it. The economy of Kentucky is based on two things; Thoroughbred racehorses and bourbon. If this can happen here in California, it can happen across the nation and hundreds of thousands of employees are going to be affected if these radical groups get their way.
"Racetracks offer free stabling to owners and trainers. Making racing illegal would put some 125 tracks out of business, and the horses that live there would face eviction. Considering that it costs anywhere from a few hundred to several thousand dollars a month to provide food, shelter and veterinary care for an average horse, it's difficult to see how a marginally profitable horseman who has just been forced out of his livelihood and has no place to board his animals could continue to care for 15 or 20 thoroughbreds. Multiply this scenario by thousands of individual racing stables across the country, and reality begins to impose itself on animal-rights theory. Within weeks of shutting down horse racing, the United States would face its largest displaced livestock crisis ever." New York Times
That is the reality for our sport if groups like Horse Racing Wrongs gets their way. This week I'm taking time out of my week to share our story with FOXNews and 60 Minutes and just hope and pray our side of the story can be told. Our side of the story is so different from the radical left. We love these horses. We love our jobs. We want our industry to thrive.