I think I have had Taylor Swifts Welcome to New York stuck in my head for six days straight. Or maybe it's just that the madness of upstate New York humidity is getting to me. When we planned to drive from southern California to upstate New York in the summertime, sure I knew it would be humid and there would be bugs. I didn't expect to feel like I was living inside of a wet mouth. And as for those bugs? Well, fireflies are now my favorite insect. Do you have a favorite insect? Traveling to Saratoga Springs in a 34-foot motorhome was not the easiest feat, but despite the bugs and the humidity, these punters made it!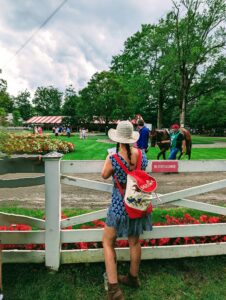 Traveling to Saratoga Springs, New York, the bugs were actually not as bad as I expected but that east coast humidity nearly did me in. I love the rain. I adore a good summer thunderstorm but east coast thunderstorms and rain with ninety percent humidity and it's still eighty-seven degrees outside is brutal. My hair literally did not dry for three days. I considered shaving my head on the third day.
But then horses made me sane again
Thank God for the horse country that is Saratoga Springs, New York. It is what enticed me to take so much time off of my crazy lifestyle running a small business. The Lure (No pun intended) of Saratoga Springs led me to upstate New York and the adventures of exploring the backroads of America with my family and our rescue adventure pup this summer. You can't make these kinds of memories sitting at home. Saratoga Springs has always been on my bucket list and even though I smelled like a dirty hippie wearing natural deodorant for multiple days I heart Saratoga Springs. I wore my cutest summer sundress to cover up the fact that my natural deodorant, so popular in southern California, is like whisking a piece of lavender over your armpits when it comes to east coast humidity.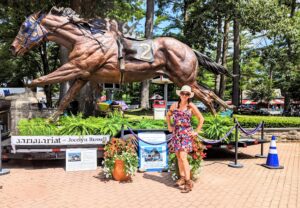 Health, History, Horses, Humidity
"I want to wake up in a city that never sleeps." I mean we have all heard Frank Sinatra croon those words. I want to wake up somewhere where I do not start sweating at eight a.m.
I'm from southern California and yes, we are famous for always saying "But it's a dry heat" I never really understood what that meant until I had to wring the sweat out of my bra. But in between sweating everywhere from Lake George to Ballston Spa we had a few lovely days betting on the ponies while Traveling to Saratoga Springs. Now I clearly understand why they call it The Spa! Besides betting on the ponies, Saratoga Springs is also known to be a place to take the waters. I love a good sauna and a eucalyptus-smelling day spa. I couldn't even imagine paying to sweat anymore while visiting Saratoga Springs last week. The Native Americans were the first to discover the hot springs at Saratoga Springs. The Mohawk and Iroquois people were the first to discover the cleansing powers of these carbonated springs. Doctors claimed that taking the waters helped with kidney and liver problems, hangovers and weakness of women, which is hilarious as Saratoga Springs these days is a party mecca for upstate New York. Looking to experience hangovers and the weakness of women in cute summer sundresses? Traveling to Saratoga Springs may be for you!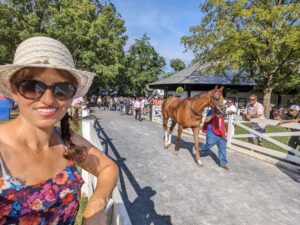 Traveling to Saratoga Springs, The spa
In the here and now there are two places in Saratoga Springs you can go, private bathhouses to take the waters. One is located inside Saratoga Springs State Park and the other is at the Crystal Spa off of Broadway. The Big Red Spring is super popular at Saratoga Racetrack and locals swear that first-timers to the track have to have a sip of natural Saratoga Springs water before placing that first bet at the historic track. I did mean to sip on water from The Big Red Spring but we were just having so much fun at Saratoga, it never really happened. That could explain my luck betting on the ponies at Saratoga!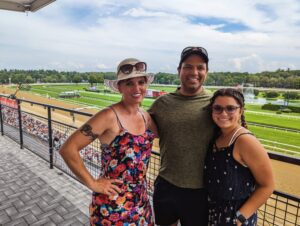 After we did not sip on the good luck juice, I ran into an old friend who works for NYRA (New York Racing Association) and she took us to the roof of this great old grandstand to watch the big race of the day. The Grade 1 Diana Stakes was full of a field of world-class turf mares like In Italian. Even though In Italian lost by a short neck, we had a great time watching with Bailey on the roof of Saratoga Springs.
Things that were awesome about upstate New York, I mean besides the fact that Saratoga Springs is basically the best horse town ever.
We don't have fireflies on the west coast where I hail from. Do they not cross the Mississippi? I really don't know but they are just magical and I spent many an evening trying to figure out how to photograph fireflies with just a Google Pixel phone. Two cocktails in as the sun was setting over a swampy upstate New York lake, it wasn't easy.
My awesome Jeep!
This Jeep made it from Del Mar California to Saratoga Springs, New York! And what? I only have five thousand miles on her still? Is that some kind of Jeep magic? Um no, it's the Active Drive II system, which is why I was desperate to buy this 2022 Jeep, even though it was last year's model. 2022 was the last year that Jeep made the Cherokee with the Active Drive II. When you put the Cherokee into tow mode the transfer case disengages and you can tow it with your motorhome magically without adding to the odometer! Genius move on the part of Jeep!
It helps when you know someone in the horse racing industry. Saratoga Springs in itself is such a fun track. There are so many young people betting on the ponies and having a great time. The food choices are epic and beyond delicious! Taking photos in the winner's circle was a cool extra perk of working in the horse racing industry.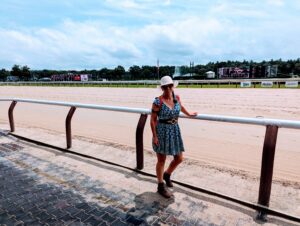 Saratoga Springs lived up to this horse nerd's expectations and beyond! As much as I would like to come back someday though, I just don't think I can handle any more of that east coast summertime humidity!