Of all the paths you take in life, make sure a few of them are dirt. ~John Muir
I don't think naturalist John Muir ever could have imagined a world full of smartphones or smart pandemic viruses like COVID-19. But he had the right idea. In trying times where stress is out of control, having your feet in the dirt, the wind in your hair and getting outdoors and sweating out the stress is a great way to clear your head.
What do you do for fun in a world full of Coronavirus? I think heading away from the germs and the concrete jungle cities is the best option. Getting outside and being out in nature seems to be a no-brainer. Disneyland is closed and the malls are sure to follow. What are people going to do on their days off? Getting outside, going for a hike or a mountain bike ride is a fantastic idea in this new Coronavirus germ-filled world.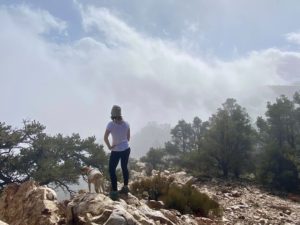 No one wants to board a plane or a cruise ship or use public transportation. A great idea, especially if you have issues with your immune system is to go to a more rural area and get away from the congestion and the unknown fear. I live in a beautiful forested area in southern California, six thousand feet above the metropolis of Los Angeles and I am thrilled to ride out the Coronavirus storm from our mountain hamlet. Just outside our front door are miles of trails and right now they are covered in fresh snow. While the rest of the world is full of pandemonium, doubts and phobias, outside our front door is a winter wonderland, and without a reported case, so far, of Coronavirus in sight. A small mountain town like Big Bear Lake is a fantastic place to shelter in place. Our grocery stores even still have TP!
The snowy trails are so peaceful, full of squirrels, chipmunks and germ-free. According to my dog, the mountain forest is the place to spend a peaceful Saturday afternoon. Getting out on the trails with man's best friend is a great and healthy way to relieve some stress from a world that is obsessed with this pandemic. I mean, what else are you going to do in a world with no sports on t.v. to watch?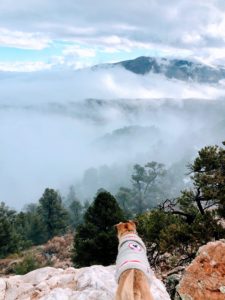 Everywhere you look, on the news, at your local grocery store or at your local college, the world has changed unbelievably in the past two weeks. many of us are at the moment without jobs or any sort of income based on our workplace closing down. There is talk of a Coronavirus bill giving workers two weeks paid time but who knows when this bill will pass and when workers will actually see funds from it. This Coronavirus, even if you don't get the sickness is going to be terrible for the local economy and our children as their schools are closed down and they have to somehow do schoolwork from home. Something that is not easy for every family when some kids don't have unlimited data on their phones or computers. I live in a ski town where all of our ski resorts have now closed weeks early, which seems unnecessary to me. How close to another person do you get while skiing?
My personal job site has been closed for the foreseeable future and I'm quite happy to be stuck at home away from germy germs and from crowds and the congested concrete jungle cities. But I am concerned about how long I will be out of work and what to do in the meantime.
I woke up to three inches of fresh snow in our national forest as I hiked the trails in our neighborhood this week. My neighbor went out to fight the crowds at the grocery store and took my list with him as well, just a few veggies to get us through the weekend ahead. As the pandemonium of Coronavirus builds, I am asking myself, should I be stocking up on canned foods, pet food and TP also? I worry about friends of ours who are at their beach house in Mexico and if and when they will close down the borders and if they will be able to even make it back to California.
I feel like this may be the last week for a while that life is somewhat normal and all of our lives are about to get pretty weird and pretty damn stressful. To me, the best way to deal with stress is to go hike up a mountain. I feel better when I sweat until I'm exhausted and my pup enjoys every minute she spends with me out in the woods as well.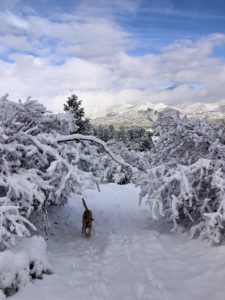 Before you panic that you can't go to the mall or watch spring training with the sports-ball, consider grabbing your pup's leash and heading to the woods for a hike. Bring a healthy snack and enjoy Mother Nature away from the crowds and the masses. Find your way to the woods and put your feet in the dirt. You can thank me later.