In the last few days, I've trekked close to twenties miles, seen Cooper hawks and almost stepped in bear scat numerous times. How can I have so much forest fun legally with the current California national forest closure you may ask? And how is avoiding bear poo my idea of a good time?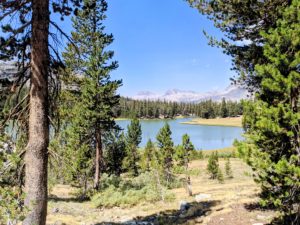 A slightly restrained Hungry Mountaineer
When the entire San Bernardino National Forest is closed what exactly does the wanderlust-obsessed hiker do? How on earth can this hyper chipmunk outdoor enthusiast possibly sit still? It's been a challenge throughout the month of September let me tell you. I can't run my fun outdoor adventure hiking business. I can't go on personal hikes in some of my favorite places. I had to cancel my camping hiking holiday to some of my favorite areas of the eastern Sierras. This California national forest closure is not exactly good times for the adventure-minded outdoor lover here in the southland. But there are options to still find a way to get outside without breaking the law.
Here in my hometown of Big Bear Lake, there are still a few locals secret places where one can hike on private land. They are few and far between and off the beaten path for sure. With this California national forest closure basically, if you want to go for a hike, it has to be in a neighborhood or on private land. Thankfully in Big Bear Lake, there are a few great hiking trails that are actually located on private land!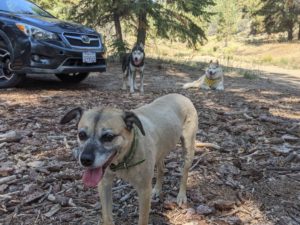 So where can you actually hike during the California national forest closure?
Thank God in 2018 two hundred and thirteen acres were donated to the Bear Valley Unified School District to build the Maple Ridge section of trails. In November 2020 the first section of the Maple Ridge Trail was completed. I remember hiking this section last November and thinking this would be an awesome trail to snowshoe in the wintertime and is within walking distance from my house. Then I got crazy busy with work for the rest of the winter and hiked everywhere but the Maple Ridge Trail for the next six months. This California national forest closure has reminded me what a great section of trails this is.
Last fall I did multiple hikes in this area before all of these trails were completed. Not going to lie, my pup may have worn her Halloween costume on a few of these hikes. (Check out her tiny jockey)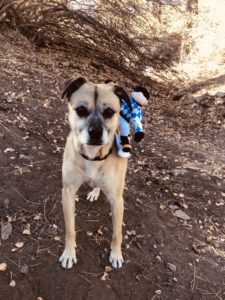 But back to 2021 and of course our forests are shut down. I mean here in 2021 of course the planet would be closed for fun, what else could go wrong? This morning the pup and I went for what was supposed to be a quick trek up to the pebble plains and the Maple Ridge Trail section a few days ago. Of course, this just so happened to be the last hot day in September. It was also a gorgeous hot autumn day with puffy flat clouds across the horizon. I really enjoyed the few times they blocked out the constant sunshine as sweat dripped down my face and I accidentally got sunburnt for the only time this year.
On this oh God why is it so the unbearably hot autumn morning I accidentally hiked for over four hours all over the east side of the Big Bear Valley. It wouldn't have been quite so hellish of a long walk if I had brought adequate water with me for a four-hour hike on a hot morning.  And if I was actually still in shape perhaps I wouldn't have been such a big fat baby. With this California national forest closure, I have been very lazy and fallen way out of shape. Here in 2021, there are a million reasons to not be in great shape, global pandemic, stress from arguing over politics constantly with friends and family and now the forest, my outdoor gym, is actually closed, damn it.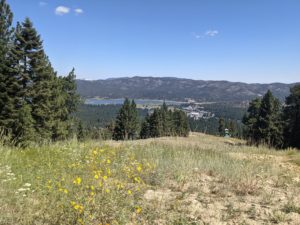 With the forest closure, I have probably hiked less in the past month than I have in years, and my feet can tell! By the time I had hiked almost ten miles and made my way back to my neighborhood, my feet were actually sore and I had a blister on my toe. I can't recall the last time my feet were sore after hiking!
With the forests being closed, my hiking adventure business has really been suffering. But it gives me more time to spend with my pup hiking on hidden trails on private land off of highway 38. This is actually the best sunrise hike in all of Big Bear Lake. As a hiking guide, I love taking groups on this hidden sunrise hike.
The best part about booking a hike with a hiking guide is they know all the best trails to see everything from Big Bear's wild burros, to where you can see wildflowers like my favorite, Desert Globe Mallows and wild poppies even during the autumn months.
Where else can you hike in Big Bear before September 22nd when the forest reopens?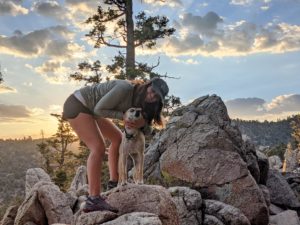 The Pebble Plains hiking area boasts miles of trails that are perfect for mountain biking and hiking. Lately, locals have seen many bear sitings in this area. The wildlife like California black bears and our local Big Bear donkeys do call this forest home too! While the forest is shut down, this is one of just five or six places you can legally take a hike in Big Bear Lake. Because of all that rain we got in August, there are actually way more wildflowers, poppies, purple asters and wild red penstemon than one would normally see as the fall colors start to change.
On the other side of Big Bear Lake, the Happy Hills Trail starts in the parking lot of our performing arts center and has some just gorgeous fall colors. The first mile is an easy trek uphill. This trek is great for families as it's easy enough for kids to hike. After that first mile the trail goes off in a few different directions. I like to hike the steeper trail uphill towards the foresty-owned cabins. This is one of the most scenic areas in Big Bear to take in all the fall colors those first few weeks in October.
California national forests are reopening any day now, yea! Pretty soon all of Big Bear Lake will be back open for those who love to mountain bike and hike. Thank God, we can get out and go exploring again! Looking to go for a trek in the woods of Big Bear Lake? Look at booking a fall color or family-friendly trek with Big Bear's own hiking guide, The Hungry Mountaineer, today!