It's St Patrick's Day and that has everyone asking the question, just how Irish am I? Our families heritage is not Irish at all but somehow my dad has a red beard and both my brothers have red hair. Yet we are not Irish.
I was over at my parent's house recently and my dad was bragging about his luscious mane of blond hair.
My mom pointed out his hair is no longer blond. It's white. Then I pointed out that he needs a haircut desperately because his long white hair has him looking homeless.
In fact, I made a recommendation that my brother and my dad have a man-date and go get hair cuts together because my brother's hair is almost longer than mine now and that is just not right. He needs a haircut. So, no, I am not Irish although that red-headed hippie looking carpenter over there may most likely be my brother.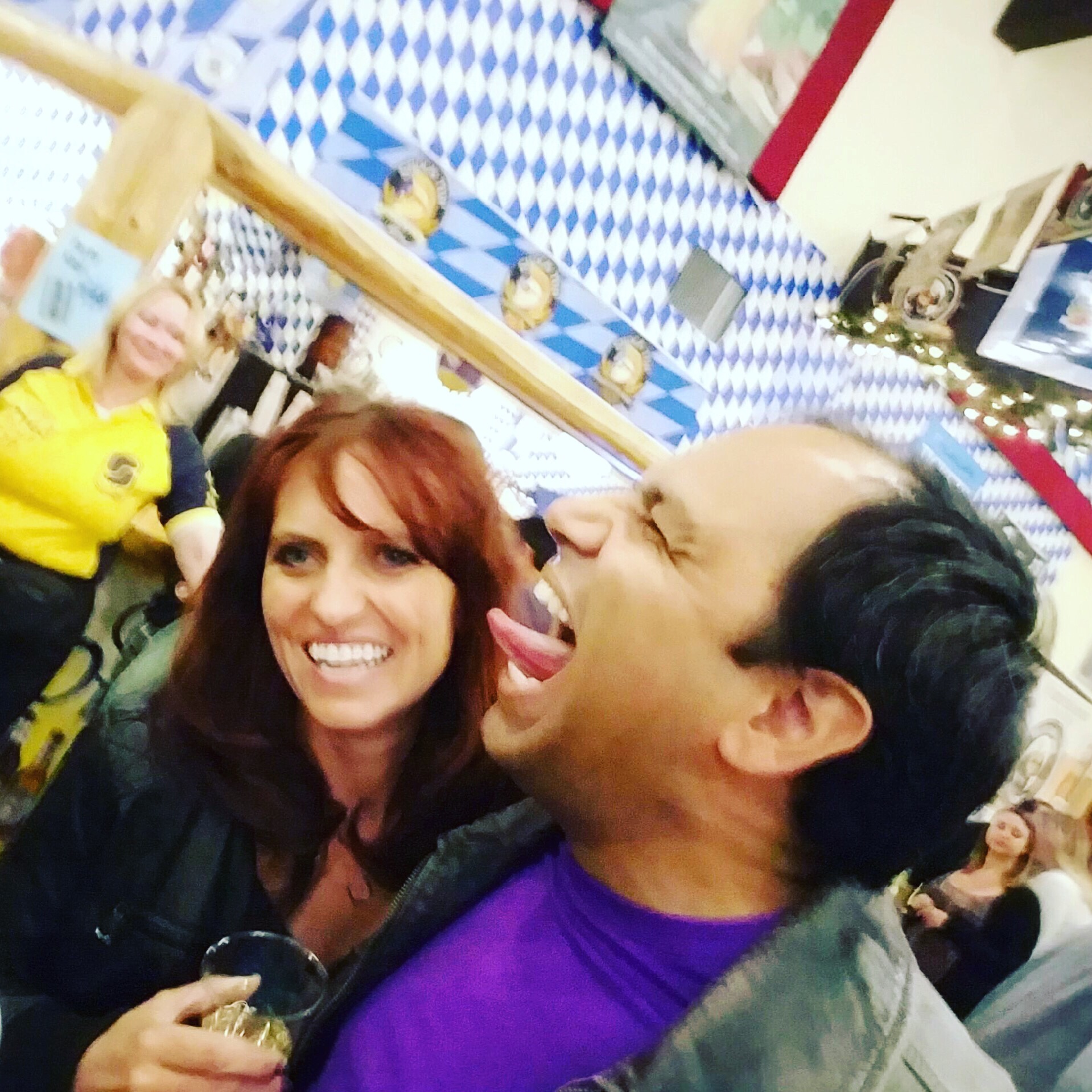 I may look like a redhead but it's just henna. Or maybe it's the giant tongue in my face. This is about as Irish as I get (And obviously this was Oktoberfest, not even St Patrick's Day.)
What are you doing this St Patricks Day? Want to start off your St Patrick's Day with some green pancakes before moving on to disgusting green chemical dyed Bud Lite? Have no fear; these green pancakes are dyed with delicious and healthy kale! Yes, I did say kale! Kale Pancakes are seriously delicious (And a great way to sneak leafy greens into your child's diet as well!)
Looking for a quick breakfast before running out the door for a trail run, mountain bike ride, or just something quick while headed out the door to work? Throw all this wonderful healthy stuff in your blender ASAP! This Pineapple, Pear, Spinach and Mint Juice is seriously delicious and a healthy way to start any day. Even a day that ends with green beer. Your liver will thank you later.
My absolute favorite St Patrick's Day meal of all time is Anglo Indian Garam Masala Corned Beef. My boyfriend hails from Tamil Nadu, India and has taught me how delicious garam masala can turn even the blandest Irish food. I swear to you, you have never had a corned beef full of so much flavor as this Indian spiced crockpot full of corned beef goodness. Have a great St Patrick's Day 2019 and stay safe and don't drink and drive. Yea for Uber getting all those green beer drinkers home safely!