Keto is not easy when you spend your days being athletic. I feel like I'm ravenous all the time and all I do is eat cheese all day long! One thing is for sure about keto and that is my body is burning through all the aged chorizo, Jarslburg cheese and hard-boiled duck eggs faster than I can shove them at my face. Maybe keto combined with ten-mile mountain bike days followed by ten miles of hiking all in one morning is a bit intense. I don't remember the last time I snacked on this many olives or spoonfuls of macadamia butter.
A spoon full of butter! Macadamia nut butter that is…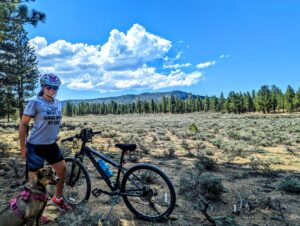 This morning I did a nine-mile mountain bike ride with my puppy and burned over a thousand calories right there. Then, I came home, cleaned my Jeep and the house and had already walked eight thousand steps according to my snazzy smartwatch. Then I had to go to work! As Big Bear Lake California's premier hiking guide even during the slow time of the year, I sometimes host three different groups of hikers a day. How can you not get out and hike all the trails when the wildflowers super bloom like crazy above seven thousand feet? The purple milk vetch, rust-red Indian paintbrush and wild iris are sprouting up everywhere in the Big Bear Valley now that it is finally springtime at over seven thousand feet.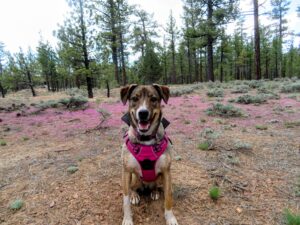 This week I have been a little obsessed with mountain biking, hiking and jeeping at Holcomb Valley. Holcomb Valley was once a bustling gold rush town called Belleview back in the 1860s. These days on a weekday I mostly have the alpine meadows full of purple grape soda lupines to myself besides the random other off-roaders I see checking out what is left of this gold rush relict. Big Bear Lake received so much snow and rain this past winter that the gold rush relict sluice ponds are chock full of water even coming into early June. There is so much water for my puppy to frolic through. This rescue Catahoula pup is definitely living her best life.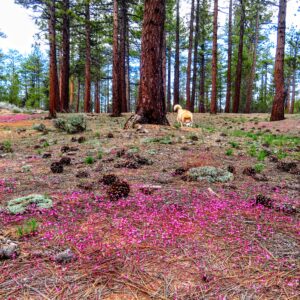 So what do I chow down on every evening if I can't have carbs but find myself ravenous after a three thousand calories burnt kind of outdoor day? This wannabe Mac N Cheese is chock full of green veggies and not very many carbs. Sure, Mac N Cheese may be better started with a carbohydrate-filled roux but I'm trying to cut back on all those delicious carbs these days. To be honest white flour, an essential ingredient in the traditional roux is one of the ingredients that upsets my stomach the most. Although to be honest inhaling an entire bowl of what is mostly cheese and broccoli with some chicken pieces thrown in will more than likely have me sleeping in the fart room tonight anyways.
I highly recommend serving this keto Mac N cheese with my awesome keto garlic and pepperoni bread knots.
Chicken and Broccoli Keto "Mac" and Cheese
1 package broccolini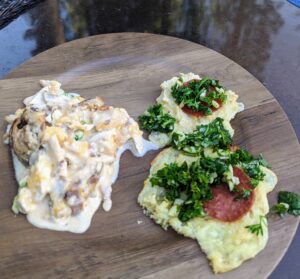 1 cup shredded leftover rotisserie chicken
1 teaspoon chili oil
1/2 cup half and half
1 cup shredded cheddar cheese
1/2 cup shredded colby jack cheese
1/4 cup cream cheese
1 garlic clove, minced
1/4cup cooked bacon crumbles
1/2 teaspoon salt
1 teaspoon ground white pepper
To the chili oil add the garlic, just for a minute until the garlic is fragrant. At the same time, poach your broccolini pieces. Add the half and half to the garlic butter. Preheat the oven to 350. In a baking dish layer the drained broccolini and the shredded rotisserie chicken.
Add the cheeses to the butter mixture. Mix in salt and white pepper and the bacon pieces. Pour the cheese sauce over the top and bake for 20 minutes. One hour after inhaling head straight to the fart room.