I'll be the first one to admit I suck at baking Christmas cookies. It's not that they don't taste like sugary-bring-on the diabetes Christmas deliciousness. But my attempt at pine tree cookies or chocolate-covered cherries usually turns out to look like green piles of Christmas poo or maybe something my dog might have thrown up. (But it is still so green and festive!) If I gave you a festive baggy of green clumps this Christmas season, no it's not something my dog threw up, it's a bag of love from the heart, from your friend who is not a perfectionist. (But does love to bake.)
It's frustrating not to be a perfectionist sometimes, like during the holiday baking season. I love to bake. I love to give bags of these easy Christmas tree cookies to the neighbors but I don't actually enjoy embarrassing myself with what my baked goods look like or repeating the words "They taste delicious, I swear"
Eggnog and mistletoe and whiskers on kittens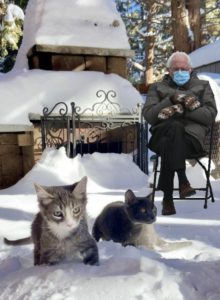 Bernie in the backyard wearing some mittens
Fresh Christmas cookies are ready when the timer dings
These are a few of my favorite things
An ethnic cookie treat
When it comes to being Christmas time we are craving rose cookies in our household. The first holiday season I traveled to Bangalore India, I fell in love with rose cookies. The secret ingredient is coconut milk and they are deep-fried! They are the perfect cookie to go straight to my ass! Unfortunately for me and that whole not being a perfectionist part, getting the dough perfect for rose cookies is very hard. Almost as hard as walking into almost every grocery store in Little India in America, trying to ask without knowing a word of Hindi, where to buy holiday rose cookies. But luckily if you want to bake rose cookies in your holiday home you can quite easily buy the rose cookie mold on Amazon. Grab a can of coconut milk. Whip up the dough and bing! Bang! Boom! You are ready to shove some holiday rose cookies in your face, right here in the good old U.S. of A.
Where I fail at baking even the easiest pine tree cookies I always succeed every December in baking the best most, boozy fruit and nut-filled Anglo-Indian Fruit Cake. The holidays just can't start every mid-December unless I'm spiking the eggnog with rum and placing this rum-soaked candied fruit masterpiece in the oven. (Don't forget the candied ginger and ginger preserves! That is the secret ingredient in baking the perfect Anglo-Indian Christmas Cake!) And having Merry Christmas Everyone by Shakin Stevens blaring on the radio.
The best Christmas cookies for people with more patience than me
These have to be just about my favorite Christmas tree cookie of all time. Unfortunately, my local market discontinued the store-bought pipeable frosting. Now I have to make it myself and the anti-perfectionist in me still has to clean and decorate the house and wrap all the presents and find time to take a shower. So nope. Not taking that extra step to make the best Buttercream Frosting. But here is the recipe for it from one of my favorite baking blogs. If you do feel like getting a lot more Betty Crocker than me and making the best Buttercream Frosting from scratch, these do taste amazing (It's the almond extract) and they look fantastic in a Christmas gift bag.
These Christmas light cookies win cutest and are super easy to make.
For a flat-out, delicious and oh-so-easy-to-bake cookie to throw in your Christmas tins try these whipped shortbread cookies.
So you have baked twenty different types of diabetes coaxing Christmas cookies, how do you pack them all up for friends and family? Hit up your local Dollar Tree in the beginning of December and stock up on Christmas tins and goodie gift bags to wrap up your Christmas cookie gifts for friends and family.
I happen to really love shortbread. It has to be one of my favorite easy delicious cookies to make at home. These Christmas confetti shortbread bites look so great wrapped up in a holiday bag to give as gifts at Christmas time. One of my fav easy to take to school for kids Christmas cookies are these rice crispy Christmas trees. And let's face it, how cute are they?
There are none diabetes Christmas baked goods choices too
Not all Christmas delicacies are in cookie form. Sometimes you just need a savory treat to serve to friends and family. This Puff pastr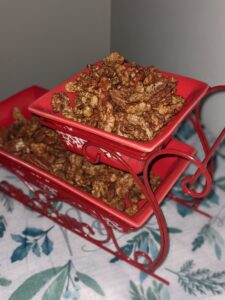 y Christmas tree is the perfect appetizer to take with you to that Christmas eve supper party.
I might seriously suck at Christmas baking but one Christmas cookie recipe I have mastered is Sweet Potato Dog Cookies Shaped like Christmas Trees. They are easy, fun and festive for Fido. I bake these for all my dog mom friends every late December. I might not be that perfectionist who makes the prettiest cookies for humans, but my dog friends normally never judge me.
A sustainable kitchen Christmas
Some people might say buying Christmas decorations for the kitchen during a pandemic might not be the best idea but those people did not just score this awesome snack sleigh for two dollars! Because your favorite holiday Chex mix looks so much better in this festive sleigh ensemble. I also scored awesome holiday wine glasses. I am terrified of pandemic germs but we also have a great dishwasher to sanitize all my zany holiday thrift store finds.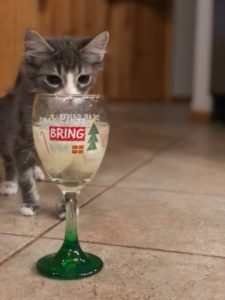 Another great place to buy holiday swag is your local Big Lots or Dollar Tree. I feel like we break wine glasses more than I should be admitting on social media. Dollar Tree festive wine glasses are a score for every season. Just ask this kitten! You don't have to break the bank at Christmas time as you can clearly see from my thrifting and Dollar Store finds. More money in your pocket to bake extra batches of baked goodies for friends and family.