Tonight I got to be the nutwalla. But first I had to squeeze my Butter Chicken Butte into my largest Kurti. It's an Anglo-Indian Christmas miracle I didn't have to cut the damn thing off of me afterward! That's how tight a fit my favorite emerald blue Kurti is these days. When I purchased this hand-stitched Kurti before a global pandemic and multiple covid vaccines fucked up my body six ways from Sunday, I used to be able to fit a size small, well anything. That was before the Covid vaccine made my back and bad hip ache for three years straight, making working out extremely difficult and did I mention I tend to stress eat a lot of butter chicke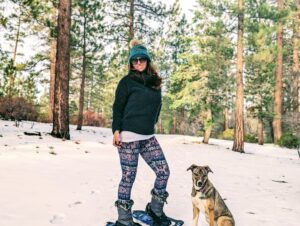 n or possibly lamb jalfrezi?
When you get peer pressured into taking a vaccine that basically turns your body into a living breathing, aching test tube, you might feel like stress eating every kind of Christmas cookie this past holiday season. Well, the good news is that this curry-spiced trail mix is keto and high in protein. It's a great snack to take with you snowshoeing to shove at your face when you are high on a mountain top and this is lunch.
Before this life-altering for so many millions of people worldwide pandemic, we were so blessed to spend the weeks around the Christmas holiday revealing with my boyfriend's extended family in Bangalore India. I miss those ethnic south Indian travel adventures. One day when air travel is not a terrible pain in my very large ass, I hope to travel internationally again and inhale some delicious Indian street foods. But for now, I'll spend my winter days snowshoeing with our new adventure pup and creating nutwalla specialty trail mixes.
Now that it's the new year everyone is eating healthily at least for the month of January. If you too are enjoying a healthy January, this is a fantastic, zesty trail mix. It's keto. It's gluten-free. And it's full of all-natural ingredients you can actually pronounce!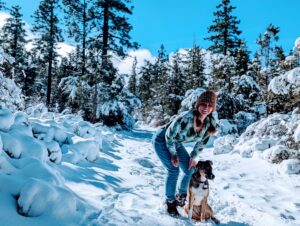 I used to make this with cashew cereal in my youth when I first discovered how to be a fitness-driven food blogger. That was so many years before I traveled to Southern India and my spice palette was enlarged by jalfrezi, the zesty flavors of tamarind and what the hell are lady fingers anyways?
Traditionally on the streets of Bombay, the nut vendors or nut-wallas would make this using dry roasted peanuts but I prefer it with walnuts and pecans. You could also throw in macadamia nuts, cashews, or any nut you love!
I've made this recipe for many years but when I was younger I would use Kashi cereal to make it more like a trail mix. The cereal made it delicious but those were my pre-keto days. So what is the key to this delicious healthy nut mix? Homemade curry powder of course! Fresh spices like white cardamom, cloves, cumin and pepper give this fragrant spice blend a real zing.
As a sustainable food blogger, I love that you serve these curried nuts, no not in a bowl that nee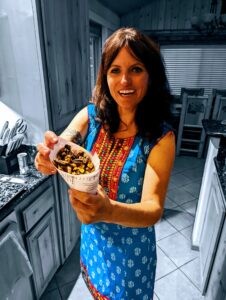 ds to be washed during this terrible drought we are in, but in a paper cone. This is how the nuts are served in Bombay and how we served them to our dinner guests as well.
Curried spiced mixed nuts
1 cup pecans
1 cup walnuts
1/2 cup golden raisins
1 teaspoon homemade curry powder
1 teaspoon cinnamon
1 teaspoon maple syrup
1 teaspoon salt
1 teaspoon paprika
1 teaspoon chili powder
1 teaspoon coconut oil
Preheat your oven to 350. In a big bowl, layer your nuts, sprinkle with coconut oil and the maple syrup, and layer on top all the spices including the salt. Give it a good toss and move the soon-to-be spiced nuts to a cookie sheet in a single layer. Bake for 10-15 minutes until just tasted. Let the nuts cool and mix in the golden raisins.