America has a fascination with dogs. The typical American spent around $1,400 a year just on their dogs last year. It was estimated that in 2021 Americans spent over 109 billion on their Fido's and Champs! As Americans, we buy two hundred-dollar dog beds. Living in a ski town, I see so many tourists putting doggo booties and jackets on their huskies. Why? Some of us even buy ski goggles for our pup's eyes! If wild coyotes and wolves managed to get around without ski goggles their whole lives, why does my pup need Raybans? My new puppy seems more entertained with the donkey carpal bone she just found in the forest. Why does she need a thirty-dollar Fab Dog Rotteserie chicken chew toy from Chewy? When it comes to nourishment for my pup, of course, she eats as healthy as my boyfriend and I do. So of course when I saw an Instagram video about the trending woofles, dog waffles, I thought, well I can create that healthier and tastier!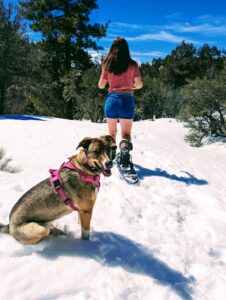 I'm always on the lookout for easy and healthy treats for my pup for those long days of snowshoeing mountain trails. When we set out for a five-mile snowshoe trek, I always plan out a healthy lunch for myself. Why wouldn't I pack home-baked peanut butter and banana dog waffles for man's best friend?
Here we are snowed in at our mountain town of Big Bear Lake after a simply unheard-of blizzard blanketed our mountain resort towns in seven to ten feet of snow. Mammoth Lakes and Lake Tahoe might be used to this kind of snow but our mountain residents have forgotten, that yes, Heidi, we do get weather like this! I've lived here in the San Bernardino Mountains my whole life and remember many a storm where the snow was up to our roof line and we simply had to walk to the market a mile away for many days. The roads just were not plowed. Here in 2023 after so many consistent years of drought, man was our infrastructure not ready for this blizzard blast! Now, most of our mountain highways have been shut down for upwards of two weeks.
Here in Big Bear Lake, we rely on the tourist dollar. Yes, it has been magical, driving about, taking snaps of the snow and there are no tourists anywhere throwing dirty discarded diapers in the fresh snow. That has been pleasant. But I personally work in the tourism industry and having two weeks off work when eggs are outrageously priced is not optimal. So as unique as it has been to have an entire weekend off work to be snowed in with my family and pets, huzzah for the tourists to return!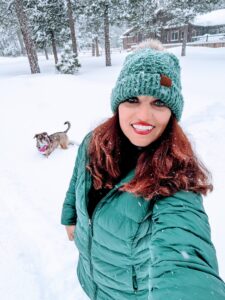 Living in a resort town we simply don't go out to eat very often because we don't want to wait two hours for a table. This mountain closure has given us a chance to enjoy local restaurants and help them out with some well-needed economic relief. I have been dying to try out one of our local restaurants, the Lumberjack Cafe because visitors rave about their sourdough waffles and I simply adore sourdough, well anything. After seven days of shoveling so much snow, my arms and triceps were aching and I definitely needed to bask in some carbs. I needed a waffle, something I never eat, even though I have a very nice waffle maker at home.
Big Bear Lake California was originally settled in the late 1800s as a destination for a future gold rush. Like other areas once famed for panning for gold, sourdough was popular with the gold miners because of how simple and hearty the materials to make this bread are. Old mining areas like Alaska and San Francisco are known for their sourdough products so why shouldn't Big Bear Lake be?
Or did you think we were famous for just our dog waffles?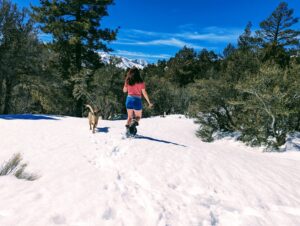 I personally am a huge fan of anything and everything sourdough from English muffins to yes, waffles. Are you also a fan of sourdough? Sourdough starter is easy to order off the internet and once you have your mother started you can make so many delicious sourdough treats like these. I simply adore Sourdough Pretzels. They are a lot of work though!
Now, what the hell is a woofle you might be asking?
After our delicious carbo-load breakfast at the Lumberjack Cafe, it was time to take the puppy for a walk before, yes you guessed it, more snow shoveling! I did give her half my leftover waffle and thought to myself, there has to be a more pup-friendly version of this treat. Then I came across a puppy waffle maker because obviously everyone needs to pay Target thirty dollars for a waffle maker for their dog they will only use once. If you really want to make your woofles Insta-Glamorous, I suggest making a waffle shape, then cutting out the dog bone shape with a dog bone-shaped cookie cutter. Because every dog mom owns one of those, right?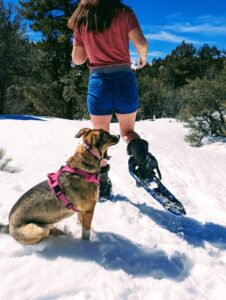 I'm not some IG influencer who will spend eighty bucks on a doggy bone-shaped waffle maker. But if you want to purchase a dog bone-shaped waffle maker be my guest. I already have enough appliances hanging out under the kitchen sink that I have not used in a year!
Woofles. It's what's for breakfast. For your pup.
I'm sure you have heard of chicken and waffles. Now how about chicken in your waffles? Trust me, your pup will love them! You can also add supplements like CBD oil or fish oil to your dog waffles. One of the best things about making homemade woofles for your pup is it's a great way to use up leftovers. Any time we have leftover rotisserie chicken this is what I use it for. Too many ripe bananas? Throw them in the woofle batter! Did you buy too much kale or spinach this week? Leftover veggies thrown in this dog waffle batter is a great way to get your pup extra greens. It is also a great way not to waste food. We are so big on not wasting food in our household. Any extra scrapes we can basically recycle by giving them to the pups help our environmental and kitchen carbon footprint.
These dog waffles freeze exceptionally well. I usually bake a big batch and freeze them in small ziplock bags to take on our hikes and camping adventures.
Sweet Potato and Chicken Dog Waffles
1 cup shredded chicken
1 roasted sweet potato
2 1/2 cups whole wheat flour or oat flour for gluten-free
1 egg
1 teaspoon baking powder
2 teaspoons coconut oil (And extra for greasing your waffle maker griddle)
1/2 to 3/4 cups of homemade bone broth
In a Nutri Bullet combine your chicken, 1/2 cup of bone broth, oil and sweet potato. Blend until smooth. Mix in the egg, baking powder and flour. You want this batter to be about the consistency of regular waffle batter. If the batter is too thick, just add a bit of extra bone broth until it is perfect. Oil your waffle maker with coconut oil and then bake your dog waffles in the waffle maker.