As soon as I saw the dirty reindeer costume I knew I had to have it. I also knew that it being an extra-large my boyfriend would fit perfectly into it on Christmas morning. I grabbed the, not exactly mint condition garb off of the rack at the thrift store and shoved the gently used onesie into my shopping cart. Low and behold there was another set of formally loved Christmas onesie pajamas right next to it in my size! Oh, this was happening. Our Christmas pajama party was on! Nothing says happy holidays like sustainable thrift store Christmas fun.
Reindeer onsies &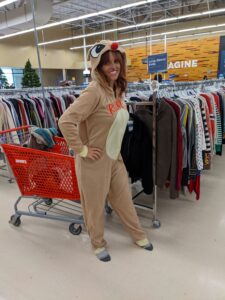 whiskers on kittens.
Thrift store Christmas PJs & kittens named mittens.
Light up Christmas bling!
These are a few of my favorite things!
I never ask for fancy Christmas gifts like a Peloton for Christmas like some of my friends. But I do ask that our family be full of the fun holiday joy. Yes, that might mean putting up the Christmas tree the day after Thanksgiving and cranking Shakin Stevens, Merry Christmas Everyone almost twenty-four seven for forty-five days straight. You could probably find me dancing nightly in the living room in front of a roaring fire to Feliz Navidad with our cats cradled in my arms if it's any day in December. I only get around forty-five days a year to listen to An Alabama Christmas and I take full advantage of that damn it! Yes, I might have inherited this crazed love of the holidays from my dad, who would read us Twas the Night Before Christmas on Christmas Eve when I was a kid in front of a roaring fire. And yes, he always had a chilled glass of eggnog. I am the only one in our family besides dad who enjoys eggnog to this day.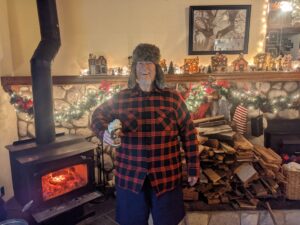 Yes, I am always the one belting out I Don't Want A Lot For Christmas in Whole Foods with Mariah Carey at the top of my lungs as I sashay down the isles with my smoked and peppered brisket from the deli. I might be paying eighteen dollars a pound for smoked delicious meats but I don't even care because I am always so full of the Christmas spirit. And maybe I saved a lot of money buying Christmas pajamas at the thrift store instead of giving my money to Amazon for a garment I will wear for an hour.
Do you know what also fills me up with the Christmas spirit? Not participating in Cyber Monday or Amazon Wednesday or Nordstrom Thursday or any of those other weekdays where consumers mass buy American Bro dolls at Costco for an extravagant price. No instead I bought all my nephews whoopie cushions and my cousins will either love me or hate me on Christmas morning. (But they will definitely roll their eyes and say "It's definitely a gift from Uncle Jim's daughter")
I might have tried on this XL Rudolph costume in the middle of Savers on December 1st as my sister-in-law took photo evidence.  Sending the photos to my boyfriend's teenage daughter, I asked what are the chances I can get your dad to wear this Christmas morning? The chances are probably better that we will get a white Christmas this year in our drought-stricken ski resort town. One thing is for sure, and that is I'm going to have to ply my love with Breakfast Cafe White Russian's at nine a.m. Christmas morning in order to pull this off. That is what happens when your girlfriend is obsessed with curbing her carbon footprint and embracing a thrift store Christmas.
A Ho Ho Ho Hiker Babes Christmas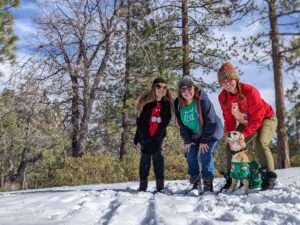 I just hosted some of my favorite Hiker Babes and pups today on our annual Big Bear Hiker Babes ugly sweater snow hike. Yup, you guessed it, my awesome crazy cat lady ugly sweater was a thrift store Christmas find of the day last Christmas season. My sister-in-law found a matching one and we felt like the big winners of the day. Now, this is how you make two crazy cat ladies very happy!
My mom is not so much into the thrift store shopping like my sister-in-law and I. But on our thrift store Christmas shopping trip last week my mom scored the ultimate treasure. She found these new, in a very damaged box, National Lampoon's Christmas pint glasses. I'm not going to sit here and give you my favorite eggnog recipe because let's face it, good quality eggnog is hella easy to just buy from Whole Foods. But if you want to make your own from scratch eggnog treat, try this recipe! Good quality eggnog sipped out of a vintage National Lampoon's Christmas pint glass is the perfect ending to an ideal thrift store Christmas. Make sure you add a splash of Sailor Jerry rum to your glass.
Merry Christmas and Happy New Year from the Hungry Mountaineer and many stinky felines. This was an ultimate Christmas card fail. It's hard to convince three cats and a dog in sweaters to pose for a Christmas card photo. Also, good lord, after ten minutes I was a sweaty mess in these Christmas pajamas!