I used to be a trail runner. I used to run fifteen miles before work in the daytime hours, go to my night shift job and then bust my ass making a living until the sun started to rise. I used to go on hiking vacations to the Eastern Sierra's where "On vacation" I would hike twenty-one miles in a day. I had so much energy before I was in my forties and vaccines and COVID fucked up my body. I've tried keto, I've tried exercising for four hours a day and I just don't understand how to get back to that place that I was. It's a frustrating existence but spicy Hawaiian chicken with a gochujang coleslaw makes me feel a bit more upbeat.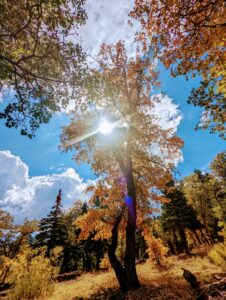 Now here I am two months post-COVID and still struggling to even hike up a small mountain. I get up every day and go to work, leading hikers on the easiest hikes in Big Bear Lake and sometimes I'm personally breathing so hard I feel like I'll throw up. It's embarrassing. This is not me. This is my post-COVID lungs talking. It's so depressing to think about how I used to run and skip through the forest trails like they were nothing at over six thousand feet. And now I feel accomplished if I do a five-mile hike. What the hell has this pandemic done to my body?
I feel like there are probably so many other athletes out there who are probably going through the same thing after having COVID and I honestly feel for them because this shit is not fun. I miss being athletic. I miss not looking fat and I miss fitting into my favorite pants. I am not enjoying this post-COVID reality.
When I dressed for my twelve-mile butt buster hike this morning I tried to squeeze my pudgy body into my favorite sports bra that I haven't worn since last summer. And it was so unbelievably uncomfortable, which yes sports bras are supposed to be. But how did I gain this much back fat that my fucking sports bra doesn't fit? And why couldn't I have gained all that fat in the front for heaven's sake? With all these advances in science and technology,  can't we figure out some kind of science to choose where our fat goes on our body? I really don't give a damn about self-driving cars. I could live the rest of my life and never have a Tesla and I would be totally fine but when I gain twenty pounds I would really like to be able to decide where it is proportioned.
But enough about back-fat. Let's hike
The wildflowers were unbelievably disappointing on this humid late June morning, but it was still an awesome butt-busting hike. When I realized that the wild lavender Penstemons and bright yellow dog weed, were not going to be putting a show on South Fork Trail today I just concentrated on getting in an unbelievably good training hike for my two-week shenanigans on all the trails of the Eastern Sierras coming up very soon.
I bitched and moaned a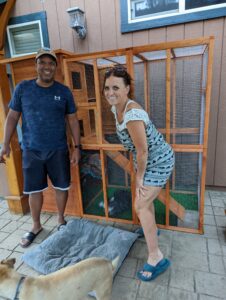 lot about my back pain and came to the realization that my back is probably hurting because I'm carrying twenty extra pounds on my spine. Damn, it do I need to get my health back on track. I can't deal with this chronic back pain. I am trying my best to eat healthy as often as possible. This super easy crockpot dinner is so simple to just throw in the crockpot if you feel like taking your fat ass for a hike all day long. It is such a delicious clean meal served over this gochujang sauce coleslaw.
I love easy crockpot recipes on a busy summer's day. Especially a busy summer's day when my back hurts. This is the easiest recipe to throw in your slow cooker right after lunch. Then you can finish building a catio, stack three cords of wood and by happy hour this delicious Hawaiian chicken is ready to throw over a bed of some very tasty coleslaw. If you want to make your own gochujang sauce you can totally do that too!
It's tangy. It's zesty. It's that hot, red Korean sauce you never realized was missing from your cooking. Hello gochujang sauce.
Hawaiian Chicken with Gochujang Coleslaw
2 pounds of chicken thighs, cut into bite-sized pieces
1 teaspoon minced fresh garlic
1 teaspoon minced fresh ginger
1/2 cup soy sauce
2 teaspoons ketchup
1/3 cup honey
1 cup pineapple pieces with juice
2 teaspoons rice wine vinegar
2 teaspoons sambal chili sauce
1 cup water
Mix everything but the chicken thighs and pineapple chunks in the crockpot. Add in the chicken and the pineapple. Cook the Hawaiian chicken on high for at least four hours.
 Gochujang sauce coleslaw
1 bag shredded cabbage coleslaw mix
5 radishes, chopped
2 teaspoons fresh mint, chopped
Gochujang Coleslaw dressing
The juice of half a lemon
1 teaspoon gochujang sauce
1/4 cup mayonnaise
1/4 cup Greek yogurt
Mix all ingredients and dress the coleslaw with it.
Gochujang yogurt sauce
2 teaspoons  gochujang sauce
1/2 cup Greek yogurt
Mix the Korean gochujang chili sauce and the Greek yogurt. Drizzle this over the coleslaw, topped with the Hawaiian chicken.