As the most popular hiking guide in all of Big Bear Lake, I often have my vacation guests telling me how they love the sounds of the winds in the pines. As someone who has lived in these rural mountain towns for my whole life the wind in the pines causes me to have panic attacks, not feelings of euphoria. California wildfires are a dire thought in the minds of all mountain residents in 20022. Nobody wants their home mountain community to be the next Pardise California wildfire.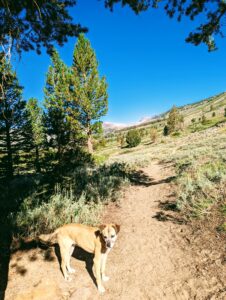 These days in our California mountains we don't just get a pleasant five-mile-an-hour wind in my hair. Nope, not for us in California mountain towns like Big Bear Lake and Mammoth Lakes. We get eighty to ninety mile-an-hour wind gusts that can destroy whole towns when combined with California wildfire storms. We get days, sometimes weeks of black oily drift smoke from wildfires basically from June to October. This is no way to live but it's a way of life in post-pandemic 2022 in California mountain resort towns. This is no way to live and life in mountain communities it didn't use to be like this.
I was recently on a holiday in the Eastern Sierras and enjoyed four days of glorious blue skies with even some clouds on the most scenic days. And yes, there was a lot of wind at the uber-crowded Silver Lake Campground that I camped at. This used to be a family-friendly place and now it seems overrun with extremely drunk sorority girls partying it up until midnight. But at least that damned eastern Sierra wind can drown out some of the drunken sounds of random sorority bitches puking at midnight.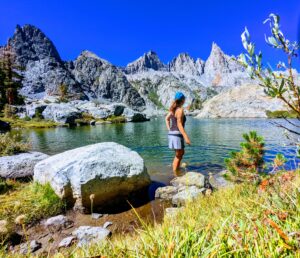 By my third day camping at Silver Lake, I was enjoying the families of deer randomly strutting through my campground and sometimes fighting and annoying my dog. But I was super over the drunken campers next door and how oblivious they were to everyone else around them. I was ready to get the hell out of beautiful aspen-covered Silver Lake and head up north to the Sonora Pass and set up camp where I didn't expect to meet up with another camper in this deserted mountainous area.
I packed up camp when my alarm went off at five-thirty in the morning and was driving up the 395 sipping on the espresso I had made five days ago in my home kitchen. By six-fifteen, Lori McKenna and Brandi Carlisle were melodiously blaring from my shitty Subaru speakers. I was feeling caffeinated, ready for an awesome hike and life was good. Until I reached Conway Summit at over eight thousand feet just east of  Virginia Lakes. I was coming down the grade into Bridgeport. The whole Bridgeport valley was nothing but a black line of smoke. I had been out in the vast wilderness of the eastern Sierra for the last four days with very limited cell phone coverage and I hadn't been able to check the news or even see what the hell Donald Trump was doing this week. I pulled safely off of the side of the 395 to Google California wildfires in Bridgeport or Lake Tahoe. Finding no info at all I continued on into the smoky valley and one-horse town of Bridgeport. One of the two gas stations in town was open and the man working there let me know the smoke was coming in from the fires raging out of control in Yosemite National Park across the Sawtooth Mountain Range.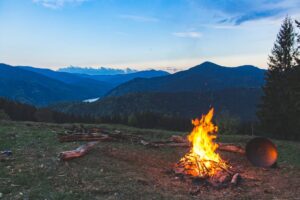 Seriously, I thought the California forestry learned its lesson last year with the massive 221,835-acre Caldor Fire that burned out of control for sixty-nine days last summer.  These are the dangers of letting fires burn out of control. Once upon a time before global warming and extreme California drought, it was okay to let lightning snag fires burn naturally but this is the year 2022 and even California's Governor Hair Gel should know California is going up in flames one glorious mountain town after another. And here we sit in southern California on the brink of a ten-day hotter than hell heat wave with a holiday weekend (Labor Day) looming ahead of us. You know what that means, right? It means all these Snow Pig campers will invade the national forests all over southern California, build illegal campfires even when we have days of fifty miles an hour wind gusts and not care whatsoever when they burn down our scenic mountain forests. Forest recreates have lost their privileges to have a good time in the wilds when they just can't adult and follow the rules.
Don't cut wood illegally. A chain saw can start a California wildfire on timber dry days.
Don't smoke in the first and throw down your dirty-ass cigarette butts to smolder.
And for the love of God, don't build illegal campfires, stupids!
Here we are right after Labor Day weekend in Big Bear California and surprise, surprise, our mountain is on fire again. California wildfires are so the norm these days. I don't understand why the national forest service did not close down the national forests to car traffic over the holiday weekend to limit
the campers with their illegal fires and the asshats illegally cutting wood on a timber-dry day. I saw at least three hundred people all over the dirt roads this holiday weekend from Friday to Monday and those are staggering numbers! I'm sure some people can actually read the signage; No illegal campfires stupid! But I personally see people gathering firewood for campfires all over their forest campgrounds. It does no good to report these dangerous shenanigans. Until someone actually lights a match and starts a dangerous campfire the fire department will not act.
So here we are on September seventh halfway through a massive heatwave and Big Bear Lake is on fire again. The Jeffrey Pines above Snow Summit Ski Resort are burning to the ground. Big Bear Lake lost our air support for this fire two hours after it broke out on Monday to a more aggressive California wildfire and before the morning the fire had blossomed to over five hundred acres. Now there is no incident commander, no one in charge and many fire departments are scrambling to put out the fire with no one in charge. This is how fires get out of control and mountain towns end up with ten thousand acres charred.
Prayers for Big Bear Lake this morning. Because we need it.