The first time I trekked to the massive Mammoth Rock obviously it had to be an adventure. This hike features one of the most impressive views of the entire city of Mammoth Lakes down below this huge impressive granite structure. But seriously, how does no one talk about how bad the sulfur stink is here? I hiked this with my thirteen-year-old very gassy dog and she had nothing on this extremely smelly hike up to Mammoth Rock. I've trekked to multiple sulfur hot springs in my day and never ever in my life have I smelt one that reeked so very bad. I'm shocked nobody talks about it! If I had a face mask with me today on this trek, I would have worn it, that's how bad the smell was as I scrambled basically straight uphill. Just an FYI, I might have gone the hard way. I didn't set out to trek to Mammoth Rock, I just set out for a little hike. I ended up trekking through the tail-end of a mountain bike race. I don't recommend this. As I constantly stepped out of the way for the slowest of the BRAP mountain bikers, I found my way through the pines closer and closer to this mega rock I had only sen from a distance.
Bring a face mask! No seriously
The pandemic may be basically over but all those facemasks you collected back in the day can have their uses. Like on smoky days we see so often here now in the wilds of southern California. Or when you accidentally wander by the smelliest old sulfur mine ever. Aside from the terrible smell of the abandoned sulfur mine, this hike was ve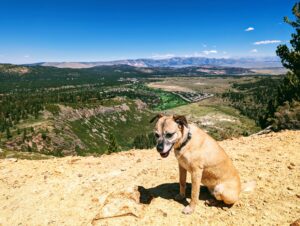 ry beautiful. I did it as an eight-mile loop because I was really just out for a stroll in the forest at two p.m. after my five-hour drive from Big Bear Lake, California to Mammoth Lakes. But I discovered you could just park off of Old Mammoth Road at the start of the crazy-ass jeep trail and make this a three-mile round-trip hike. This would be a fantastic short lil hike to witness a summer sunset over the city of Mammoth Lakes.
My pup and I saw multiple deer including some fawns maybe just a few weeks old on this trek. For a Saturday afternoon in the summertime, I was shocked to not see another hiker on this little-known trail. If you are looking for off-the-beaten-path Mammoth Lakes adventures this is it. Especially if you don't mind that sulfur stench.
I'm pretty sure my physi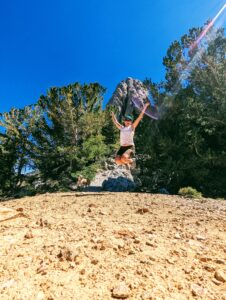 cal therapist would not approve of these shenanigans. Also, it's really hard to hold in all your fat while jumping.
So how was the hike?
The hike to get to Mammoth Rock is supposed to be five miles round trip. Somehow I hiked up the old jeep road and if you did the same straight uphill hell of a hike and wanted a smelly-ass adventure you could make it to Mammoth Rock in just a one-mile very steep uphill hike. Here is the easy spot to park!
I'm really looking forward to coming back on the shuttle in the fall and doing this hike again. I'm planning on taking the free shuttle to Twin Lakes and hiking up to Panorama Dome and then down to Mammoth Rock and back to our campsite at New shady Rest. I never realized there are so many Aspen trees down Old Mammoth Road as well as a few historical sites. This was where the original Mammoth City was actually formed in the late 1890s near Mineral Hill.
When you stumble off the beaten path of an old Jeep road and amble straight uphill towards, a very smelly abandoned sulfur mine, you might find some unique historical references. And possibly the best view in all of Mammoth Lakes. This is the kind of hike I really like to fill in some of my not-so-crazy days of adventures in Mammoth Lakes. It was very easy but still got me sweating and wasn't too much for my old dog.