I feel like I need to apologize to friends and family these days; sorry if my FB posts are clogging up your feed but this fire is consuming my life, invading my thoughts. If I'm not feeling miserable about the trees and the trails and the fact that half of the ruggedly beautiful San Gorgonio Wilderness was destroyed this past week in a torrential wildfire, than I'm thinking about the poor animals who died. In one of the community forums about the fire a member of our community said a few days ago
"The media is reporting no fatalities for this fire. That's not exactly true when you consider all the deer, the bears, the chipmunks, the bobcats and the squirrels who perished when over 18,00 acres (At this moment in time) burned last week."
The lake fire may not have burned any homes in the 18,000 acres it's destroyed at this point but for the hikers, the hunters, the off-roaders who once enjoyed this outdoor paradise it's desimated our once gorgous forest.
I'm a trail runner who has been terribly injured for the last six months. I have not run in six months and who knows if I will ever run again. It breaks my heart and it's something I battle with every day.
It took me thirty years to get to a point in my life where I was athletic. Now I have to put that life on hold and try, really just try to take it easy. It's killing me.
Although I'm not allowed to run, my doctors (All eight of them! Yea for the morons who run workers comp!) say I am allowed to walk my dog. That's all the exercise I am allowed. It's funny though, because the days I take my dogs out into the forest are the days I actually feel good. Sitting on the couch all day reading and watching 30 Rock marathons may be very enjoyable but a few hours in, my sciatic nerve is aching so bad.
The dogs and I have spent the last month traipsing through the lower elevation trails of the San Gorgonio Wilderness at least two days a week. This drive is thirty minutes from our home, so yes, it takes a little bit of a drive to get there but for the beautiful views, the tall hundred year old trees and the alpine meadows its worth it.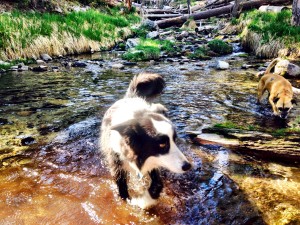 I feel blessed that I spent so many hours walking these trails with these happy mutts who just love frolicking in the cold alpine streams, because Friday this whole area burned to the ground.
All we have left are the memories.
It makes me think to just not take the time you have for granted. Some people hold on to material objects as the things they love. That's not me at all. I would give a corvette, a Shelby Mustang or some True Religion Jeans just to have my forest back the way it was a week ago. These trails were my favorite "possessions" and yes, I will always have the memories of Tippy and Carly racing through the alpine meadows in the spring of 2015 but it will take twenty or thirty years for this forest to regrow to be anything near beautiful again.