Somedays you just need a girl's day out. We just survived a global pandemic. Joe Biden is still stumbling his way through being president, and there might have been another mall shooting in a town near you. With all these life stresses we face here in 2023 sometimes self-care and a girls day is well needed to keep our sanity. Self-care weaves the foundation for wellness in our lives. So go for that hike. Spend a morning at a local day spa. Or just go on a thrift store shopping spree! Sometimes a much-needed self-care day means getting half-naked in a desert thrift store without dressing rooms to try on that perfect vintage romper you just have to have. Hey, you are with your best girlfriends so who cares as long as you are having precious together time. Or perhaps girl time for you means off-roading through a yellow sunflower-studded desert landscape that looks like a painting in your new Jeep. Go ahead, sing along with Kate Wolf at the top of your lungs with your favorite gals! A day full of your personal zen may include relaxing poolside at your favorite Desert Hot Springs day spa after sweati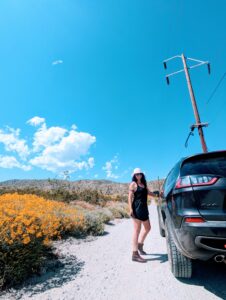 ng out the last month's stress in the empty infra-red sauna.
"Life moves pretty fast. If you don't stop and look around once in a while, you could miss it." – Ferris Bueller's Day Off
John Hughes had it right. I mean of course he did! Life was so much simpler back in 1986 before phones, Teslas and President Donald Trump. Here we are in 2023; Gas is over five dollars a gallon. A 12-pack of eggs is priced outrageously if you can find them. It seems that everyone spends every day hustling just to make a decent living. When was the last time you stopped to smell the roses? Or the Joshua Trees? Sometimes we need to find a getaway and just a little bit of zen. Maybe it's just a two-hour drive from home. Sometimes all it takes is one day off full of all your favorite pastimes to recenter yourself. Or you could just binge-watch John Hughes '80s movies.
You, me and Joshua Trees. And thrift stores. And day spas.
I've never really spent any time in Yucca Valley, until today. Yucca Valley is really in the middle of nowhere when it comes to southern California. Yucca Valley is well known to be the gateway to Joshua Tree National Park, or "The park" as locals call it. With the military base in Twentynine Palms so close to this desert town, Yucca is basically the economic hub of the Morongo Basin. Yucca Valley is such a unique place because you have all these free-spirited hippies merging with this very large military community. When it comes to your day of Yucca Valley thrifting, you might walk by a vintage thrift store with corsets and blue-haired wigs in the windows. Make sue you walk into that next to a Frontier vegan cafe for a soy iced latte. Stop in at the guns and ammo store on the corner before moving on to more Yucca Valley thrifting.
Deset dust and wanderlust

The hippie mecca of Yucca Valley is one hell of an interesting place to visit. I've never seen so many eccentric hippies and bohemian artists in one place since I visited Portland fifteen years ago. It was a very unique experience spending a whole day exploring the thrift stores of Yucca Valley searching for buried sustainable fashion treasures.  If you are a yard sale hound, an antique collector or a sustainable fashion fashionista then OMG Debbie, put some gas in your Jeep and drive to Yucca Valley for a morning of thrift store shenanigans! Yucca Valley thrifting adventures can be found just a two-hour drive east of Los Angeles. Do yourself a solid favor and book an Airbnb Experience with Jessie a vintage buyer for all your Yucca Valley thrifting good times. Across the country, through Airbnb experiences, you can book a thrift store tour from Atlanta to Chicago. What a fun way to collect some souvenirs and treasures while road-tripping across America. And I personally love helping out all these small businesses and individuals like Jessie with their side hustles. I personally don't think any of those concrete jungles have the draw of Yucca Valley thrifting.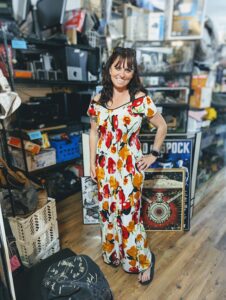 Why book a thrifting tour?
Your local host knows what they are doing. Most of these fabulous fashionista guides know the secret ins and outs of thrifting in their particular town.
Going vintage shopping with a guide can save you time and money. Bohemian towns like Yucca Valley have twenty or more thrift stores; Which are the best? Booking with a local guide can help you narrow down what is a treasure trove and what is just junk.
Your local fashion guide knows what outfits look good together. She is up to date on current trends. Looking for cowboy boots? On the prowl for rompers and sundresses? She knows just what thrift stores have the sustainable fashion finds you are desperately searching for.
Who wants to shop at H&M on vacation? Sure you can go to the Mall of America, embrace fast fashion and buy a body suit from Forever 21. But are you helping the environment by shopping at these corporate big box stores? One of the things I love about thrifting and recycled shopping is I really do find treasures. I don't embrace the trends and cargo pants you may find on the shelves of Target. When I'm traveling and I buy gently thrifted items from the towns across America I visit, I take home unique souvenirs you will never find in a shopping mall.
As an Airbnb experience host, I love networking with other hosts and helping them build their brand and their small businesses. I also love supporting other women in building their businesses. Knocking down other women's triumphs and aspirations just because you are a jealous floundering person is something I abhor in other women. I've seen it so much in my working life. It is just sickening. What happened to just being a good-hearted person and helping out your fellow man? It's something I learned as a child in Sunday school and a life lesson I carry with me to this day. Women who are catty and spiteful are one thing that really gets on my nerves.
I am also all about sustainable fashion and curbing my carbon footprint. Not embracing fast fashion is a great way to start. I have not shopped at a mall in at least five years unless I need a new bra. And on this thrift adventure with Jessie, I did purchase a brand new looking beautiful lace bralette cami, BTW! One thing about Yucca Valley thrifting; I may not be a weed-smoking hippie but these are my people down in the wildflower-studded desert. The people who love the earth and are happy to reuse and recycle. And for some that starts with our closet.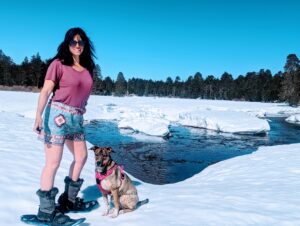 Here in southern California, thrifting is a big business. Chain thrift stores like Buffalo Exchange in Newport Beach or Crossroads Trading dot cities from Pasadena to Temecula. Platos's Closet has been a recycled clothing mecca for southern California sustainable fashionistas for the last ten years. But these chain thrifting stores do tend to be full of a lot of fast-fashion yet recycled finds from Forever 21 and H& M. You will find so many pairs of high-waisted jeans, used body suits and crop tops. I'm all about curbing my carbon footprint and recycled fashion but I draw the line at thrift store finds body suits. Just no.
Don't forget the wildflowers!
If you make your way to Yucca Valley for some thrift store adventures this spring make sure to stop and smell the wildflowers. Because they are absolutely everywhere! Bright yellow desert sunflowers are popping up all over the hillsides between Yucca Valley thrifting and my favorite price-conscious day spa, Miracle Springs Day Spa.
The intersection of Highway 62 and Indian Canyon Drive looks just like a painting this early May. With the mountainside of San Gorgonio to the west still covered with snow at over 10,000 feet these fields of wildflowers are a sight to behold. And a great place to stop and do a quick Jeep off-road tour before you drive to the spa for a relaxing after-thrift store shopping spree afternoon of sunbathing by the pool.