In my early twenties, I used to road trip to Utah to visit friends, frolic with bison at Antelope Island near the great Salt Lake and indulge in barbacoa burritos from Cafe Rio. Remember our twenties when we used to eat burritos? Do you remember carbs? Because I do! I can remember those days before keto. W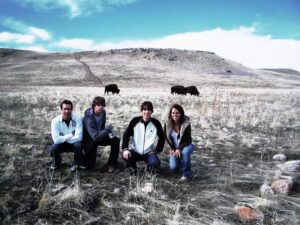 hen Cafe Rio opened their first California location in Redlands California fifteen years ago I was so excited to have this highly popular Utah Mexican restaurant in southern California. But thirty years old Amber was way more info the Cafe Rio salad. And obviously, I needed some Cafe Rio Barbacoa. Have you tried the Cafe Rio Barbacoa? It is ridiculous.
It is however not keto-friendly. But some days after I trek over 20,000 steps tracking donkeys, taking tourists on Jeep tours and traversing trails on snowshoes, I just need a few carbs for supper. As Big Bear Lake California's best hiking guide spring break means less slamming Coronas on a sunny beach in Baja and more trekking trails with my coworker, I mean Catahoula puppy and a group of first-time snowshoers. Spring break in Big Bear Lake California is incredibly busy when you work in this tourist town when we still have eight feet of snow in the backcountry from the March blizzards.
This is not a traditional winter in any way. And now it is not a traditional spring. As someone who works in the tourism industry in this ski town, I'm just thrilled that here we are the first few days in April and I have so much work. I can't even go thrift store shopping or have the spa day that I really want because pesky work is calling. These are the kind of problems as someone who runs their own business that you really want to have. Normally and our ski town of Big Bear Lake California, April is the shoulder season. You really don't see a lot of tourists around Big Bear Lake. Lake. You see a lot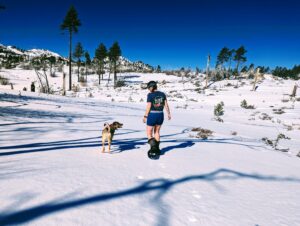 of Pacific Crest Trail through hikers. These dirty hippies are everywhere thumbing a ride, restocking on supplies and drinking a pint at our local brewery. But in April, the skiers and snowboarders have long skipped town. Easter weekend is never a busy tourist weekend in Big Bear. Except for this year. Huzzah to the tourists bringing that money into our local economy!
It's springtime! It's day spa and salad time!
PS I write the best springtime eccentric blogs when relaxing at a local day spa in Temecula California with a glass of Temeculas finest sparking wine in my fist and nice clean hooves. I mean pretty pedicured hiker toes after a winter of snowshoeing anywhere and everywhere all over the San Bernardino Mountains. Sometimes even the most hardcore snowshoers have to escape to a day spa and sauna and relax in the sunshine. It had been so long since I had some natural vitamin D. Springtime has me craving a relaxing spa day if I ever get a day off work and also salad. Lots of salad. I love salad all year but in the warmer months, I have salad for lunch and dinner on many a day. This salad is pretty easy as you just roast the meat in the slow cooker basically all day. And you can always whip up the Cafe Rio salad dressing the day before.
For the most amazing Cafe Rio Barbacoa Salad
For the dressing for this copy-cat Cafe Rio barbacoa salad, I recommend your favorite cilantro salad dressing. My two favorites would be either Cafe Rio salad dressing or El Torrito Salad dressing with pepitas.
Romaine lettuce, shredded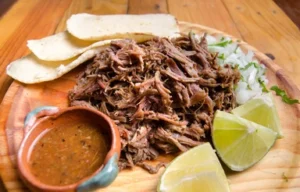 sharp cheddar cheese, grated
Black olives, sliced
Cafe Rio Barbacoa marinade
3/4's cup Dr. Pepper or Coke
1 big ass chunk of chuck roast, the fat cut off and given to your dogs
1/4 cup brown sugar
It goes in the crockpot
1/2 a red onion
1 tablespoon bacon fat
1 heaping teaspoon of oregano
1 heaping teaspoon of cumin
1 teaspoon pepper1 teaspoon onion powder
1 teaspoon fresh grated garlic
1 teaspoon salt
2 teaspoons paprika
3 teaspoons to 1/4 cup adobe chiles in tomatoes paste, depending on how spicy you want it
That chile sauce
( You can always just use one can of homemade enchilada sauce, plus the sugar and Dr. Pepper for this stage of the recipe)
3/4 cup sugar
1 can ground tomatoes
3/4's cup dr pepper  or coke
1 teaspoon roasted garlic
1 teaspoon salt
For the Cafe Rio Barbacoa, marinate your chuck roast in 3/4 cup of the soda and 1/4 cup of brown sugar. Marinate it for 2 hours at least, overnight is best.
Chop the onions finely and cook in the bacon fat. In the bowl of your crock pot combine the raw garlic, paprika, adobe Chili's, cumin, 1 teaspoon salt, pepper, oregano, onion powder and the onions. Add the chuck steak along with the Dr. Pepper marinade. The liquid should be just barely covering the chuck roast. Roast on high for 3 hours. Remove from the crock pot for at least 30 minutes and then shred. Return the truck roast to the crock pot along with one and a half cups of the preserved sauce from the crock pot. Add in your homemade enchilada chili sauce. Let your Cafe Rio barbacoa continue to roast for another hour and a half to two hours.