I pulled my aching body out of bed before dawn to go on a big ass hike. It was a few weeks into our month-long vacation, I mean, if you consider vacation hiking twenty miles every few days (Which I do!) I did not arise sleepy from the RV at dawn so my dog could become BFFs with Bambi. We were here in Silver Lake, California to hike! But, when mama Bambi decides your dog may be one of her fawns you have to just to roll with it.
A month in the eastern Sierras means I did not pack nearly enough socks. I've hiked so many miles in our three weeks in the eastern Sierras that I have literally worn through almost every pair of socks I brought with me. For the past three days as I trekked up Duck's Pass, twice, Mcgree Creek and tried valiantly to hike to hidden Dorothy Lake, I've added to my trekking mileage total for the month of July, trekking well over one hundred miles in the eastern Sierras on our summer vacation.
No wonder my brand new Saucony running shoes are falling apart and I'm literally down to one pair of unholy socks going into our last full day of vacation! Literally every afternoon for the past five days when I come back from my backwoods shenanigans I have to wash out my only remaining pair of socks and hope they can hold up for twenty more miles until I get back home to Amazon Prime.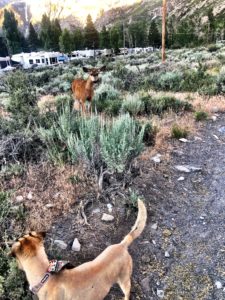 Six a.m. lakeside, and wearing my very last pair of hikers socks, in gorgeous and very cold even in July, Silver lake California, I could see my breath as we started up Rush Creek Trail, and also a mama deer and baby up ahead. This was before mama and big ass baby literally followed us a quarter mile up the trail until finally we stopped and mama Bambi was able to smell my dogs face. And I'm assuming then she realized Carly was actually a smelly D-O-G and not a cute baby deer?
My dog was so excited she shit herself.
I mean, seriously, this was probably the most exciting thing to ever happen to her. And then we went on a big ass hike that almost killed me!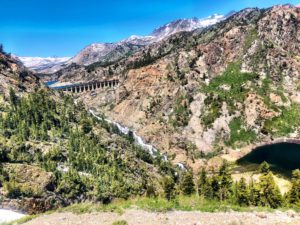 I don't know if I'll ever hike Clark's Lakes again, that's how hard of a hike this is. You gain almost 3,000 feet of altitude in the first three miles of this strenuous uphill battle. At least the way the shadows fall in Silver Lake along Rush Creek Trail, a lot of that is in the shade if you start the hike at an early enough hour. Of course, that means when we reached the first massive snowfield at 8 a.m. it was still frozen solid and icy as all hell. Wouldn't have been an issue if I had my microspikes, but some dumbass in the Eastern Sierras hiking group told me the day before this trail was snow-free.
#FakeNews
I didn't want to slide down this mountain, not before 8 a.m. when most of the word is just waking up, and not ever.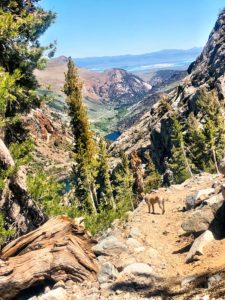 It's been a crazy week in the eastern Sierras. Besides our Mt Whitney attempt, kayaking and hiking until my legs are killing me and sitting on the toilet is nearly impossible, hikers are being chased by Dudes with knives and other unprepared hikers are being assisted out by SAR in critical condition. I seriously don't get why the news is not concerned about the fact that a hiker was chased by a dude welding a knife. Shouldn't this be talked about? Shouldn't Sheriff's in Big Pine be looking for this crazy knife welding man? As a female solo hiker, I feel like this news story should not be pushed under the rug,
I had friends calling me yesterday evening to see if the mountains I was ascending were anywhere near Big Pine, California and the Bristlecone Forest. Nope. I was ascending mountains towards Spooky Meadows (Which sounds like a good place to get stabbed) but in reality, is just a gorgeous high altitude meadow located at nearly 10,000 feet. If only it wasn't a ridiculous uphill climb to get to the pretty part.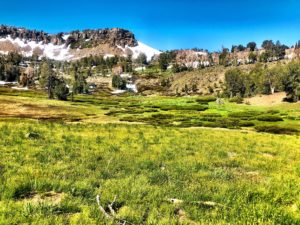 So just to update; Day twenty of vacation fun; I'm out of socks, I have not been stabbed by a lunatic and my dog has been adopted by a herd of Bambi's.