This morning I had no choice but to drive down from my snowy mountain town into the city and into the day from hell. It was a pain in the ass kind of day which concluded with the kind of sadness which involved me eating a cheeseburger and fries ( Which were amazing! I don't remember the last time I ate fries!!)
I had a simple enough list of errands this morning. Go to the DMV to replace my driver's license that the crackhead stole. Go to sport chalet and return the FRS chews that taste like Pledge. Sounds pretty simple right? Plus I had time to stop in Forest Falls and do a little hike and also make a quick detour to Jenks Lake and snap a few photos. It was turning out to be a nice morning. I was actually running an hour early as I approached Sport Chalet.
Then I locked my keys in the car, for the first time ever in my life.
Then I somehow managed to make it to the DMV only five minutes late to my appointment, and the weird thing is there was no one in the parking lot and no line at all when I was inside. I felt like something was terribly wrong for the DMV to not be a terrible mess of human activity. So I was standing there the only person in line when I saw the terrible sign saying that they do not except credit cards. Normally this would not be an issue I would just pay with one of my ATM/bank cards except for the crackheads stole everything I own last week. Neither of my ATM card's have come in the mail yet and I only have my AMEX. I got it because I saw it was the best credit card to build credit and that's something I've been needing to do for ages. It has come in handy so many times so I blame the DMV for not accepting it!
As I stood there in line, I realized that I had driven an hour and a half off the mountain for nothing. I had to reschedule my appointment, wasted my entire morning when I could've been at home enjoying the end of the last snowstorm of the season. I was so sad over this fact that I stopped at A and W burgers on the way back to cheer myself up with beef and fries and fat.
Luckily for me my sadness quickly dissipated when I received a call from the deputy in charge of my case who reassured me that they had caught the stupid crackhead on video in multiple stores when he was on a shopping spree with my credit card and he was not only in custody but on his way to jail. That little bit of information right there was enough to wrench me out of my sadness and get me driving back home to the snowy mountains.
I'm sad I missed most of what remains of the last snowstorm of the season, but I did get to drive around in it this morning and watch the flakes fall in all their beautiful whiteness and snap some beautiful pictures along the way.
Why do I not want spring and it's tulips and sunshine and warm days yet?
1. Because THIS was my commute this morning.

2. Because this is my off road adventure drive after a snow storm rolls in the night before.
3. Because I get to enjoy chilly moments like these with snowflakes coating Jenk's Lake.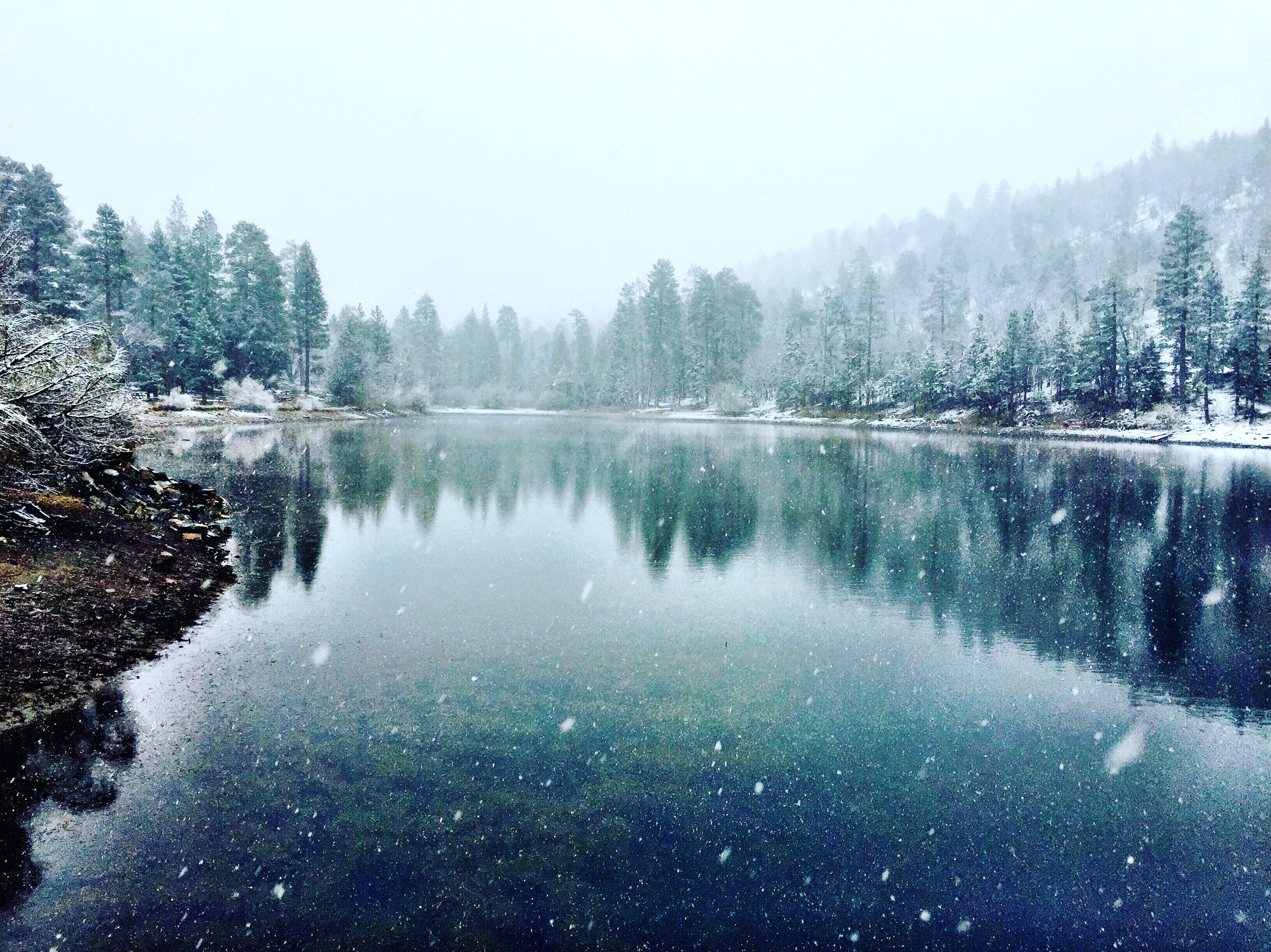 4. Because the snow makes Carly act like this.
Is this a pup or a snow monster?

5.
And the fun of actually getting the pup to sit still for five seconds so I can snap a shot of her looking regal before going bat shit crazy over chipmunks again.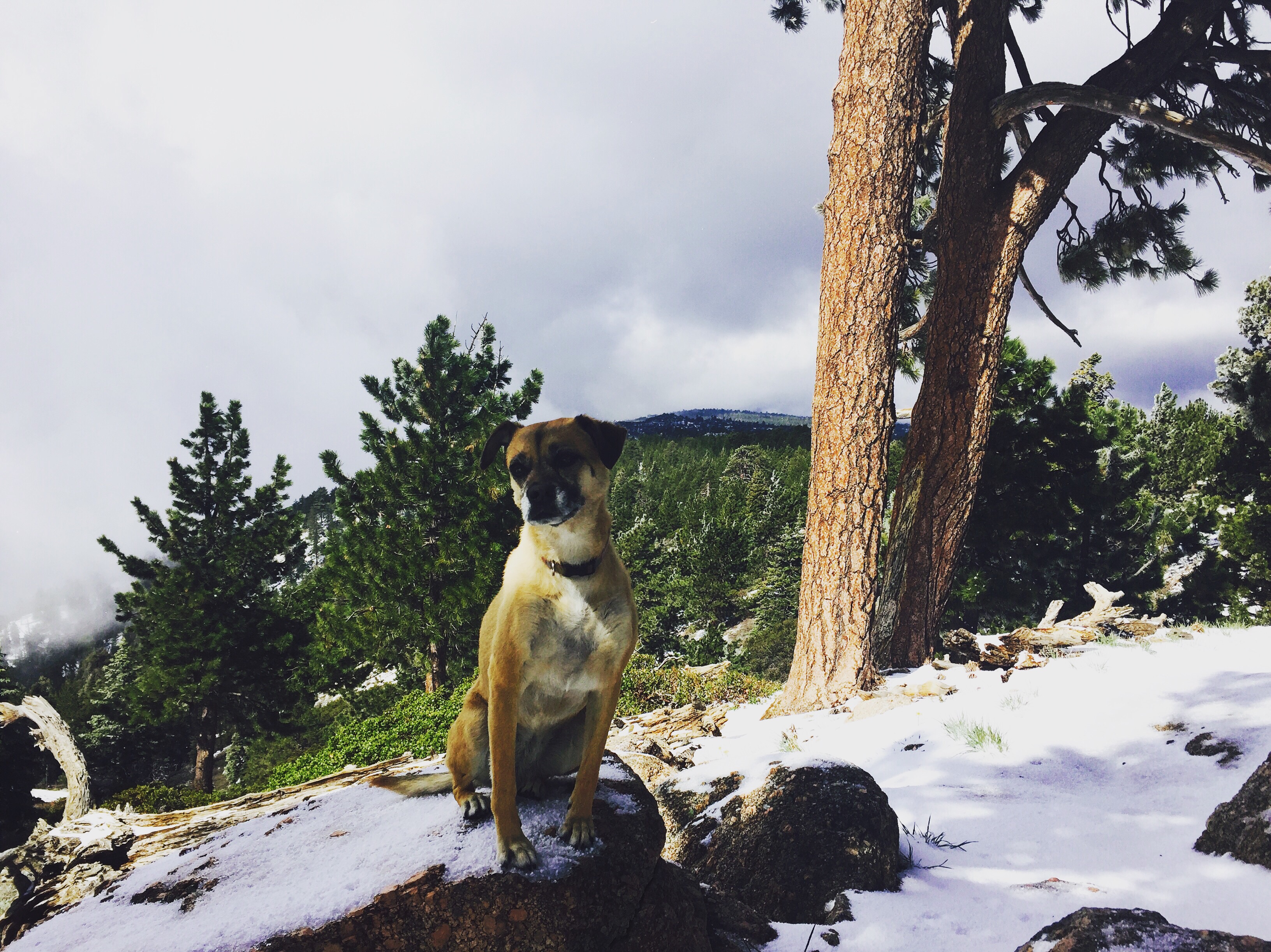 6. Plus snow storm mornings hiking up the wash, the majestic snowy peaks above us and listening to Mill Creek.
7. The gorgeous winter skies we get when storms roll in. Plus making Carly wear her sweater for photo ops.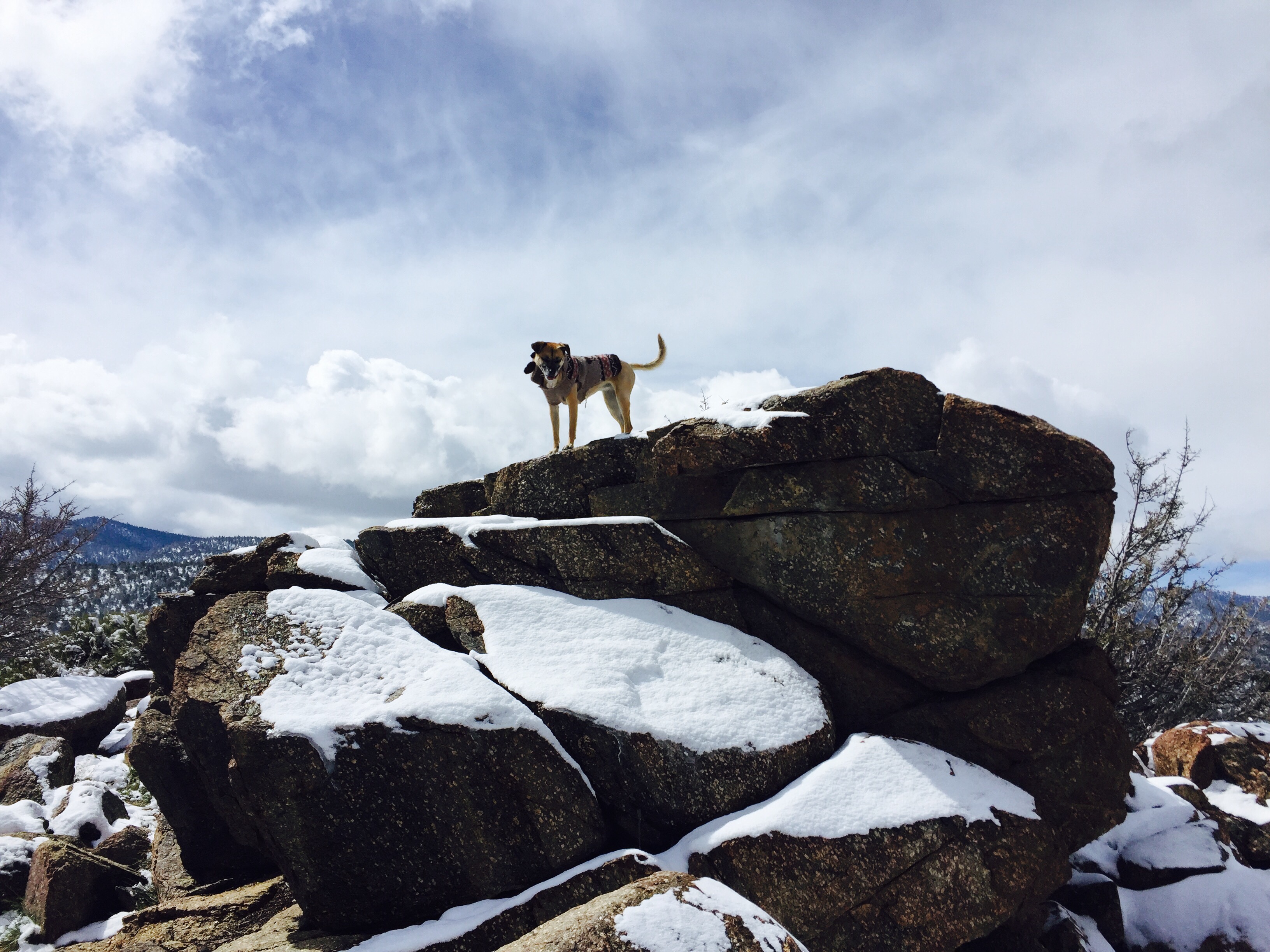 8. Because I like dressing like this. I really do! Even if my face feels like it will freeze off in this moment.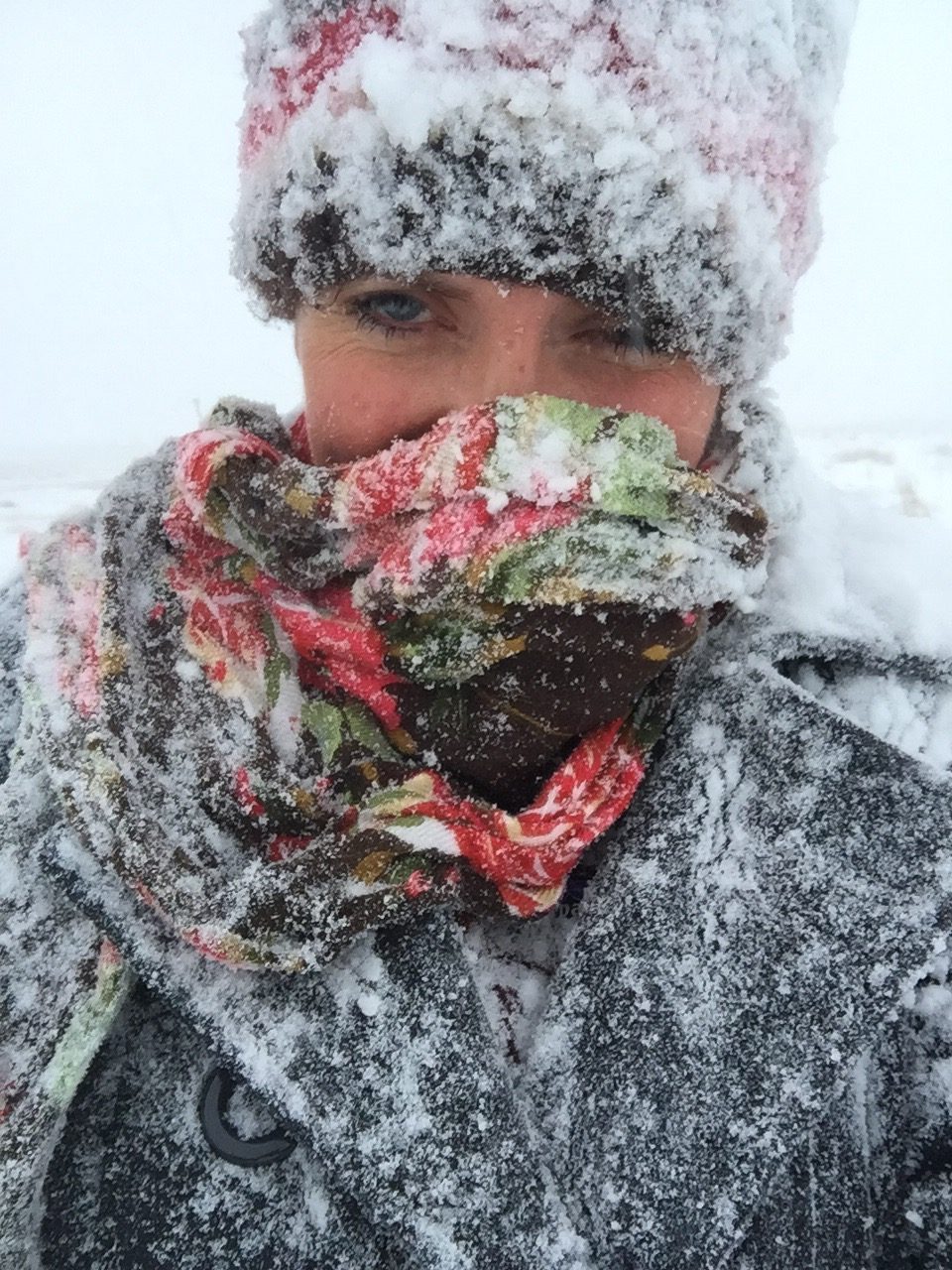 9. Did I mention the skies? The glorious, glorious skies? I really heart clouds.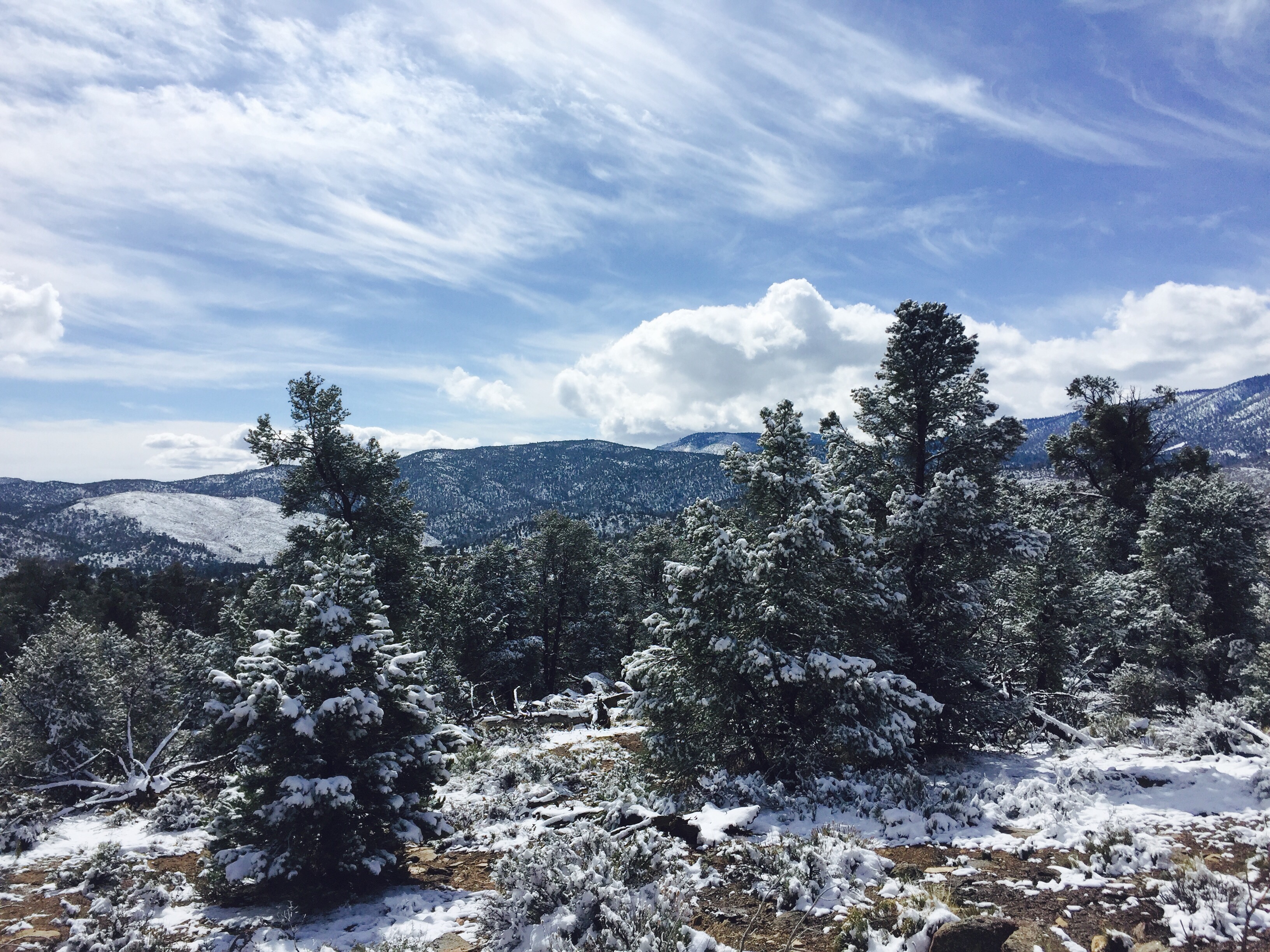 10. Because of sunsets like THIS. How is the sky this pink?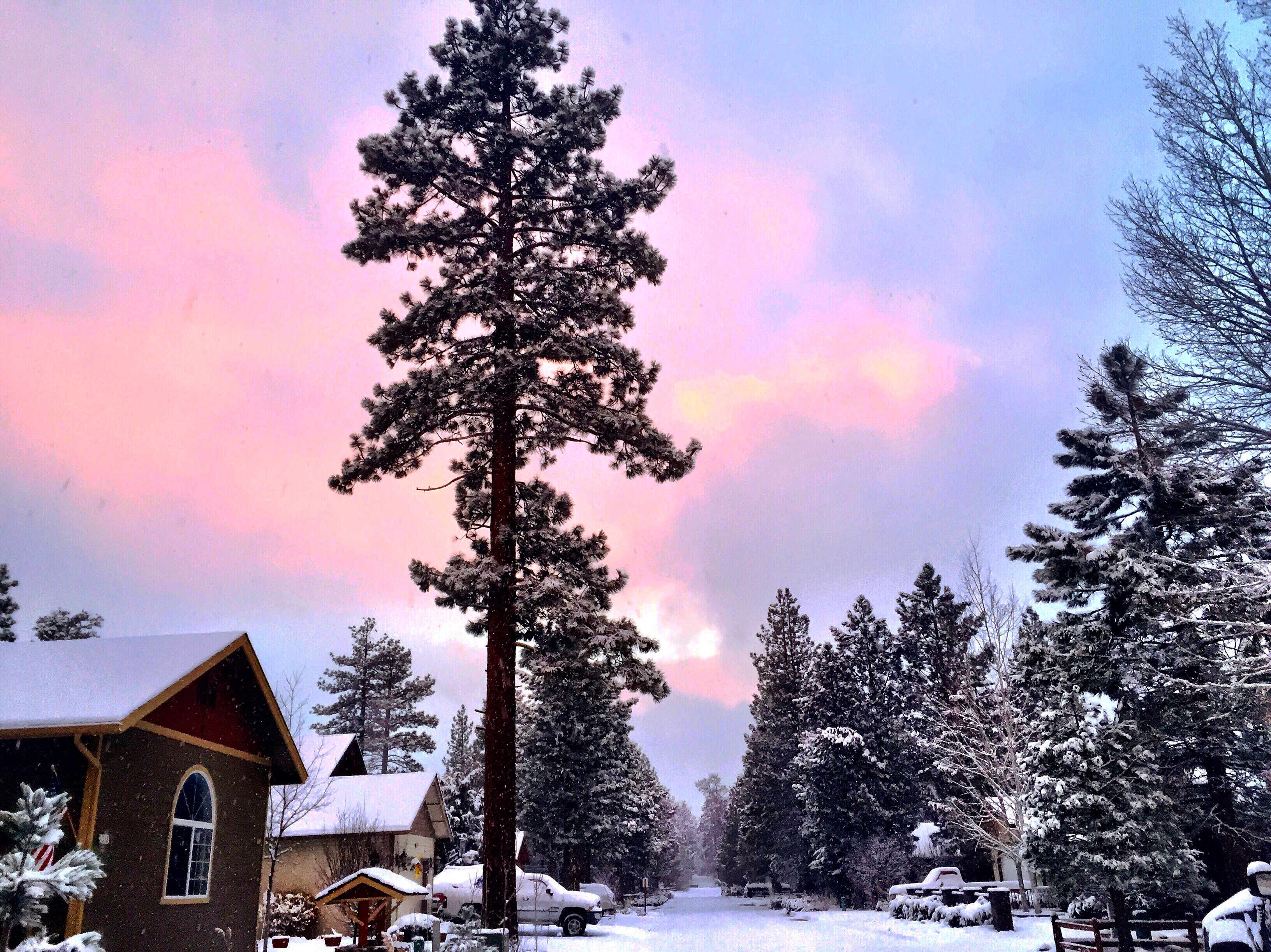 Believe it or not all these photos were taken in mid April. Even on the East Coast now and probably parts of the north east they are thawing out, watching everything get green and we are here in Big Bear Lake, California.
And it snowed yesterday.
We were so blessed this last week with one last winter storm. Every last winter storm we get, I cherish every minute of it. I love every minute of snuggling on the couch with the cats in front of the fire and enjoying my book as we watch the snow falling down on our street out front.
Pretty soon it will really be spring, and I will be sweating and miserable in the sunshine as I attempt to run 5 miles every day on these blistering hot the 70° days that kill me because I hate the sun.
So I will take a snowy day in April and enjoy absolutely every minute of it.
My  day then officially ended with a Bloody Mary and a tweet I wrote and found particularly hilarious even the next morning looking back
After two Bloody Mary's my boyfriend has invented a new sport; quarterback racing; Being when quarterbacks ride quarter horses for 350 yards. Much shorter races.