It's the week of Thanksgiving and I'm trying madly to pull myself away from hiking up mountains and mountain biking up fire roads because it's almost the holiday and hosting an Anglo Indian Thanksgiving means meal prepping a few things ahead of time.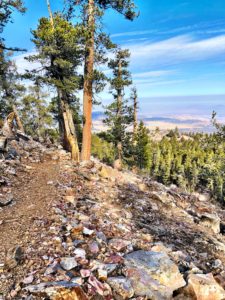 Do I really need to set aside my hiking boots and my mountain bike for a potato masher and a big ass brined turkey? The answer for this Hungry Mountaineer is yes. If it is the end of November, friends and family are gathering for holiday shenanigans. As the fall colors change its time to start planning out your fantastic Thanksgiving plans. Want to try something different this year? How about a spicy Anglo Indian inspired menu! Now before you shout words like "Curry bum" and run for the toilet, don't be afraid of Indian food; especially Anglo Indian food where you get some great British influenced flavors. Anglo Indian food does not need to be spicy and scary either! Not the biggest fan of spice but love big deep ethnic flavors? Just try deseeding the peppers before using them or omit them completely.
Two years ago we spent our holidays in Bangalore India and that was a Butter Chicken filled vacation I will never forget. Nor will I forget just how many miles I had to hike in the January snow to lose those Butter Chicken pounds. It was so worth it though; to enjoy ethnic food when my friends and family back home in the U.S. were indulging in bland turkey and salty ham for dinner when at the same time we were waking up to a breakfast of dosas filled with chickpeas and curry.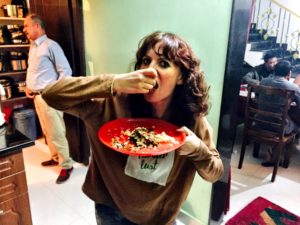 My neighbors were standing in long queues at Whole Foods under the indoor fluorescent lighting and fighting over the last organic free-range turkey on the shelves at Sprout's, while we were shopping at Russell Market an open-air food market in the heart of Bangalore, where there is no refrigeration to be found. Just chicken carcasses siting out in the marketplace and hopefully that ice underneath all the mornings fresh fish doesn't melt to fast. I can guarantee there were no organic turkeys to be found and if I had inquired about nitrate free bacon, I would have been given a very odd look.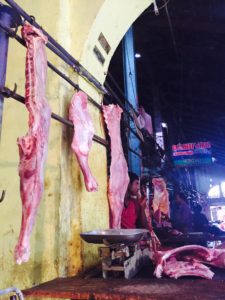 While my friends and family were buying everything pumpkin spice at Trader Joe's in California, I was bargaining with the veggie vendors at the fruit stand just down the alley from our rented apartment in Kammanahalli, trying so hard not to get ripped off as I did not speak the language even if I did have rusted red henna hair. Now that we are back in the good old US of A and I can kind of communicate with the hippie cashier at Whole Foods, it's time to start planning out our Anglo India Thanksgiving menu. So let's start with appetizers.
When you are in Bangalore the appetizer to indulge in would be crispy Pakoras, a fried Indian veggie delicacy. As much as I adore homemade Pakoras chock full of sweet potatoes and green peas, my favorite Anglo Indian appetizer for our guests are Curried Tempura Calamari. Anyone can make plain old calamari. Why not spice it up with Chilies and healthy turmeric. Trust me, add this fried Anglo Indian element to your Thanksgiving menu. You will be glad you did!
As much as I simply adore Butter Chicken, my family insists on a turkey for Thanksgiving so I always make my favorite Date and Tamarind Glazed Turkey. When it comes to an Anglo Indian Thanksgiving feast this sweet date basted turkey is definitely the star of the show. Luckily for me, my mom usually brings her amazing biryani with Cornish hens but if you don't have a mother bringing a spicy rice dish how about easy lemon rice in the rice cooker? Throw in all your usual rice ingredients, plus 1 tablespoon lemon juice, grated rind of one lemon and a pinch of saffron. Trust me, you won't miss Mrs. Cubbinson's Stuffing with this flavorful rice treat!
So what should I make for desert? My favorite Anglo Indian Desert is by far is coconut milk infused Rose Cookies. What the hell are rose cookies? They are a delicious holiday treat that will most likely give you heart disease and diabetes all in one crispy cookie but you won't care, because they are just that amazing! You can thank me later from your hospital bed.
Make sure your pets are ready for Anglo Indian turkey day too! No one wants a stinky mutt to ruin Thanksgiving dinner. Make sure your favorite pup and kitty cat gets a bath pre-turkey day and is brushed and looking good. Maybe even dress your pet in her favorite sweater!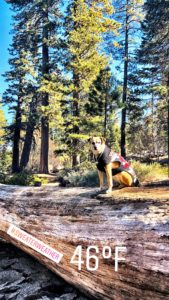 Thanksgiving week tends to get super busy what with cleaning the house, making the entrees and for us, even detailing the backyard. Most warm late November days we have Indian summer afternoons and that means we need to pick up every pine needle scattered about the days before Thanksgiving and get the outside furniture as clean as possible as well as picking up the dog poo. Don't have time to give Fido a pre-thanksgiving scrub? I love Wahl Lemongrass dry shampoo dog cleaner available from Target or Amazon. The lemongrass one leaves your pet smelling like a delightful Indian curry.
Now that you have a nice clean mutt who smells good enough to eat you are prepared and ready to great your guests, have a few beers and relax and enjoy your first Anglo Indian Thanksgiving! Happy Thanksgiving from the Hungry Mountaineer and her lemongrass smelling pup!