Here in America we take for granted how safe and privileged we are. Today as we pre-made thanksgiving goodies; custard berry pies and sweet potato scones we watched our president once again swear that to the best of his knowledge Isis is not to be worried about. Go ahead and travel, enjoy this day with your families and don't worry about this little mess overseas, he tries to sweet talk millions of Americans into believing. It seems like we won't be
warned to be vigilant until it is way, way too late. One thing is for sure, I will not be traveling, stepping on a plane or going anywhere near a big city until this holiday season is behind us. Our president may seem blasé about this Isis/turkey/Russia situation but these people (Isis) want to destroy our blessed way of American life and as we can clearly see (from frequent CNN updates on our iPhones) Isis will not stop and Americans need to pay attention and not just space out and Watch Dancing with the Stars and NFL football and travel to NYC and put themselves in harm's way.
It is Thanksgiving here on the west coast and this group of disgruntled republicans is celebrating by cooking massive amounts of purple Ben Imo Japanese style sweet potatoes and drinking massive amounts of Bloody Mary's and watching massive amounts of Fox News.
As we spend this blessed Thursday obsessing over world news I fixed us this fantastic Indian spires turkey dinner.
Indian Spiced Cumin, Coriander and Ginger Turkey with Date Tamarind Glaze
2 teaspoons garlic, minced
2 teaspoons ginger, minced
1/2 cup Kerrygold butter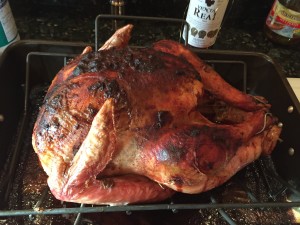 1 tablespoon cumin powder
1 teaspoon kosher salt
1 tablespoon coriander powder
2 oranges, peeled and diced
1/2 cup date tamarind chutney
1/2 cup water
Remove the giblets from the turkey. Mix the garlic, ginger, ground cumin, ground coriander and salt into a paste. Slather this paste under the skin of the turkey and all over the skin.
Place the oranges inside the turkey and set the turkey in the roasting pan in a 350 degree oven. Bake for 15 minutes a pound. An hour before the turkey is finished mix the water and date tamarind chutney with a whisk. Every fifteen minutes glaze the turkey with this, as well as the drippings from the pan.
The turkey is cooked when a temperature from the deepest section of the breast reads 165.