It's a Tuesday morning in July, just after sunrise. I've already pounded out three miles all uphill, close to a thousand feet of elevation gain under my dirty, well they used to be pink and grey, once upon a time on a mountain, Saucony trail runners. The sun is just starting to peak out above the one horse town of Lone Pine, California, many miles below the mountains of the Mt Whitney Trail and my empty stomach is telling me it's starving; I've been awake for three hours and already burnt through a couple thousand calories. Isn't it breakfast time yet? When you are day hiking the Mt Whitney Trail breakfast does not consist of an egg McMuffin or a croissant from Starbuck's. Breakfast is a delicious Clif Bar or an almond butter Gu, or maybe a turkey jerky fished out of your pack as your feet pound out the endless miles uphill towards the jagged teeth of Mt Whitney's summit.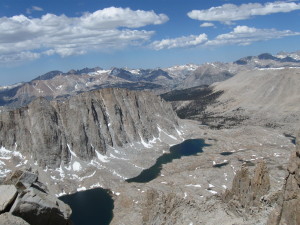 The average hiker will burn through an insane ten thousand calories while day hiking the Mt Whitney Trail. Even more then that if you run it like my boyfriend (Trail name, The Scrambling Squirrel) What that means is you need to be consuming the correct foods, calories and proteins if you are planning an ascent up this great mountain. But with so many choices lining the shelves of Whole Foods, Sprout's and Trader Joe's, what are the best treats for your trek?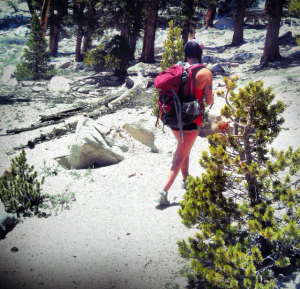 Well let's start with trail mixes; Obviously, the go-to food for those who love to spend their summer days on the trails of the eastern sierras. My favorite trail mix of all time has to be Trader Joe's Omega Trail mix.
I love this fruit and nut-studded concoction because there is no chocolate in it so it won't melt in your pack. This mixture has a delightful mixture of some of my favorite nuts; walnuts, pecans, pistachios and more. Plus it has dried cranberries to just give it a hint of sweetness. This mix is perfect for trail munching, while fuelling your body with the correct fats, proteins, and calories for a day spent on your feet.
Are you as nuts about nuts as I am? I'm obsessed with cashew and almond butter right now and Pro Bar has a new organic non-GMO nut butter Gu mixture that has to be my absolute favorite trail snack at the moment. I cannot get enough of these mixtures chock full of coconut oil and Yerba Mate tea to give you a little natural energy boost on the trail.
Are you a coffee lover? Then definitely try the Koka Moka version with just a hint of coffee beans. This almond butter Gu with just a hint of coffee beans will have you powering up those switchbacks!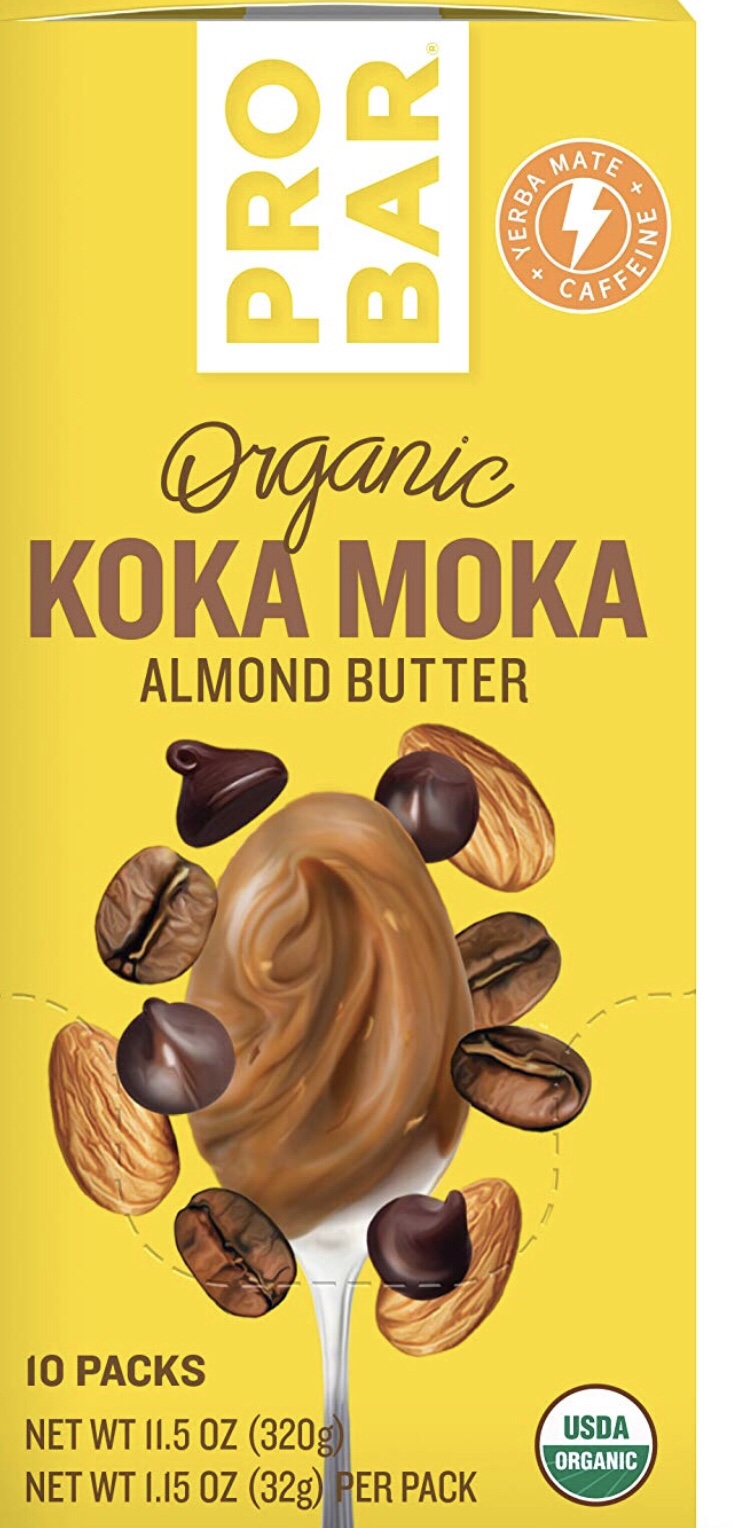 I don't usually grab a Clif bar when on the go, but I love Clif Bar's new nut butter filled bars. Obviously, as I mentioned before, I'm crazy for anything almond butter, so those are my favorites but the hazelnut chocolate one is also a fantastic trail snack.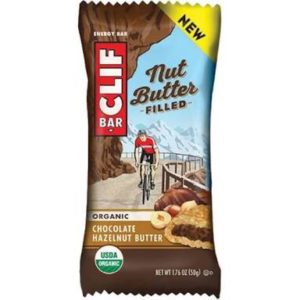 I don't usually crave candy or gummy chews but when I am doing long distance hikes I break down and indulge in some of my favorite gummy candies. My favorite brands are Clif Blocks or Stinger grapefruit or pink lemonade. These slightly sour gummy chews are not just delicious but are full of electrolytes helping to keep your body hydrated and that will help with altitude sickness as you trek above 10,000 feet and deeper into the wilderness.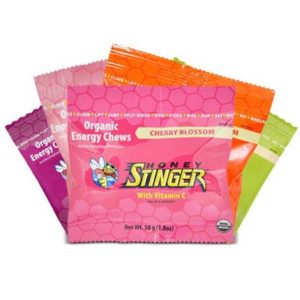 Stinger makes some of my favorite trail snacks and if I am spending a day on the Mt Whitney Trail I will for sure have some of their snacks in my pack. I always hike with the Stinger honey gels with Ginseng. The Ginseng offers natural energy and the high-quality honey they use in their products keeps you energized while pounding out those mountain miles.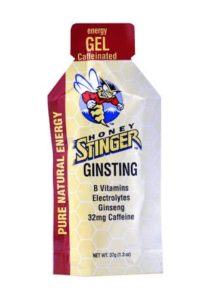 Beef or turkey jerky is one of my favorite protein filled snacks for hiking deep into the wilderness. I have been buying these Vermont brand turkey jerky from Amazon by the case for the last two years. I'm obsessed with this honey mustard flavored turkey jerky. And if I'm feeling like sharing sometimes my dog gets a bite trailside, too. These turkey jerks are perfect to keep in your pack and easy to grab and eat as you are grueling through ninety-nine switchbacks up the Mt Whitney Trail or relaxing near Consultation Lake and dreading those switchbacks ahead.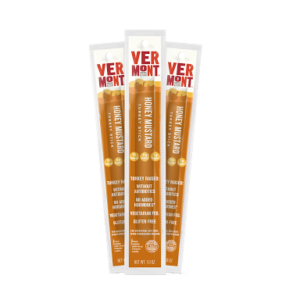 Not a turkey jerky fan? Well, how do you feel about bacon? You may not be able to have a cup of coffee trailside but if you love bacon in the a.m. you have to bring along some bacon jerky from Trader Joe's. My boyfriend and I love to enjoy this sweet, salty and hot Sriracha bacon jerky at every peak and mountain pass we summit. This is our ultimate summit snack.

My boyfriend thinks I'm crazy for craving a latte while resting and acclimating to the altitude at 10,640 feet next to Mirror Lake. He warned me drinking coffee early morning on the Mt Whitney Trail is a recipe for disaster; Meaning I'll be to busy filling my wag bag to hike twenty-two miles. He could have a point but if it's eight a.m. on the Mt Whitney Trail and a steaming cup of Joe sounds fantastic! Unless you have packed a Jet Boil and some chicory flavored Bru instant coffee in your pack, hot coffee on the Mt Whitney Trail is probably not happening. I had the grand idea to buy these guys at Sprouts, but wow, was that a mistake. Organic milk! Vanilla! Cold brew! What could go wrong? Baking soda? Excuse me? These instant coffee shots sound like a great idea but are preserved with baking soda and yup, you guessed it, they taste like a latte with baking soda added. Take my advice; Do not buy these! I think I would rather wait to go home and brew some of my own coffee using some of the healthiest organic coffee beans that my friend recommended to me. If you really, really are craving coffee on the trail but don't want to carry a thermos of your favorite Joe because of the weight, try carrying these little coffee candies in your pack. They fit in your pockets as you hike, and you still fill your coffee craving even if you are 10,000 feet above the nearest Starbuck's.
Did you happen to buy protein or granola bars that are terrible? I like to try out new hiking snacks and am always on the lookout for new delicious treats to fill my pack. I try a lot of terrible ones. Whenever I buy a box of protein bars or granola bars that I personally cannot stand I do two things with them. If they don't contain chocolate, raisins, or artificial sweeteners, I carry them on hikes to feed to my pup. (I buy a lot of almond or cashew nut butter based snacks so she almost always likes them) Or I leave them in the glove compartment of my car to hand out to homeless people while I'm traveling.
Hiking the Mt Whitney Trail is no easy task, And that's why it takes most people literally all day. Make sure you bring more than enough food in your pack to fuel your journey for twenty-two miles and 6,100 feet of elevation gain. It's extremely important to have enough food and nutrition to keep your body motivated for these long ass days on the trails.