The Mt Whitney Trail; It's the highest peak in the continental United States and a mountain most hikers in California and across the United States dream to one day summit. The Mt Whitney Trail will test your fitness abilities, your mind and your patience. A successful ascent is not a simple planning process and don't be surprised when things go wrong; Because they will. Friends in your group will flake on the training hikes, you will get injured in training, and maybe, just maybe, a natural disaster will get in between you and this twenty-two-mile trail. If you discuss your pursuit of that bitch Mt Whitney in public, there is a pretty good chance other outdoor enthusiasts will listen in on your conversation in awe, and butt in with questions like,
"So, you are planning to hike Mt Whitney?" An actual successful ascent of Mt Whitney is a six month to a year plan that has many twists and turns. If you really want to successfully summit this beast of a mountain just outside of Lone Pine, California you need to start training early, building up your hikers muscles, eat right, make travel plans in advance, book permits and hope and pray the mountain doesn't catch fire the day before your big hike.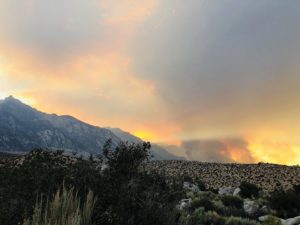 July 8th, 2018.
After an extremely eventful (I mean stressful) drive in the RV from Big Bear Lake, California, that should have taken four hours and in actuality took closer to six, we rolled into Lone Pine to pick up our permits at the visitor center. The jagged toothy cliffs of Mt Whitney were hidden behind massive thunderstorms. The thunderheads were grey and black and a weird brown? Is that right? My boyfriend thought there was a forest fire and that's why the sky looked so odd, but I assured him it was just massive eastern Sierra thunderheads blanketing the mountains.
We made our way into the visitor center and met an exceptionally not helpful ranger, who while passing out our permits cautioned us about Mama Bear in the area who was roaming between the Whitney Portal Campsite where we planned to camp and Trail Camp with two cubs alongside her and also two other bears who were very active in the area. I had a nice long talk with her, explaining how my boyfriend and I were splitting the hike into two hikes; He was day hiking the mountain on Monday while I stayed in the RV with his daughter and the dog and I would go up on Tuesday. We both had summited before and were responsible hikers who knew how to properly store food and smelly items in the bear bins. We then made a few terrible wag bag jokes and were ready to head out the door to set up camp at the Portal.
Then she just happened to mention that the Portal Road was closed because of a brush fire.
Shouldn't she have led with that?
Like as she was issuing us our permits? Or warning us about the bears? You know, the bears at the campsite we can't actually drive to?
So the Whitney Portal Road is Actually closed… Or is it?
The once helpful ranger then told us, well the brush fire has only been burning for an hour now; Go have dinner somewhere and the portal road should be open very soon. Famous last words in California, during wildfire season. We left the visitor center feeling like no one had any idea what was really going on at Whitney Portal. We decided to drive up to where the road was closed and wait for the road to reopen. I then called the Whitney Portal and spoke to an employee there who had no idea the road was even closed or that there was an actual fire burning. The smoke must have been blowing the opposite way of the Portal at that point.
Driving up the Whitney Portal Road, as we raced by the world famous Alabama Hills, we wondered if the road was even closed up ahead, as wouldn't there be a road closure sign at the bottom? And we could see the billowing brown smoke from the fire burning the brush to the north of where the Portal Road switch backed up into the mountains at eight thousand feet. But eight miles or so out of Lone Pine, sure enough, there was a road closure, fire-engines and a very friendly CHP officer who told us she had no info and no idea how long the fire would keep the road closed or if we would even be able to drive to our prepaid reserved campsite at Whitney Portal that night.
Well, poop.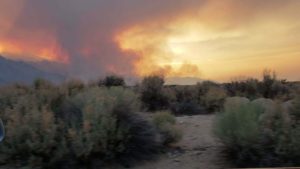 And the smoke was getting worse. It was four o clock, close to dinner time at this point. My boyfriend needed to eat his early dinner and get to bed around seven if he was going to get up before four a.m. to get on the Mt Whitney Trail before dawn Monday morning. We needed to figure out just what the hell we were going to do, with minimal information about what the hell was going on.
Whitney Portal; Nobody knows anything about anything
The roadblock was right at Lone Pine Campground and the extremely helpful camp host there told us we could park our rig in a spot, and hang out for a few hours without paying while we waited to see if the road reopened. The whole day use area of the campsite was full of frustrated backpackers and Mt Whitney day hikers with permits for the morning, all who were dying to get up to the portal and relax for the night before the big climb ahead. We were lucky to get a spot in this rattlesnake-infested desert campsite when the rest of these hikers were just as screwed out of their original campsite as we were. So we sucked it up about seven p.m. and paid for the campsite. After we had dinner, my boyfriend drove down and actually spoke to the fire chief, as the VLAT's and DC10's roared overhead, dropping retardant and water on the fires. The fire chief told my boyfriend, they had no engines on this fire, just air support until the morning when crews would drive up from San Bernardino and stage on the road up to the portal and he was certain the road would not reopen that night, and unlikely for a few days.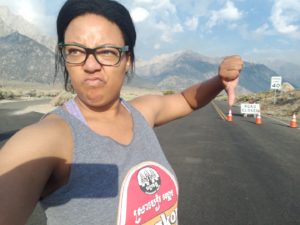 We made a game-time decision for our group.
Our Mt Whitney Trail adventure would not happen in 2018.
This turned out to be a great decision for us, as we packed up our rig in the a.m. and drove away from the rattlesnakes and wildfires on Whitney Portal Road. Later that day the whole Portal and Lone Pine Campsite would be evacuated. I heard horror stories of hikers who summited the Mt Whitney Trail extremely late on Sunday during a thunderstorm (Not a smart idea one bit!) leaving their hundred dollar trekking poles behind to litter the trail and running frantically down the mountain away from the lightning. Leave no trace my ass! Hey bro, if you are experienced enough of a hiker to summit this fourteener you should know enough to not summit late during thunderstorm activity and have to leave your poles behind!
I'm glad we abandoned our Mt Whitney Trail plans and headed north out of the desert heat and into the grand pines of the eastern Sierras because Mt Whitney seemed to be some forest fire fueled drama this July and we wanted no part of it. We went on a very safe, albeit easy hike up to the Little Lakes Valley on Tuesday instead. We got to take the dogs on this one, which we couldn't do on Mt Whitney and we had a great time and there was no smoke, firestorms or out running lightning strikes. This game-time decision was the correct one.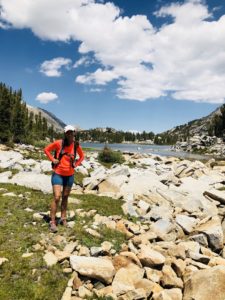 Reading online horror stories of hikers who summited on Sunday, the day the wildfire began, I was very thankful that we didn't get stuck on the trail during any of this 2018 Mt Whitney Trail firestorm shenanigans. I've read blogs about hikers who summited after twelve noon on Sunday, in the middle of the lightning storm, and I just think to myself, what the hell were you possibly thinking? These are "Expert-level" hikers who should know much better than to even try a summit that late in the day with heavy thunderstorm activity building. I know we all want to summit, but safety comes first.
The Whitney Portal hike is not easy, in the least bit. Always keep a watchful eye on the weather when planning to hike this massive undertaking of a hike. If thunderstorms are building on the horizon, it may be safer to just turn around and attempt a summit a different day. Or plan on starting your hike at two a.m. so you can summit hours before noon, if you really, really just have to summit.
If you are planning to hike this with a group, make sure the other hikers in your group are comfortable hiking at your speed. It can be unsafe to ditch your friends and fellow hikers mid-hike because they are not handling the altitude or the climb as well as your experienced hiker legs. As fun as it is to try and summit together sometimes it's just not likely; Especially, if you are in a situation like we were when most of your group cancels on the training hikes and shows up for the big climb unprepared. I love the thought of summiting a mountain like Mt Whitney with friends and loved ones but it can be a very impracetable goal. So many people get altitude sickness when hiking at elevations over ten thousand feet to begin with and when you are waiting at the summit for the rest of the group to eventually summit you may be feeling the effects of the high elevation; Dizziness, headache, hands going numb. Fourteen hundred feet is not a good place to take an hour-long break and wait for your buddies to catch up. Most hikers snap a few selfies, eat a Clif bar and head back down the mountain.
Mt Whitney see you next; You beautiful bastard of a mountain.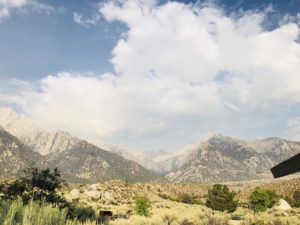 Some people have issues with the elevation. Some people can't handle the bugs. Some people can't drive up to the actual Portal, where the hike starts because the forest service firefighters say no fucking way. Some people just have shit luck when trying to hike the Mt Whitney Trail but that's okay because we will be back next year; Hiking poles, running shoes and packs ready for a successful ascent of this mountain.
Mt Whitney July 2018 was not a go for us and as far as I have heard, the Portal area is still not open, four days after the area was evacuated. Our group made the best decision to cancel on our Mt Whitney plans, even though it was a real bummer after months of training.