Sometimes mountains just don't want to be climbed.
It's 7 p.m. And I'm sitting in a camp chair three thousand feet below Whitney Portal Campsite; Our lovely prereserved campsite in the alpine forest. I have not stopped sweating for a minute for the past ten hours between the 105-degree temperatures driving through the desert and the fact that all of a sudden our air conditioning in the RV doesn't exactly work anymore.
At the current moment, ash is raining down on me like snow from a brush fire that is roaring through the world famous Alabama Hills to the north. Ever watched a western in your life? Then you may have seen these red boulder-strewn hills. They are a super cool sight to behold but not on a scorching hot July evening when I really should be relaxing at our campsite beneath the pines.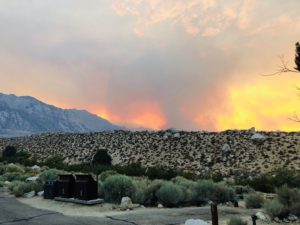 This day of our journey up the 395 to the eastern sierras has been nothing but a cluster fuck.
It started with a faulty sensor in the RV. Then we drove an hour from home and forgot the safety chains to attach to our tow car. So I drove all the way up the winding mountain road back to our garage in Big Bear Lake… And the brand new chains didn't fit anyways.
And then it gets worst.
Leaky toilet.
Two terrible words no Glamper wants to hear.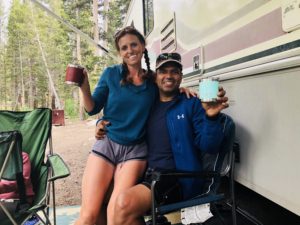 Could this first day of vacation turn into more of a shit storm? Wait, did I say shit storm or firestorm?
Because the hills beyond the town of Lone Pine were ablaze as we picked up our Mt Whitney Permits and wag bags. In between making wag bag jokes with the friendly ranger who was helping us, she just barely almost forgot to mention;
"Oh, the road to your campsite is closed. Not quite sure when it will reopen" She literally just spent the ten minutes before that naming all the bears who roam our campground. Before telling me about Bobo and Mama Bear, maybe she should have mentioned first of all; You can't even get to your campground because there is a big ass fire?
So that had been the first day of our summer vacation.
See you next year Mt Whitney.