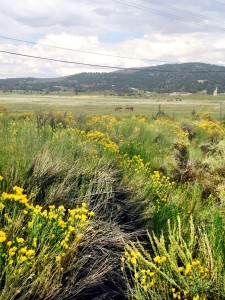 My Southern California life is a lot more dirt roads than shopping malls. It's muddy running shoes, skinned knees and a mosquito squished sports bra and not True Reigion Jeans or six inch heels. I live in Southern California but not in the beaches and palm trees Southern California you are probably imagining. I live in a mountain town at over six thousand feet where we see more snow and Jeffrey Pines than sand and waves (Unless it's a windy day on our alpine lakes) We spend our days pulling gorgous rainbow trout from our freezing cold, even in summer time, creeks and streams, while other Southern Califorians are fiddling around surfing and… I don't know, what else do you do for fun in Big cities?
I'm linking up again this week with Amanda Moments and her Tell Me About Your Town blog hop.
Anyone who knows me knows how much I love mountain life and mountain living. It's a more down home way of life here. We don't go to the mall and we don't have a Starbucks on every corner. (Okay we do have a few Starbucks sprinkled through out our resort towns and villages but I would rather go to a family owned coffee shop like Big Bear Lake's phenomenal Copper Q or Moonridge's Moonridge Coffee for my iced latte needs) It's a more small town vibe here and we love it that way.
This weeks Tell Me About Your Town topic is Local Slang.
This is a hard one for me as we are still located in Southern California and people talk like Southern Californians out this way. We don't use words like "pop" or "wicked" (although my family hails from Boston so maybe I should be able to use this word) In Big Bear one common thing you will hear is the term flatlanders.
Flatlanders
We just love to mock the tourists. Any one who lives at sea level is automatically a flatlander. Until I read Sarah Palin's book, I had no idea that this term originated in Alaska, which is pretty cool because us mountain folk are kind of like the Alaskans of Southern California. We fish, we hike, we chop our own wood and we enjoy our backwoods life! Who needs the city when we can actually look at the stars out in the wilderness every night and can actually pick out the Big Dipper as there is minimal light pollution here!
So as I mentioned before; we do not have a shopping mall up here. So you may wonder, what do we do for fun up in Big Bear Lake? Well we dress up as gold miners of course!
Gold Miners
It is totally normal to be walking the streets of Big Bear and see multiple older gentlemen dressed in dirty over-alls with a pick ax  or a shovel and looking, well, rather homeless. If this was the valley you might roll your windows up on your BMW and drive away quickly. Here in Big Bear lake, these gentleman are probably just part of the Old Miners Association.
Crazy enough in the year 2015 gold mining is till alive and well up here at over six thousands feet! Yes, lots of people along the North side of the mountain still have claims out here and (we found this out the hard way, while out hiking in the spring) if you wander into their claim you may be met with an old miner and the barrel of his shot gun!
But most of the miners just like to get dressed up and go to the chili cook off and karaoke at Murray's on a Friday night. Every May they host an Old Miner's Days event. Which includes a Out House Race. I have no idea what that may be and I'm kind of scared to know. Their web page states; Old Miners Association;
Respecting heritage. Inspiring change. Building legacy.
And that is something we can all stand behind.
DTH (Down the Hill)
If there is one piece of slang you need to know before coming to our gorgeous mountain range it is DTH. If you live in the mountains you use this term any time you drive down the "front side" Highway 38, to Redlands, or the "backside" Highway 18 to Lucerne Valley. If you need to go to Target you have to go down the hill. If you wish to visit Costco, yup, you have to go down the hill.
Once in the eighties my grandpa called and asked to speak to my dad on the phone. I told Grandpa Jim dad went "Down the hill" Grandpa said "Well, go get him than!"
Mountain people abbreviate everything in our little mountain towns. (And belive me, in our mountain range there are a lot of little towns… Probably close to thirty of them!)
GVL is Green Valley Lake.
BBL is Big Bear Lake
Bear City is where we live in Big Bear City.
We also shorten the names of the two ski lifts (Bear) Bear Mountain and (Summit) Snow Summit Resort.
Mountain life is just so different than living in the valley below. We gossip about wild life seen in yards the night before; who had a brown bear in their trash and who shot a rattle snake in their front yard. We talk about the wild fires burning around us and how the traffic was that day coming up the front side (Highway 38) Most of all we complain about the flatlanders; the way they drive and the way they leave graffiti behind in our rustic mountain town and litter too!
Yesterday I was sitting by the lake reading with my dog and some flatlanders walked by on the dirt path and commented on how "My doggie looked so bored on her vacation" I laughed and said "We are not on vacation.. We live here!" I'm so blessed to be able to say that! I wouldn't want to live any where else but our quaint, rural and stunningly gorgeous mountain towns!