Some people may watch loads of Netflix while bored during a quarantine; I prefer to keep my mind occupied with handicapping, betting on the ponies, some gluten-free baking and maybe a little leather restoration. Yes, I said leather restoration, my sustainable fashion craft of choice during this pandemic. Here we are in late October of this pandemic and like millions of Americans, I'm feeling the effects of pandemic stuck at home syndrome. There are only so much baking and new recipes I can try out, like this delightful Kombucha Squash Curry.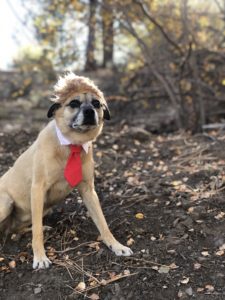 If it's six months or so into a quarantine we might all be feeling a bit bored at home. On this beautiful fall day, I would love to be out hiking forest trails but our national forest is closed for the foreseeable future here in California as we are experiencing one hell of a fire season. I'm just not the type of person to sit in front of the t.v. all day so with the forests closed for hiking and mountain biking what is an outdoor enthusiast to do? What on earth can I do if I can't hike? I have personally spent way to much time stuck at home talking to our pets in the last six months (I really miss my coworkers at this point) and have cleaned nearly everything I can think of to clean in our house, yard and RV so now I'm moving on to crafts. Okay, craft's that don't cost a lot of money as like so many furloughed Americans, I personally have not received a paycheck in well over six months now.
Sustainable fashion is one of my obsessions. I may own a few (Or twenty) cute pairs of autumn boots and they have all been purchased second hand. I love not contributing to the world of fast fashion. We live in a world where so many people are just too busy to even recycle their cans or bottles, let alone think about all the textiles that end up forgotten in dumpsters in their lifetime. As an outdoor enthusiast, I personally love this green planet of ours and want to keep it that way. I want to curb my carbon footprint and sustainable fashion is a great way to start.
It might be craft time!
I want to pretend it is autumn here in our mountain town but every time I go out to walk the dog (Yes, she is getting spoiled by the amount of time we go on walkies) it's still almost eighty degrees outside and it is now October! Our pumpkins and acorn squash are all ripe in the garden and yes, it is very pleasant that our tomatoes have not frozen at this point in the fall, but I'm ready for a little chill on the breeze and autumn evenings that our cool enough we can actually light a fire in the hearth.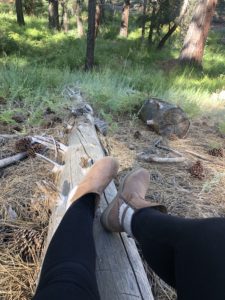 What all this warm weather really means is that I can't wear any of my awesome fall clothes including all my new pairs of gently used new to me recycled boots I just bought for fall colder weather. Although with our trails finally opening again yesterday after more of a month of being closed I did wear my new to me chunky short boots on a hike up Aga Trail the other day. I have been wearing these gently used booties on walks all over the neighborhood with the pup. I thought they would be fine on trails. Until that big blister showed up on my toe and I have been limping ever since. A big ass blister on my toe could be why I am seeking out some craft time such as leather restoration.
All in the name of recycled fashion
I might not be able to wear my new to me Minnetonka booties to work this fall which breaks my horse racing loving little heart. What is the furloughed handicapper to do with all this free time besides betting an extra box at Belmont Park in the afternoon? So I guess my favorite flats from the last year are ready for a makeover. Also, did I mention I might need a project to work on?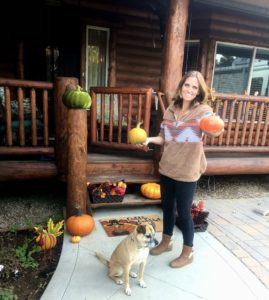 I might not be a kindergartner but it may be and crafts time in our household. And I mean arts and crafts time that won't cost me an arm and a leg like this pinecone project did. It started out as a simple pine cone in baskets project then morphed into three days straight of me breathing in paint fumes.
These boots were made for walking
If there is one thing I love about autumn, it's having a chance to wear all my cute gently used boots. So many of my boots have been repaired and the leather color changed using RubNRestore products. I simply can not say enough about how high quality their products are and easy to work with. When I am thrift shopping in the fall, I make sure to keep an eye out for cheap boots that would look fantastic with just a little bit of leather repair love. Normally in the autumn, you can find me walking up to seven miles a day in the art deco green vintage grandstand of Santa Anita Park and I get so many compliments on my gently used leather boots of all shapes and colors each autumn.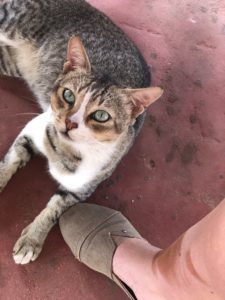 I love these canvas shoes. They are so comfortable before the quarantine I wore them to work in the early spring (That seems so long ago now) Even longer ago, I wore them all over the red dirt roads of Goa when we were on holiday at this humid beachside destination in late December. These canvas shoes were perfect for walking the red dirt roads of Goa, I was never worried about the red sand staining them. But after a year of literally walking all over the world in these flats, they are looking a bit dingy. Leather restoration to the rescue!
On this Saturday of quarantine boredom, okay if I'm being honest, my thirty-first Saturday in a row of not being at work, I decided to give these canvas flats a makeover. I have used RubNRestore products before on my vinyl RV dashboard or on other pairs of scuffed leather boots but I have a bit of the lovely red chili color left so I thought I would use what was left in the bottle on these TOMS looking tan canvas shoes. Pre makeover these shoes were looking so used and scummy it was either pretty them up with color or finally send them to th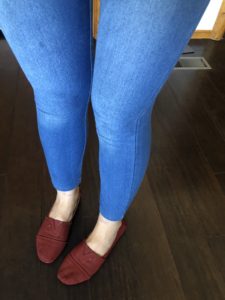 e landfill at this point. Luckily this brilliant ruby red color gave them a brand new life! I love to try to curb my carbon footprint whenever I can and do it yourself at home leather restoration lets me do that.
Sometimes you just love old boots so hard you can't manage to throw them away even when they start falling apart. Thank God for leather restoration products for the well-being of my gently loved leather goods and also to elevate my boredom during a pandemic.
This week I am linking up with the following fashion and fun blog hops
https://highlatitudestyle.com/
https://www.mummabstylish.com/
https://jerseygirltexanheart.com/