As an enthusiast of everything outdoors and also a lover of everything from boots to warm sweaters, the month of October has to be one of my favorite times of the year and not just because I can take out all my boxes of recycled fall fashion finds. As the days get shorter mid-October and the weather is not as hot as those sultry summer days, my pup and I both like to put on our favorite fall sweaters and go for a hike. Trails with fallen aspen leaves call out our name the most so every fall we try to venture north to the woods of the eastern Sierras. This early October I packed my favorite fall fashion finds, two pairs of boots I could also hike in, and my two favorite thrift store coats and off to the rainbow of fall colors we went!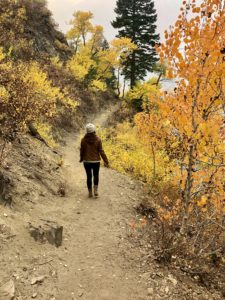 Anyone who thinks of fall colors in the eastern Sierras has got to think of the Lundy Lakes. In the last few weeks of October, the yellow and orange of the aspen trees here in the Inyo National Forest are simply electric. But this is not any October. This is October 2020 and that means if you have managed to survive a pandemic and you have found yourself on holiday in the mountains of the eastern Sierras you may find yourself breathing in smoky air and coughing like a rhinoceros for ten days straight. It's hard to be at your fashionable best, hike up a 12,000-foot mountain and wheeze around all this unhealthy air so thick it feels like you can chew it. For ten days in the eastern Sierra, I did my best; Even if my fall fashion of choice was a mask on oh so many hikes to just try and protect my lungs against the unhealthy air.
An autumn trekking the trails of the Inyo National Forest is one of my favorite adventures every October as the aspens start to change colors and blow in the breeze of the high sierras. Until this year. Unfortunately, this year of 2020 continues to be a real doozy. The 350,000 acre Creek Fire is burning thirty miles to the west of our favorite trails for high-altitude shenanigans making it near impossible to explore those trails leading to the most scenic of the alpine lakes. More confusing itself is the fact that the forest service and local outdoor enthusiasts seem to have no consensus on what trails are actually open! Getting a straight answer either online or from locals about where it is legal to hike during this inconceivable year where so many national forests in California are closed to outdoor adventurers was about as easy as finding Clorox wipes from your local grocer.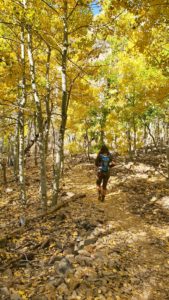 Usually, high altitude mountain passes at 12,000 feet are the most challenging parts of our vacations to the eastern Sierras. For my pup and I on this year's autumn outdoor adventures just finding which areas we were actually allowed to hike in legally was the challenge. This could be why we just gave up on hiking for some parts of our trip and just walked around alpine lakes like Convict Lake and enjoyed the aspen leaves falling and the mountain solitude. I loved the fact it was chilly enough out to wear my favorite fall fashion coat and hike in my Faded Glory ankle boots.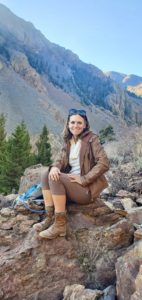 Mid-October our collection of recreation vehicles set up camp at our awesome camping home away from home, Mammoth Mountain RV Park. We were prepared for ten days of hiking, leaf-peeping, camping and alpine lake fishing. We were not prepared for ten days of practically asphyxiating on incredibly smoky grey-brown air. Mammoth Mountain RV Park was a fantastic destination for our collection of friends in motorhomes. We booked this trip so late I was shocked they were able to accommodate us with a full hook up site but as we soon saw for ourselves, the smoke was so constrictive that even the hardiest campers packed up after one night of breathing in the oppressive air and made their way back south. Our group decided to make the most of the constant wildfire smoke and tough it out.
Recycled fall fashion to the rescue!
The great part of traveling in an RV for camping shenanigans versus tent and car camping is you can pack all your favorite fall fashion for ten days in a smoky forest. This is actually very helpful for the fall fashionista as the weather in the eastern Sierras in the autumn tends to be freezing in the morning, sunny and warm seventy-five degrees by noon and chilly again by the evening hours. On this particular camping trip because of the extreme fire danger, we actually were not allowed to have a campfire at our campsite. (Which is really unheard of)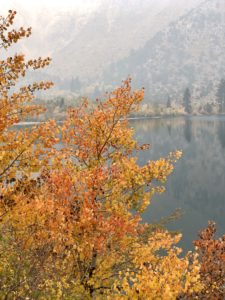 One of our friends had a brand new RV and most people in our camp enjoyed watching the sports ball World Series in the evening and it was very cold not being huddled around a campfire at the same time. I was so thankful I packed my warmest thrift store sweaters, fleece-lined leggings and multiple warm jackets.
Just try to convince your loved ones you don't have COVID-19 when returning home to Southern California as you rub your bloodshot eyes and hack up more crap from wildfire smoke. No really, it's just from breathing in wildfire smoke for ten days straight. We were probably safer from the pandemic while camping for ten days in our self-sustained motorhome than we normally would be just going about normal life. We didn't eat at any restaurant, barely trekked to any grocery markets and didn't even visit any retail stores or the germy post office. We managed to stay miles away from all those pesky COVID germs while hiking up smoky mountain trails and immersing ourselves in nature. Our RV park was basically deserted as most vacationers went home early, rather than dealing with the unhealthy air in Mammoth Lakes. As we hiked the few trails we could find that were open, our lungs burned and the putrid air felt like it would strangle us, we tried to make the most of this autumn season in the deserted forest.
We ran into some campers in our RV park from a nearby town back home in southern California and they asked me "Why would you leave beautiful Big Bear Lake to come to another forest?"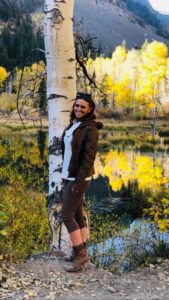 I told them so straightfaced "I just really love brown air"
Now I usually hike in my sweatiest stinkiest clothing and my running shoes which most likely have at least two holes in each toe. Yes, while out and about on the trails, I'm usually a very smelly hiker; I might look like I just escaped a village. On this particular hike unfortunately my dog was slightly injured and out for the day and also it was freezing cold in the morning.
P.S. I hiked fifteen miles the day before.
I was just not up to a big ass-kicking hike. Also, my running shoes had become almost unbearable to wear by mile fifteen on the previous day's hike. I just couldn't bear the thought of lacing them up again for more miles of trails the next morning. Fall fashion came to my rescue as I pulled on my uber comfortable to hike in Faded Glory boots.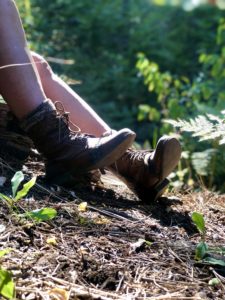 Without an ass-kicking hike in my future, I thought, you know what, I'm going to wear my cutest thrift store outfit. I personally fully endorse recycled clothing, especially when it comes to fall fashion. I just love the idea of saving all those textiles from ending up in a dumpster. I adore minimizing my global footprint as much as possible; While still hiking my ass off and wearing shoes that don't destroy my feet when I hike fifteen miles through the wilderness. Luckily I brought with us to this smoky wilderness two pairs of short brown Faded Glory ankle boots and both pairs are comfortable to hike as far as eight miles.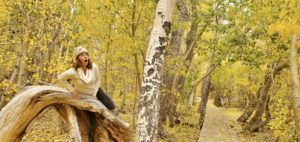 With all this smoky wilderness burning here in California it really makes the fall fashionista think about her carbon footprint as shes leaving her own size seven footprints in the falling aspen leaves near a very smoky Convict Lake. We all love fall fashion; Ugg boots, cute sweaters and scarves but fall fashion is a lot more fun when those moto jeggings you just purchased came from your local thrift store. It warms my heart to think about how my recycled clothing choices help keep our planet that much greener.
Yesterday the pup and I were a couple of badasses as we struggled up a mountain trail to a deserted alpine lake gaining almost two thousand feet of altitude in a fifteen-mile hike. I definitely overdid it yesterday on the trails of the eastern Sierra so today on this autumn day I had to take it easier so I wore my favorite thrift store boots that I can also wear while grocery shopping at Whole Foods.
Or I can also wear them while skipping through an aspen forest.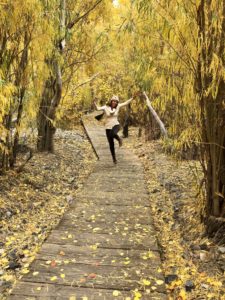 Choose your own adventure with hiking or fall fashion
With all this mystery surrounding the trails of the eastern Sierra, each time we attempted to go on a hike we had no idea if it was really legal to hike there with the forest closures. All the signs marking the hiking sites as closed were last updated on October third. I was told by, multiple residents of the Mammoth Lakes community, that the forest service updates the wilderness situation every Thursday. But all the rangers are working from home because of COVID so there is no one to update the signage at the trails. Most hikers these days check the AllTrails app for current hiking information but AllTrails seemed to have hikes like Loch Leven, listed as closed when the trailheads were not even marked as closed.
While out on a trek through the colorful Sierra forest this fall we found the best information is to just assume the forest is closed at all the wilderness boundaries. We think. I mean there is no one to ask, really. And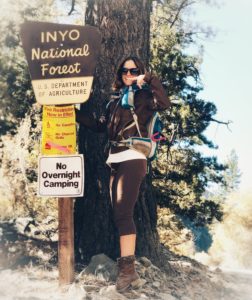 that is how we ended up hiking in the Lundy Lake area but not to the Lundy Lakes. We referred to it as a Lundy Lake Ish Hike.
Our ten days of shenanigans in the eastern Sierras were a great getaway even if the smoke was never-ending. We Watched the debate with liberal friends (Who then threatened to leave vacation a day early.) We hiked among the aspens. I embraced fall fashions on the trails with my favorite pup in a sweater. I did wear my best patriotic outfit actually by accident for debate night. I paired these velour leggings ( I paid five dollars for them from the Goodwill) my warmest burgundy sweater (I usually sweat when I wear this burgundy turtleneck baby) but it was actually perfect for chilly fall evenings while camping and not being allowed to have a campfire.
On this particular eastern Sierras vaca, we could not have a campfire at our campsite which was a real bummer because autumn in the eastern Sierras can be very chilly in the evening. And let's face it; relaxing by the campfire in the evening is one of the best parts about camping! I can't imagine how those tent campers freezing in their tents managed without a campfire to warm up beside.
Each evening at just about five-thirty, Donna and I would be stuffing mushrooms with jalapeño crab dip. We basically could not feel our fingers at this point but that was okay because spicy mushrooms were going to be in our foreseeable future. As we stuffed shroom after shroom (And maybe had a glass of wine or two) both of us were just bummed out that we were not enjoying wine and stuffed mushrooms next to a roaring campfire. But that's the thing with camping; You really just need the best friends to make memories with. This autumn in the eastern Sierras did not disappoint even with the ups and downs that we all live with every day in this crazy year 2020.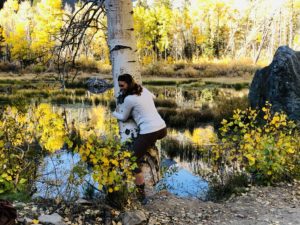 This week I am linking up with the following fun fall fashion linkups and blog hops.
https://highlatitudestyle.com
https://www.mummabstylish.com
https://jerseygirltexanheart.com
http://www.livingoncloudnine9.com