You have probably never heard of the town I grew up in. If you have maybe you saw the name blip across the CNN news ticker in 2007 when we lost a portion of our town in the Slide Wild Fire. This little town is a treasure in the over populated suburban sprawl of Southern California. I grew up in a town where my best friends parents had wild peacocks for pets and having bears get into your trash was not unheard of. I think growing up here, in nature and the wilderness shaped me into the adventurous wilderness woman I am today.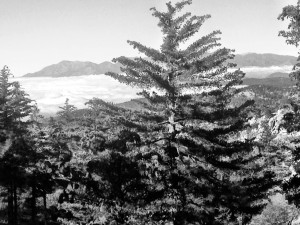 As I drove through our mountain towns today I watched spring time unfolding before me. The hillsides that burned eight autumns ago were covered in cornflowers and dog wood trees in bloom down to the creeks that run most years. My friends auburn feathered chickens ran wild in their yards and I pondered how much I love it here and how blessed I am that my parents moved us here from the city in 1985.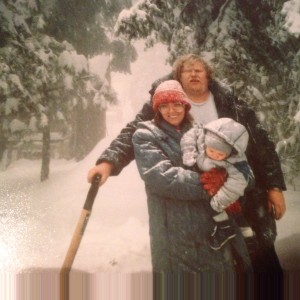 My whole family; aunts, uncles and grandparents journeyed from the smog and crime in the L.A. basin to the pines and fresh air of the San Bernardino mountains in the mid eighties. We settled in the tiny mountain hamlet of Running Springs fifty three miles from a Tommy's chili burger and six thousand feet above the gangs of Los Angeles. As we gazed up at the hundred year old pine trees on our quiet street, we felt more like a hundred miles away from the suburbia left behind in the valley below.
We don't have a Walmart here in Running Springs, and we don't have a DMV. If you want to go to Lowe's or Home Depot or a real hardware store you have to drive up the mountain to Big Bear forty minutes (to Kmart or DIY) or San Bernardino thirty minutes away. We do however have alpine lakes stocked with trout, mountain bike trails hidden behind the Jeffrey Pine trees and amazing fire lookout towers to watch meteor showers or the mountain sunsets.
I meet up with friends on my days off to hike our trails through meadows of lavender lupine flowers and wild columbines. What are people doing in the city? Going to the mall? That sounds… boring.  All this is in my back yard where my friends travel to go on vaction and here I am living here in this wilderness wonderland three hundred and sixty five days a year.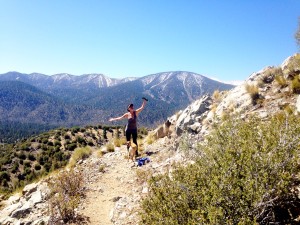 Running Springs is home to under four thousand permanent residents, hundreds of loud obnoxious Stellar Blue Jays, some grey squirrels and a few fox. (I just saw a fox while off roading last week; we almost never see fox!) I love running into friends from church and  neighbors at the post office or the library. I love our small town restaurants and not living in a town that has a Starbucks on every corner. Our town doesn't even have a traffic light!
When a wild fire tore through our back roads a few years ago and Running Springs made the national news I cried myself to sleep one night; when news hit us that the town had been lost (a rumor, that was unconfirmed at day break)  I didn't just cry for the black and white cat we left behind but for all the years and memories and back roads and pine trees and starry nights starring at the big dipper. This mountain town raised me and my group of friends and we are vastly different and honestly way more moral in the way we think than our acquaintances from down in the valley. I believe it was all that good clean mountain air filling our lungs our whole lives as we grew into accomplished successful adults.