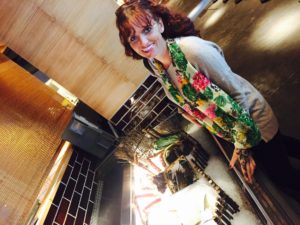 Four years ago we visited Hong Kong for most of a week. Did you know that the Hong Kong region is known to have the blandest food in all of the People's Republic of China? I had no idea either until we set foot on Victoria Harbour in this metropolitan area. And I promptly bought my first package of fish balls. (Yes, I did giggle) As bland as the food is rumored to be in China, we managed to eat some delicious meals while in Hong Kong on the eastern Pearl River Delta of the South China Sea. Even if we were the only none Chinese people in every restaurant, the menus were one hundred percent not in English and I had to constantly be showing the waiters photos of a lobster on my phone. I even had my first meal at Din Thai Fung, which shockingly has a location in California! after our trip to Hong Kong I found myself craving dumplings and luckily the Arcadia Din Thai Fung is literally within walking distance from my workplace! I was hooked on dumplings and Chinese food after that trip to Hong Kong.
Hong Kong is well known to be one of the most densely populated places in the world. Some of the stories you hear of people living in Hong Kong are simply atrocious. We wanted to be immersed in Hong Kong life when we stayed in TST (Tsim Sha Tsui0) near the Kowloon Penisula so we rented a 400 square foot two-bedroom apartment. How is a Hong Kong apartment that small, you may be asking? Well, the kitchen was also the bathroom. Yes, I could fry bacon while sitting on the toilet. I could, but I did not. Because I'm a lady. And ladies don't cook bacon with their pants off.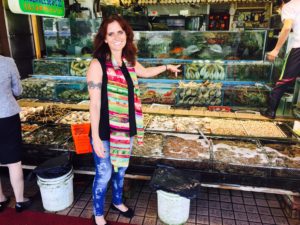 I didn't do a whole lot of cooking in our tiny TST kitchen, besides warming up the fish balls that were oddly disappointing and buying way too many unique delicious foods at City Super which is the most amazing unique grocery store I have ever whipped out my American Express in. Imagine if Whole Foods and Harrod's had a fancy mercantile baby where you could buy all the exotic sushi rolled to perfection, lobster snacks and even extremely stinky Durian Fruit if you are a real foodie freak and also never want to be invited to stay at a 400 square feet apartment in TST ever again.
The scariest loo ever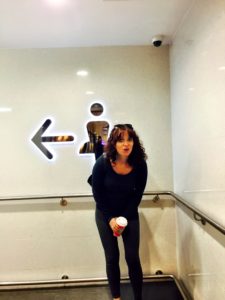 Everyone has to tinkle when you travel, even Hungry Mountaineers. One thing we have learned while traveling abroad is that Mcdonald's usually has clean bathrooms. For the price of a cup of coffee, you can urinate in relative cleanliness. I mean unless you are in Hong Kong. I came across this photo of the most densely populated city on earth, what was, Kowloon the walled city. What stood out to me is I swear this looked just like the nastiest public restroom I have ever used in my life, in Hong Kong.
Besides visiting the scariest restroom ever in Hong Kong our trip to this fragrant harbor city was simply fantastic. Yes, the authentic Chinese food was a bit bland. When we were in Hong Kong at this time there
were no apps like Yelp so it was kind of a guessing game where we should eat out. Saying that we found this amazing floating restaurant where we inhaled lobster in cheese sauce. You wouldn't expect to find cheese sauce on a Chinese food menu but lobster in cheese sauce seemed to be on every menu in every restaurant in Hong Kong. I love getting away from other tourists while on holiday and we were for sure the only Americans in every single restaurant we frequented. Making me think we were eating unique Hong Kong cuisine like lobster stewed in cheese.
Here we have not a lobster boiled in pounds of the finest gruyere but one of my favorite keto Chinese dinners, breakfasts and snacks. Egg Foo Young is such a versatile dish. I mean, really, you can add so many different things to it. Sometimes I add oyster mushrooms, crab or shredded pork. It's basically a garbage egg pancake. Eggs, white pepper, oyster sauce and bean sprout are the constant. Then I just add any extra leftovers we have in the fridge. (But not cheese and lobster. I refuse to go Hong Kong style)

I call this almost keto as the egg foo young sauce does have cornstarch in it. You could make the sauce keto by substituting almond flour, very well ground cauliflower or flax seeds. This however does not make the sauce as smooth as it would be with the cornstarch. If you choose to use any of these keto substitutions I would even recommend letting the sauce cool for ten minutes. Then puree it in a blender, then returning it to the heat.
There are a lot of different versions you can do with this egg foo young. It kind of just depends on what you have in your fridge. If you have carrots or bell peppers, cut those babies up into chunks and add them in with the egg mixture. If you are not a fan of carnitas you can add in imitation crab or real crab.  I try to make up extra egg foo young to have for lunch the next day when I make this. The egg omelets and the sauce both keep great in the fridge for a few days. Want to spice up your Egg Foo Young dinner? Try this spicy Capital City Mambo Sauce – Variety 2-pack of Sweet Hot and Mild Mambo Sauce – Washington DC Wing Sauces (Two 12 oz bottles); Perfect for wings, chicken, pork, beef, and seafood

Egg Foo Young

1/2 cup frozen peas, defrosted
1 package shitake mushrooms, chopped
3/4 cup fresh bean sprouts
8 eggs, beaten
2 teaspoons Hosin sauce
1 teaspoon white pepper
1/2 cup imitation crab, or real crab, chopped
1 teaspoon fresh grated ginger
1 teaspoon fresh grated garlic
1/4 cup sesame oil
For the egg foo young, beat the eggs. Add the white pepper and Hoisin sauce. Mix in all the veggies and the garlic and ginger. Add the crab. In a saucepan heat the sesame oil until very hot. Have a lid for the pan nearby. Pour enough of the batter into the pan just to coat the pan. Add the cover. Cook the egg foo young for just a few minutes until brown then flip it. Cook another minute or two until browned and fluffy. 

Egg Foo Young Sauce

2 teaspoons soy sauce
1 teaspoon cornstarch (Or almond flour, ground flax seeds or very well ground cauliflower for keto version)
1 cup homemade stock ( beef, pork, or chicken)
1/2 teaspoon rice wine vinegar
1 teaspoon sake or mirin
1 teaspoon fresh grated ginger
1 teaspoon fresh grated garlic
1 teaspoon white pepper
Heat the stock in a saucepan. Add the garlic and ginger. Mix in all ingredients but the soy sauce and cornstarch. Mix the cornstarch and soy separately with a whisk. When the sauce is boiling, whisk in the soy sauce cornstarch mixture. Whisk for one minute and set aside.

1 package precooked carnitas, shredded and heated on the stovetop
4 Chinese chili's
About 1 teaspoon sesame oil
Cook the Chinese chilis well in the sesame oil. Remove the child and cook the carnitas in the leftover oil. Slap some carnitas on an egg pancake. Serve this Egg Foo Young with a ramekin of sauce on the side.