I just stunk up a aerial tram and it had nothing to do with my butt! Today in Hong Kong I accidentally rediscovered durian fruit and I know one aerial tram car that will never be the same!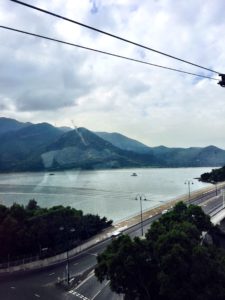 This morning we spent time exploring the Big Buddha monument near Tung Chong. It was a cloudy Hong Kong morning full of fish balls, smelly durian and unique Ngong Ping experiences. Our overcast morning began with an awesome glass bottom cable car ride up the mountains on Lantau Island with the Big Buddha statue peeking out of the foggy mountains in the distance.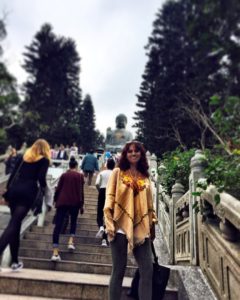 We choose to take the glass bottom cable car to the top which was well worth the extra Hong Kong dollars as our feet dangled above Victoria Harbour and the sea.
I had heard the Big Buddhas fish balls were delicious. I'm not going to lie; I was in it for the fish balls. The Hungry Mountaineer is constantly led around by her stomach, especially in a country where the fish is so fresh and delicious.
The Big Buddha did not lead us astray. The path to the Big Buddha was paved with fish balls (Well street food stands selling fish balls) with cute dogs who looked like a mix of chow and german shepherds and confused looking cattle milling about looking bored by the thousands of tourists who wanted to be photographed with them.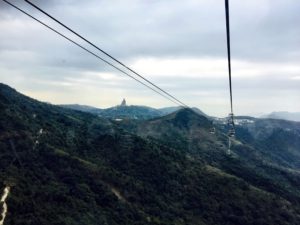 After hiking up to the Buddha and enjoying the view it was definitely time for a beer.
It's really not a beer unless you have to hold it with two hands. Besides the beer and fish balls we had a roasted goose snack which was phenomenal. That is one of things I am finding about Hong Kong…
So many menus have roasted goose and duck available! The hardest decision in our week in Hong Kong so far has been deciding between fresh seafood, lobster and crab or goose or duck.
Life decisions.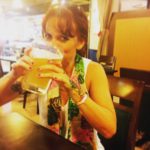 One decision I should not have made was to try the Durian (much different from the eighties band) cookies. Hell, that's a great story.
My boyfriend picked them out and said "Oh you guys have to try these! I've tried these before they were delicious!"
Durian sounded familiar to me but I could not place it. As we wandered the gift shop I saw durian products everywhere and was trying to place why it sounded familiar. Thinking about it now, it was that my friend had mentioned durian cakes and how nice they were (see https://www.emicakes.com.sg/durian-cakes for an example) but at the time I just couldn't work out why durian rang a bell.
I was kind of thinking it may be that fruit that smells really bad (And is actually banned from public transportation in Asia the terrible toilet odor is so bad!) but I was not sure if I was thinking of the same fruit. From what I remembered about durian it smelled terrible but the taste was okay.
So I got brave.
And we opened the bag.
The smell was terrible and as I bit in I thought, oh no, this is the smelly fruit.
I would like to say the story ended there but then the stink invaded my mouth!
It was so beyond terrible!!!
Like a rancid fish garlic cookie! I don't think in all my life I have ever tasted anything as bad as durian!
My boyfriend however was not disgusted at first by the taste and he insisted on eating a few. That's when we made a very bad decision.
Let's take these babies in the cable car!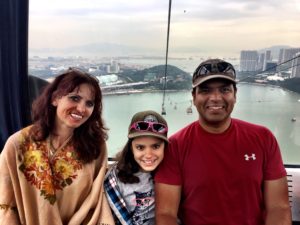 The Chinese girly girls on the cable car with us had to be talking so much crap on us on the trip back! We talked a lot of crap (okay I talked a lot of crap) on India's sweaty armpit smell in the last three weeks we traveled through southern India but today we were stinky Americans and we deserved every word said about us
As the cable car left the Buddha behind us I shoved those durian cookies as far into my handbag as I could and I could still smell them!
As our cable carb continued back down the mountain I felt like the smell was leaking out of my pores! I have never felt like my mouth smelled and tasted so bad in all my life! All I wanted so badly was to wash my tongue and get those durian cookies far away from us!
After we disembarked the cable car I felt like they must have had to fumigate our cable car after our visit.
Those Chinese fancy girls with their Louis Vuitton must have hated us!
I would like to say that is the end of this great tale of Durian Durian, the stinkest fruit eighties band ever, but there was more smelly nonsense on this day in Tsim Sha Tsui.
After our escape from the stinky cable car, I wanted to stop at Citysuper this insanely expensive grocery store that is like Whole Foods if Whole Foods was 50% sushi and fish products. The great thing about Citysuper was it was located across the street from our apartment on the whole top floor of the mall.
I was having a great time shopping until I walked into the produce department and inhaled a big whiff of the durian fruit!
I almost threw up! I will never forget that putrid smell ever again in my life!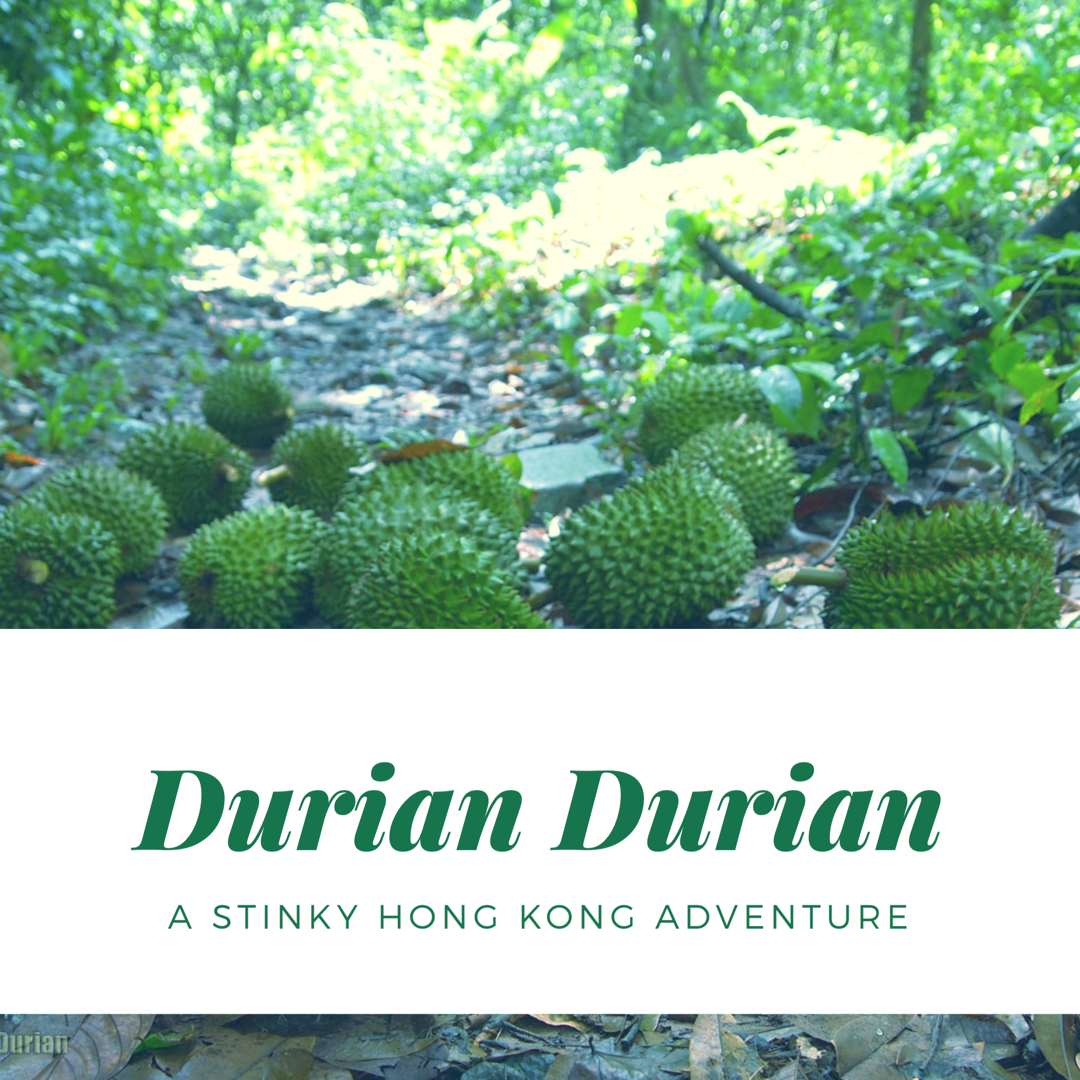 Love my adventures? Afraid I'll get in an aerial tram with you? Make sure you pin all my crazy adventures!