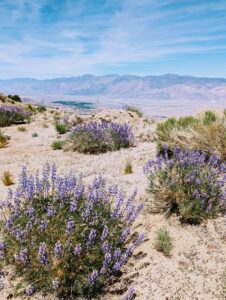 I didn't drive all the way to the South-Eastern Sierras to f*** around with rattlesnakes. Don't get me wrong, I love me some springtime, wildflowers, days relaxing on our boat with a good book and of course, hiking through fields of grape soda lupine and cherry red king cup Cactus. Springtime warm weather means the days are just gorgeous and warm finally here at home in Big Bear Lake California. That means we can start cooking and entertaining outside again. Like last weekend when I used our outdoor stove to fry up this ridiculous good Taiwanese Five-Spice Fried Chicken for friends and family. As much as I love this springtime weather, as soon as the wild Prickleleaf dogweed is bursting out with its sunshine yellow blossoms here come on the rattlers on my favorite trails.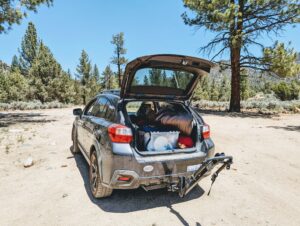 So this last week I took a break from my thriving hiking business here in Big Bear California and took a 'lil road trip to the eastern Sierras. I was interested in some snake-free hiking in the rugged mountains near Lone Pine. I didn't have a definite agenda lined up but I had some pretty good ideas on some new to me trails to trek. First of all, I was heading up to the edge of Sequoia National Park a little to travel to Kennedy Meadows. If you are a Pacific Crest Trail thru-hiker I'm sure you have heard of Kennedy Meadows, I mean it is the gateway to the eastern Sierras after all, full of green bristlecone pines and the sweet smell of the forest at last. It's also a little desert with Beavertail cactus not yet in bloom on the trails of the PCT. And baby rattlers, did I mention the baby rattlers?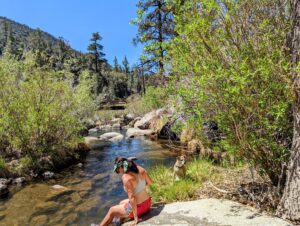 The pup and I left our mountain home down south in southern California just after six a.m. and were hitting the trail, the Pacific Crest Trail that is, at Kennedy Meadows right before ten a.m. It was already freakishly hot for an early May morning. The forecasted temperature at Kenndey Meadows was pleasant for hiking at sixty-six degrees on that Tuesday. By the time I jumped into the freezing cold waters of the Kern River two hours into our hike, it was almost eighty degrees. This was not what I signed up for when I planned this trip to the southern Sierras! But the pup and I did the whole hike to the PCT bridge, said hi to some thru-hikers and went for a swim in the crystal clear creek anyways. Then we trekked back to the car, past that wriggly trail crossing baby rattler and went for a little Subaru exploration up towards Sequoia National Park. Did you know that Sequoia National Park borders actually go as far as the south-eastern Sierra? This is such a scenic hidden alpine treasure for southern California. I was half thinking of camping up here in one of the gorgeous hidden meadow campsites we found but I changed my mind for two reasons.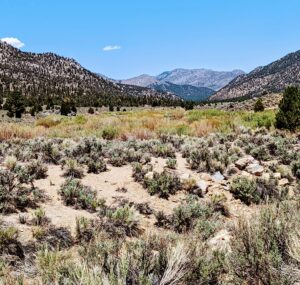 One. One rattlesnake is too many rattlesnakes. I wanted to camp somewhere alpine, scenic and snake-free.
Two. I have FOMO. In a weird way.
FOMO MOFO
I feel like I have FOMO but I'm not feeling like I'm missing out on all the fun, I'm fearing terrible things happening when I don't have cell phone reception for fifteen hours. (LIke when I travel way out in the woods in areas like Kennedy Meadows where there are no cell phone towers and I'm so off the grid, I feel like its 1999) I want to concentrate on hiking twelve miles past these meadows of rusty red indian paintbrush and big mountain wild dandelions but what if no one can get ahold of me because my wanderlust took me off the grid and away from the nearest cell tower?
As soon as I'm off the grid, hiking ten miles up that scenic mountain over there, I start worrying that my 92-year-old grandma will break her other hip while she's trying to stain her front porch. Which I told her not to do. Apparently being a hyper chipmunk runs in our family. These FOMO moments are what are running through my mind, even as I'm sightseeing way back in the eastern edges of Sequoia National Park in an area tourists will never see. This may be the very edge of Sequoia National Park but there are more Jeffrey pines back here at eight-thousand feet than towering Sequoias. I drove for about fifty miles all along these backroads with the pup near the Kern River and so close to the trailhead that takes you to hidden Jordan Hot Springs. These are the kinds of off-the-grid wilderness areas most California tourists never ever would never visit. I was so tempted to set up my own dispersed campsite on one of these dirt roads next to such a gorgeous hidden meadow, but that damn FOMO was getting to me and I had this overwhelming urge to check my email. Sometimes owning your own small business can make it so hard to stay off the grid! Also, grandma may or may not be behaving herself and why do I feel like she might be holding a can of cedar stain right at this instant?
So I had to make my way back down the mountain to the rugged cliffs sitting high above Lone Pine. I set my sights on camping for two nights at Whitney Portal as there was just the slightest bit of cell phone reception up there if I needed to receive an emergency text from anyone in the family. I've camped at the portal so many times and it's so gorgeous right near Lone Pine Creek and a great place to set up camp and start deep-frying my Taiwanese Five-Spice Chicken that had been marinading in my ice chest all day. This Taiwanese Five-Spice Fried Chicken is great camping food because do you really care if you get grease everywhere when camping? Also, those ten miles I trekked in eighty-degree heat today means I need some tasty deep-fried chicken ASAP.
Carbo-Load? No thank you
I might be the only long-distance hiker who doesn't believe in carbo-loading. Unless I'm hiking over 15 miles in one glorious eastern Sierras day. Then you could find me shoving some Trader Joe's, white cheddar, macaroni and cheese at my face. (My carbo-load of choice) But most days I am on the keto craze, even if I am trekking my way through the southern Sierra and hiking to a few backcountry lakes. So how does this long-distance hiker stay away from carbs while out on the trails of the southern Sierra?  Well, it's not easy but the potato starch in this delicious chicken makes it just a bit lower carb than regular popcorn style chicken. Also come on, sometimes on a girl's trip with the pup, you just have to give in to Taiwanese Five-Spice Fried Chicken.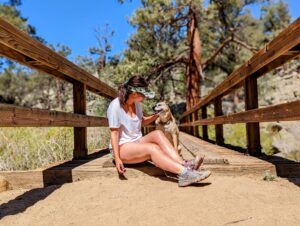 Do you have FOMO? Do you feel like you have a fear of missing out on this delicious crispy spicy Taiwanese Five-Spice Fried Chicken? Or do you just love a tasty and unique deep-fried chicken? Do I have the recipe for you!
Taiwanese Five-Spice Fried Chicken
What the hell should you do with the most delicious Taiwanese Five-Spice Fried Chicken ever?
Add this crispy chicken to a glass noodle salad with peanut sauce
Serve a side of this chicken with my tasty and yes Keto Egg Foo Young. Did you know that potato starch is much lower in carbs than cornstarch?
Try using argentine shrimp instead of the chicken in this recipe.
Serve this Taiwanese Five-Spice Chicken over a bed of delicious Cauliflower Fried Rice.
Chinese Chicken Salad? Hell no! Add this delicious Taiwanese Five-Spice Fried Chicken to your favorite Chinese Chicken Salad.
How to make the ultimate Taiwanese Five-Spice Fried Chicken with homemade five-spice powder
2 cups potato starch
2 cups Thai basil
3 cups canola oil for frying
Five Spice Marinade
2 teaspoons homemade five-spice powder 
1/2 teaspoon salt
1 teaspoon grated ginger
1 teaspoon grated garlic
2 teaspoons soy sauce
2 teaspoons Shaoxing wine
2 egg whites
1 teaspoon white pepper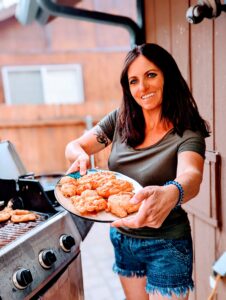 Firstly, combine all marinade ingredients in a large bowl. Cut the chicken into bite-size pieces.  Then marinate the chicken for thirty minutes or overnight for the best flavor. When you are ready to fry, deep fry your basil leaves first. They will fry quickly so watch them so they don't burn. Set aside in a colander so the oil can drain.
Massage the potato starch into your chicken thighs. This part is so important! Get the potato starch in all those chicken nocks and crannies. This will be the crispy delicious bits later. Fry the chicken thighs in the hot oil and serve with the crispy basil sprinkled on top.