My boyfriend and the love of my life turned 43 today and I found myself asking the question, how can I make Adrian's birthday great again? I've done an 80s party with 80s bands before, a superhero themed party and the list goes on so what is there left? Well… my boyfriend simply adores our 45th president and when I sent out the Facebook invites I knew he would love the Donald Trump theme. Then all of our liberal friends and family told me that they were out-of-town that weekend and I started to think, maybe I should not have revealed the theme to our guests until they arrived and saw the bad hombre red solo cups and took their photos with our life-size Donald Trump cut out.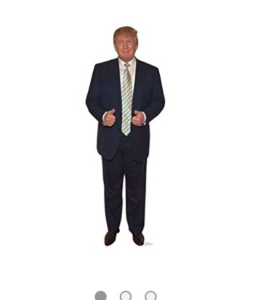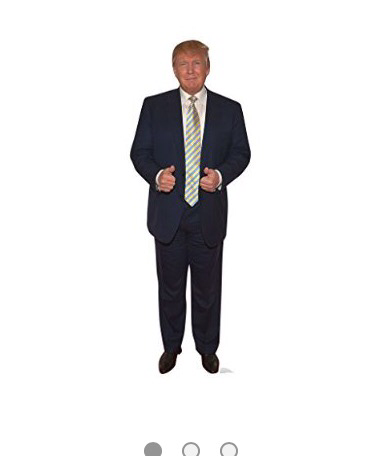 Do you have a loved one who is a fan of our commander and chief? You don't have to love our 45th president to enjoy these awesome party ideas! Maybe you think smacking The Donald piñata after a few Donald-tini's is a fun idea. Or maybe you and your friends would enjoy a fiesta game of pin the yellow hair on the president. Here are a few fun, frivolous and not too expensive party ideas for a presidential themed birthday bash.
How can I make my boyfriends birthday great again?
Smack a Donald Trump Pinata!
Maybe your boyfriend or loved one is not actually a fan of The Donald. Perhaps beating the 45th president with a baseball bat until candy falls out of his fat ass is more your cup of tea? Well if you drive to Baja, Mexico you can buy one of these awesome Donald Trump piñatas! Nothing says happy birthday babe like children smacking a piñata with our presidents face on it! Should I feel bad about that?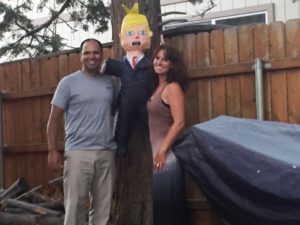 They also sell these pinatas on Amazon.com. Most of the items listed here you can buy on Amazon.com and have your Trump balloons delivered in two days or less!
What ever you do before inviting your friends and family over for a Donald Trump themed birthday bash, don't forget to order the toilet paper before the big night! No party is complete without it!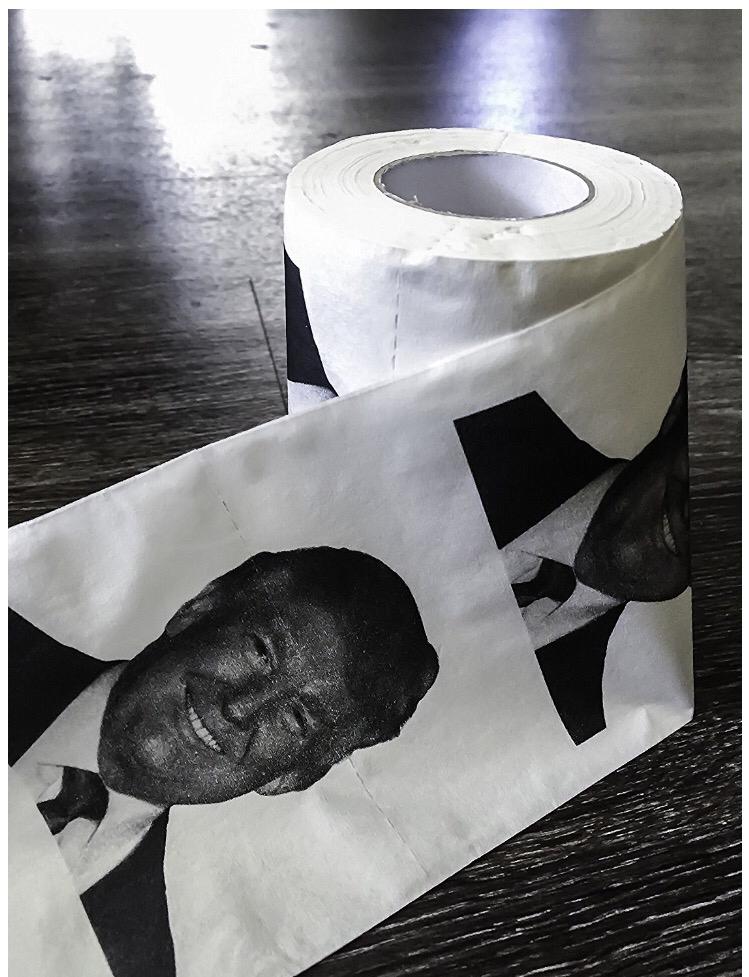 Donald Trump themed snacks
No birthday party is complete without Donald Trump snacks! Luckily for me my brother's mother in law decorates cakes for a living. Also luckily for me my brother told her I requested a naked bust of our 45th president. (This is not at all what I asked for) Even more, luckily for me, Donald Trump's neck broke on the drive through winding mountain roads from Lake Arrowhead to Big Bear Lake and I had to cover up his creepy pink fondant body with a much more modest white buttercream frosting dress shirt. Tasty, modest and delicious! When designing your own Trump cake don't forget you can buy Donald Trump hair (It's actually cotton candy! Kids love it!) on Amnazon.com.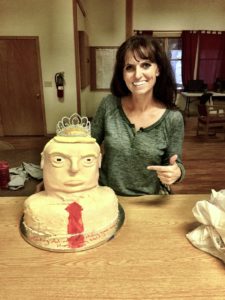 The cake is designed and the guest list sent out over social media. So besides a big naked bust of a cake what else will you serve your guests? Check out my crazy easy and yet delicious, Donald Trump Jalapeno Poppers!
Are your guests thirsty and needing to fill their bad hombre red solo cups?
For a cocktail sections try these liquid homages to our 45th president.
The Diet Donald
Tall and golden like a gilded casino tower and just like a casino, filled with vodka!
2 oz vodka
Orange juice
2 mint leaves
Splash of soda water
Or you can just go for the classic White Russian (Served with a side of yellow Donald Trump cotton candy hair)
Have a great Donald Trump themed birthday party and I hope your friends show up and don't de-friend you on The Facebook! Not that it happened to me!