Everyone needs that person to grow old with, even if it means that special someone is reminding you that you love goat's balls.
Growing old together means being there in the long run in good times and in bad. It means sticking together for the long haul and being there for each other for the hard things in life; losing jobs, funerals and car accidents.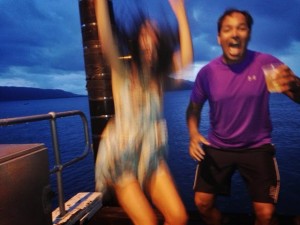 Having a partner to spend the rest of your life with means enjoying the good times too… Road trips to the eastern sierras for a week of camping along rivers and amidst the pines, or a week staying at a beach house on tropical Fitzroy Island off the coast of Australia.
In two weeks my boyfriend and I are going to experience what some people may consider a stressful experience; flying halfway across the world. It will be two days of traveling to reach our eventual destination, Bangalore, India. Some people would be stressing out over having to do this kind of travel, sleeping on a plane and layovers across the world in Hong Kong to start off their week and we are doing this with a ten year old with us also! But I think it will not be to stressful as we are all good travelers and up for an adventure. An important part of being in a long term relationship is being able to travel with someone.
Especially if you are traveling to a place where you will be experiencing goat brains ( beja fry)for the first time. The other night at dinner my boyfriend was talking to our neighbor about how much he loves beja fry and I jumped right in and said
"I love goat brains!" and he interrupted me and said
"No babe, you love goats balls!" How on earth did I get goats brains and balls confused? I was thinking about the fantastic sweetbreads (goat's balls) That we had at Andres in Las Vegas a few years ago.
Well now that I have the brains and the balls sorted out I guess I'm ready to travel to India!