There is nothing like peeing in a alpine lake in October.
     Wait. No.
     There is nothing like peeing in an alpine lake in October while a pirate ship full of tourists pass you and they all smoke and wave.
      It's the second week in October and yes, last weekend I was fully submerged in an alpine lake and really not that cold.
     How does that work, you may ask?
     Vodka may be the answer.
     Or maybe global warming?
     I suppose both may be involved.
     When we set out on Big Bear Lake last Saturday the trees were already changing from green to orange to hold all over the lake shore. Oktoberfest has bed ragging the last two weekends and fun lake days should be left far behind us back near Labor Day weekend over a month ago.
     Maybe I'm just a mountain bad ass jumping in the lake today ( or maybe I just had a very full bladder and we didn't want to lose our optimal buoy by the dam by taking a visit to the SS Relief Porta Potty) but I was literally the only person swimming in the lake not wearing a wetsuit ( well until my boyfriend jumped in to join me)
     One thing is for sure; there is nothing like chilly
lake water to make you feel alive!
      Or maybe it was Big Bears tourist trap 
pirate ship that seriously made a beeline for me as I hung on to the ladder on the end of the boat.
       My boyfriend laughed gleefully at my situation, yelling to me as I bobbed in the cold water
     " Here comes the pirate ship!" And I looked up at all the flat landers on the deck of the ship just in time to hear a little girl say
     I'm so glad that I could make the tourists trip to Big Bear more memorable as I squatted on a ladder in a chilly alpine lake, now please pass the vodka.
     I'm really declaring it this time and yes, I know I've said this about six times this summer but yes, today was the last day of summer!
Pumpkin and Chicken Pizza with Pancetta and Sage

1 Pizza crust
1/2 cup pecorino Romano
1 Package chopped pancetta
6 Sage leaves
2 Tab pumpkin butter
2 Tab heavy cream
1/2 cup mozzarella cheese
1/2 cup shredded poached chicken
Heat the pancetta in a saucepan until crispy. Add the Sage leaves for two minutes. Stir in the pumpkin butter and heavy cream. Add the Pecorino Romano.
Too the pizza crust with this, than the mozzarella and than shredded chicken.
Bake at 375 for 12 minutes.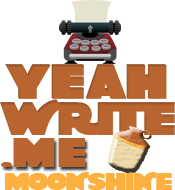 Linking up one of my favorite fall posts at the Yeahwrite.me weekly moonshine weekend blog party. Back at Yeahwrite.me for another weekend of fun blogging adventures!