Canada can be such a confusing place. The Lake Superior Circle tour begins just north of Duluth Minnesota but once you cross the border at Grand Portage it does definitely feel like you are in a foreign country. Not just because those wacky Canadians call their dollars loonies (Seriously like you are in a cartoon network cartoon) but those Canadians are serious about what you can and can not take into their country.
No one I know on the west coast has even heard of the Lake Superior Circle tour. When we started researching this epic road trip around Lake Superior there were not a lot of blogs with helpful information. Trying to find info about where we could actually camp along the Lake Superior Circle tour was very difficult. It seemed like there were very few campgrounds. Could we just camp anywhere on Crown land? That is what we call dispersed camping in America. The info I found online was neither here nor there. It seems like if you are from the Michigan area or anywhere near Sault St marine that the Lake Superior Circle Tour is a very popular summertime road trip. It seemed like a lot of vacationers from this part of the world set out to drive over 1,300 miles around Lake Superior each summer and fall. Would we even be able to find campsites if everyone in Wisconsin was doing the exact same road trip this summer? Researching the Lake Superior Circle Tour left me with so many unanswered questions.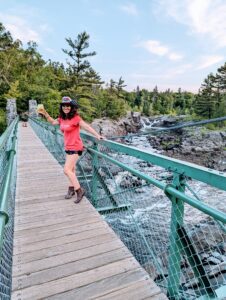 When we began planning our Lake Superior Circle Loop tour I had such a hard time finding any info about where we could actually camp. I came across a lot of confusing Canadian articles about boondocking, wild camping and camping on Crown land but they were all mostly clickbait with very little information. A lot of the older forum groups I found had replies dated as late as 2006 or 2016. Not helpful Canada.
After four days of researching, I was incredibly confused. I was wondering am I going to have to call internationally to Canada, eh? No one I had emailed across our border to the north had replied to my emails. This is the year 2023; I hate making phone calls.
As a non-Canadian resident do you need a government permit to camp?
The short answer is no, not if you camp for less than twenty-one days a year in Canada. And if you do plan to wild camp in Canada for more than twenty-one days, you can apply for a Crown land camp permit. Or you can stop at multiple government offices once you reach the land of everything maple leaf and hope you can find a friendly Canadian to help you.
Is Canada sounding less confusing yet?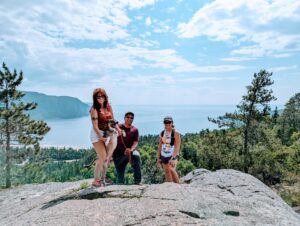 Oh wait, I'm just getting started. Canada may be well known for hockey, maple trees and Niagara Falls but helpful info in Canada is hard to come by.
Take for instance the fact that you can't bring a Taser across the border. "Oh you don't need it miss, Canada is safe," The border guard told me, I swear he winked as we crossed at Grand Portage in early June. Then he promptly searched our motorhome for an hour and a half. I just surrendered my ten-dollar Amazon taser no problem. Do I look like a criminal to you? I didn't even fondle this bear because I can read the sign and also I'm an adult. Does it seem like I don't follow the rules here? Maybe we wouldn't have spent an hour in the gift shop if we had known there would be a strip search at the border to delay our border crossing.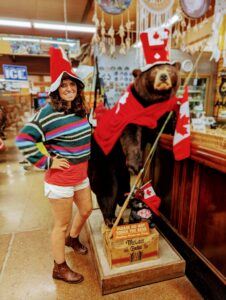 Prepare to have your motorhome searched at the border. If you are traveling across the Canadian border in a motorhome, there's a 50/50 chance that your rig will be searched. What I suggest is if you are bringing any booze across the border, you inventory and write down exactly how many liters you have. Put all your booze in one area and let border patrol know, this is what we have. This way they can look at it thoroughly. So that you don't look guilty. We Americans must have all voted for Donald Trump so obviously we look like we are trying to smuggle things into the maple leaf state. We had no idea our motor home would be searched so we just had everything helter/skelter everywhere. Not because we were trying to hide all the liquor we were bringing into Canada, but just because we had been traveling the highways of America for three weeks at that point nothing was organized. Try shoving two adults, a teenager and a big ass Catahoula puppy into a 34 ft motorhome with eight weeks worth of groceries. See how organized it gets.
Technically you are not supposed to bring fruit, veggies, soil or firewood across the border. Burn all your firewood and eat all your grapes while in Minnesota before you cross.
No handguns! No seriously, Canada does not want you bringing your handguns in and maybe the border patrol agent will believe you when you say you don't own or carry handguns. But then he is pretty sure you voted for the orange-haired guy so he might decide to search your motorhome anyways.
So you made it into Canada, yea! Did you stop at the border store for souvenirs? If you love to souvenir shop, Canada has some awesome options. There are so many moccasins and Native American-made goods. I had to control myself and not buy one of every awesome t-shirt I saw.
Once you finally make it past that border checkpoint, the Trans Canada Highway circles Lake Superior and it is an incredible drive as you leave the terrible roads of Minnesota behind you and head into Ontario. Unfortunately, because our motorhome was searched forever at the border we missed out on our planned hike in Nipigon. Looking back at how we planned this trip, I wish we had added in a few more days for the tour so we could have spent hours hiking each day. We had planned to hike to Ruby Lake, an easy three-mile round trip hike but the Canadian border authorities kind of hijacked our fun hiking plans.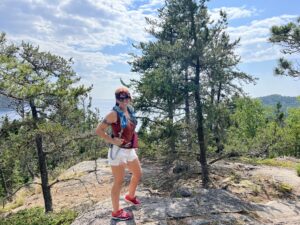 If you are planning a stop near Thunder Bay then you must check out Kakabeka Falls.  twenty-five minutes out of the way. These are known as the Niagara Falls of Canada. Thunder Bay is supposed to be a cute little tourist town. We wanted to stop here and walk around and get a coffee but we had multiple issues with the motorhome on this travel day so unfortunately all the touristy plans we had have to be recycled for another trip.
Once you get past Thunder Bay the provincial parks are just stunning. You can park at them and go for a walk, hike or swim around Lake Superior. We stopped in multiple locations so our pup could swim in the vastness of Lake Superior. It felt like we were at the ocean! If you stop at any of the Provincial Parks on this drive you will need to buy a parking permit. Buy your daily parking permit here! toll road bullshit.
Red chairs and maple syrup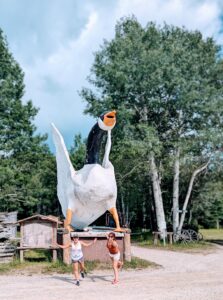 So are you asking yourself yet, why are there so many red chairs along the lakefront? Provincial Parks Canada has placed over two hundred red lounger all over parks in Canada because some come on, it's Canada, don't you want to enjoy the view?
Kitty-cats eh?
And while we pondering all things Canadian, why are there so many cats on leashes? Okay, we saw a lot of Canadians who had brought their cats camping with them. We ran into so many, French-Canadians who had brought their feline friends on this epic road trip and had them in harnesses and on tethers. It was surprising. In the good old U.S. of A. most Americans don't bring their kitty-cats camping. It seemed like a lot of travelers from Quebec had cats with them so maybe it's a French thing?
If you are traveling The Loop definitely make a stop in Wawa. It's a super cute little town. We loved our stay at Wawa RV Resort and Campground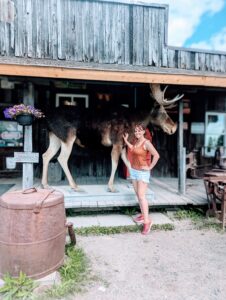 right on the Magpie River. Wawa has some great photo ops. Like the ginormous goose statues, they have throughout this small town. And make sure you get a photo of yourself with the life-sized moose out front of the general store. This general store in Wawa has some great souvenirs as well.
Wawa has a great short hike you can do to see pictographs at Agawa Rock also. The hike is only half a mile, so easy for the whole family. Looking for a longer hike near Wawa? Check out Noisy Bay. This three-mile round trip trek takes you by lakes and to a rocky beach eventually.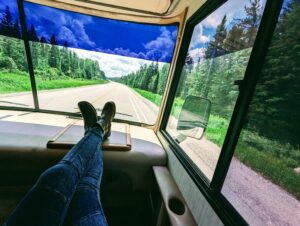 After Wawa as we continued on towards Toronto we got further away from Lake Superior and the weather became much warmer. We just happened to be at the tail end of the Lake Superior Loop right when a hot and humid Ontario heat wave was beginning. After Wawa, we had plans to camp at a blueberry farm through Harvest Host. It sounded like a great location but then it turned out that the parking areas for RV's were just an ugly not even graded dirt lot right next to the highway. If the weather was better it might not have been bad but the weather was creeping towards ninety-five degrees as we tried to find a level spot for our rig for the night.
Then a Canadian miracle happened! We were just settling down for one hell of a sweaty afternoon when an incredible thing happened. I got a reminder message that we had actually booked a spot at Villa Marine Camp in Sudbury! And it was on Richard's Lake! Thank God for Richard and his lake. We hoped back in the moto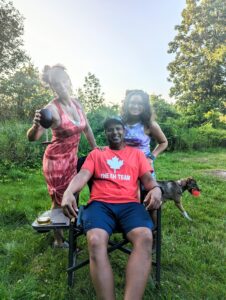 rhome, took the slides in, and were out of there before you could say sunburnt. There was a lake an hour in our future and the puppy and I really needed to swim! This was a fantastic way to spend our last evening on the Lake Superior Circle Tour before we entered the suburbia of GTA (The greater Toronto area) the next day.
The Lake Superior Circle Tour was an epic beginning to the three weeks we had to explore Ontario Canada.