So you heard that Big Bear Lake, California is just bursting with fall colors right now? But just where the hell should you go to see the best fall colors in Big Bear Lake? Isn't Big Bear mostly a conifer forest? Are you wondering if it's worth the two-hour drive from Los Angeles to go leaf peeping in the San Bernardino National Forest? Or should you just drive to June Lake for the forests full of yellow aspens? Is it worth a seven-hour drive up that 395 or should you take a chance and hit up Big Bear Lake just two hours from Los Angeles and those sunny southern California beaches?
Trust me, Emma, you want to make that Airbnb reservation in Big Bear Lake California! Save the money on all that super expensive California gas and check out the changing Black oak trees of Big Bear Lake. Why, no, we don't exactly have aspens, not natural ones anyway. We also don't have native maples here that were not purchased at local nurseries for two thousand dollars a sapling. But what we do have here are masses of orange and buttery yellow-leaved oak trees in certain areas. But finding where Big Bear Lake has these groves of oak trees is the hard part. Still not sure where to hike in Big Bear Lake? Book a fall colors hiking tour with me; The Hungry Mountaineer and discover the best of the best of Big Bear Lake's fall sights.Book a fall colors hike here!
Most of my favorite places to capture great autumn snaps are so off the beaten path. You would never find these treks on the All-Trails app. I like to hike old logging roads, follow animal trails and basically just stay away from all the other tourists. I swear all my secret places tend to have great enclaves of fall colors also. This autumn especially I have come across patches of wild elderberries, delicious coffee berries and even mild red wax currants. The berries in Big Bear Lake have been prolific this autumn after that crazy winter southern California was blessed with! Even better, all of those berry bushes turn the most amazing canary yellows in Big Bear Lake's autumn sunlight and they make for gor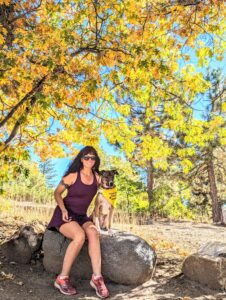 geous photo ops. Some photographers may like to take photos in the warm light of the late afternoon but I like to go out leaf-peeping between eight a.m. and nine a.m. each autumn morning. I find this is a great time of the day to get all those leafy photos with perfect golden light.
Pine Knot Trail hysteria
Well, Pine Knot Trail is well known by visiting tourists as the spot to check out the fall colors in Big Bear Lake. And this oak tree-studded trailhead can be madness on weekends in October. The Black oak trees may be gorgeous here but as a local, it's not my favorite place to experience fall because of three words…Dog Poo Bags. When I say I want to see fall colors, I certainly did not mean bright blue discarded poo bags from your mutt. Seriously, this popular Big Bear Lake trail is one of the only ones I personally hike that has dumpsters at the trailhead. Yet, this trail is still always studded with blue dog poo bags, cigarette butts, discarded water bottles thrown into the leaves and much, much worse.
The parking at Pine Knot can be horrendous on weekends also. This is where you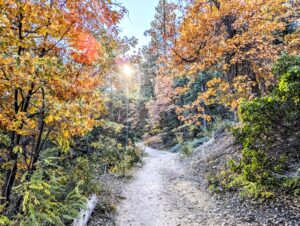 will spend an hour in a queue to park your Tesla legally. A lot of people park here in the no parking areas, which are clearly marked and a lot of people get tickets here. And hey, Big Bear Lake just upped the parking fine from $100 to $400 a ticket!
The meandering woodlands; Town Trail
Town Trail is one of the easiest hikes in Big Bear Lake. You can easily witness some of the best fall colors in Big Bear Lake at Town Trail without barely breaking a sweat. The parking at Town Trail is plentiful and easy. Park just west of Snow Summit in their giant lot, just to the left of the apartments. Don't park in the apartment parking as they do tow. (It's clearly marked) You can walk uphill through the apartment complex and through the gate. Make a right on Town Trail and have fun exploring those golden colors. Do be cautious, especially on weekends, on this trail section. This area is very popular with mountain bikers. If you are looking to take your hike to the next level, once the trail meets Knickerbocker Road, you can make a left and continue uphill. Yes, this part is steep but the lake views are some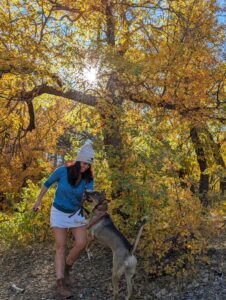 of the best in Big Bear Lake.
Find your zen at the Happy Hills Trail
The Happy Hills Trail section is one of our most scenic for fall colors in Big Bear but this trail comes with a warning. There are a lot of homeless people that camp and basically live by the creek and they can be ornery. If you choose to hike on this, one of the newest trails in Big Bear Lake, be aware of your surroundings. The photo ops are just so scenic down by the creek, as long as you can crop the homeless encampments out of your photos. (I'm not being sarcastic, I have really done this before)
The Happy Hills Trailhead starts out of the City Hall parking lot and this section of parking is closed on weekends. You can take a backroad to park back here on the weekends but the road is hard to find, through a neighborhood.
After you take a few snaps down by the creek, continue uphill past the cabins. You wi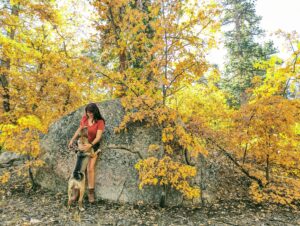 ll see bushes filled with sweet Coffeeberries, tart red primrose fruit with wild rose hips and sweet red wax currants. Who needs Whole Foods when you have this many organic fruits on the trails of Big Bear Lake?
North Shore hiking at Gray's Peak
Gray's Peak is not one of my favorite hikes as the prettiest upper parts of this trail burned in the Slide Fire in 2007. However, there are some very golden oak trees in the first mile of this uphill hike. You can then continue north on the fire road 2N70 towards Butler's Peak Road and there are some nice fall colors in this area.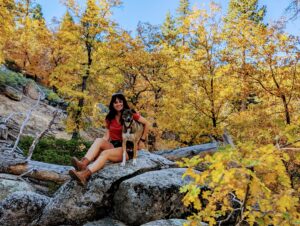 Jackie and Shadow, Big Bear's celebrity bald eagles also return to their nest in this area in the autumn to prepare the nest for the winter season. If hiking Butler's Peak, I always take a break in a nice wide-open area, put my head on my backpack, breathe in that crisp autumn air and keep my eyes to the sky, looking for these majestic birds. 'Merica.
Green Valley Lake, a hidden secret
Green Valley Lake (Or GVL as the locals call it) is in itself a wonderful hidden secret. Green Valley Lake is well known for fishing in the spring. Green Valley is also known as the best place for deer hunting in southern California in the autumn. Saying that, I don't recommend hikes here deep in the forest anytime in the autumn, as you are likely to walk by Bubba with a hunting rifle. It's a nice place to drive around and take photos of the best fall colors in Big Bear Lake but don't stray too far from your vehicle. Crab Flat's Road is a lovely off-road drive. Anywhere in the vicinity of Crab Creek is a great place to get some autumn color snaps with ferns, rose hips and the golden oak trees in abundance down here.
A lot of my hikers on my guided hikes ask me, so how do you know where not to hike during hunting season? When it comes to where hunters tend to be in the fall during deer hunting season, one would think there would be an easily available map online to help hikers, well basically not get shot. But guess what; There is not one. Being a local, I know where exactly not to hike in the fall.  I know that hunting is not allowed in the city limits of Big Bear Lake but when it comes to the wilderness there are a lot of areas on the outskirts of Big Bear Lake where it is just not a good idea to hike, especially with a brown dog, in October or November. When I used to run in these areas in the fall, I would always wear neon orange and listen to Taylor Swift loudly on my iPhone. (Hunters hate Taylor Swift, right?)
So you decided to try to ignore the hunters and drive up to GVL for the fall colors. The drive up to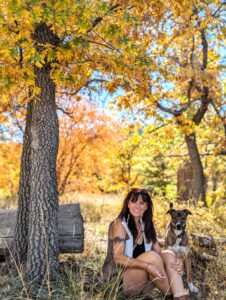 the pristine alpine lake, with stops to photograph all those buttery amber oak trees is beyond scenic in early November. Yes, Green Valley Lake does tend to go through its color change just a little bit later than Big Bear Lake does. Usually, the first few weeks in November are a great time to check out fall foliage in GVL. If you do leave your vehicle to hike deeper into the forest, make sure you wear bright colors. I personally like to blare a podcast from my phone so hunters realize I am not Bambi.
The best of the best fall colors in Big Bear Lake are honestly all local secrets. I have so many trail sections that I have been hiking for years and yes, I have named them, but no one else in Big Bear knows where Buddy's Trail or the Manzanita Maze is. To truly find the best fall colors in Big Bear Lake, you have to know all these hidden little trail sections. Day hikers are just not going to be able to find their way to that hidden lookout point off of Delamar Mountain. I mean information like that is certainly not available on All Trails!
Jeeping under the fall colors
So how can I experience the best fall colors in Big Bear Lake? Definitely getting off the beaten path is the way to go. This morning my puppy and I took a Jeep off-roading adventure back to Holcomb Valley where the Gold Rush happened in Big Bear Lake in the late 1800's. You would never be able to tell there was once a prospering mining town here of over 10,000 prospectors, ranchers and ladies of the night! We Jeeped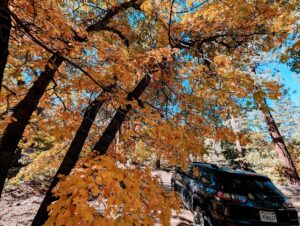 a big loop starting up Polique Canyon with a stop to check out the golden oaks on the Pacific Crest Trail near Delamar Mountain. Then we continued on to see the golden Big Bear bluegrass at the now dried-for-the-season Wilbur's Pond. It's so gorgeous in this area year-round. Holcomb Valley always reminds me of the alpine views of the eastern Sierra. On this Tuesday, my pup and I barely saw another vehicle as we explored the backroads of Holcomb Valley and made our way toward Coxey Road and Delamar Mountain. Don't feel comfortable doing this drive in your Tesla? Book a Jeep tour with the Hungry Mountaineer!
If you are looking for the best fall colors in Big Bear Lake, GO NOW! As I'm typing this next to a roaring fire with at least one Norwegian Forest Cat on my lap, the fall colors are at their peak in Big Bear Lake. Some of the best fall colors in Big Bear Lake are reachable by SUV and you don't necessarily have to hike to see them.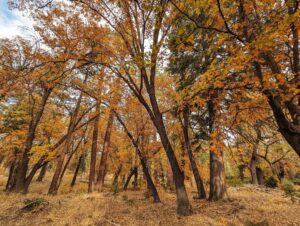 If you have a four-wheel-drive vehicle the drive up near the Butler's Peak Fire Road and back to Delamar Mountain is just so scenic with orange oak trees changing colors daily as I'm writing this. The trek up the old Snowslide Road is really scenic with great views of San Bernardino Peak and yes quite a bit of oranges and yellows from those oaks. I like to do a little hike at Snowslide then head up Delamar Mountain Road and hike amongst the oaks in that area.  These two areas are near Fawnskin. Another great photo op as you drive back down Rim Of The World Drive is to stop at Grout Creek for some golden-filled snaps.
Have a great autumn as you explore the wilderness of Big Bear Lake. Please always remember to Leave No Trace as you hike. Try your best to leave our wilderness as wild as you found it.