I'm a child of the eighties. I grew up with cassette tapes. My parents made me play outside. We had a rotary wall phone if anyone were to call. And don't even think of trying to make a long-distance call! I remember when we first got a huge monstrosity of a computer and then dial-up internet.
Once every few weeks, we traveled from our mountain home to eat cheap MSG-filled Chinese food at a buffet. (And I always ordered my favorite, Kung Pao Chicken) It's crazy to think now, in 2021, that we used to go to eat out at buffets! I grew up in a different world. I learned how to drive a stick shift at 16, something teenagers these days will never know.
I grew up in the world of George Bush, watching the invasion of Kuwait on the news and hearing about Saddam Hussein in Iraq. I never, ever in a million years dreamt when I voted for George W in the year 2,000 that one day I would visit this desert. And I never dreamt all those years ago, before iPhones, Instagram and the internet that this sandy desert would be a built-up place that travelers around the world would pay to visit. From a jet at twenty thousand feet the lights over the Persian Gulf were out of this world beautiful as we coasted over the Persian Gulf.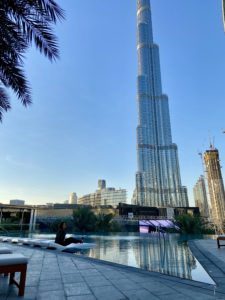 But first, before I could stare up at Burj Khalifa, in wonder at the tallest building in the world, we would have to travel for almost thirty hours to reach Dubai. (Thank God for this awesome sleep mask or I would have got no sleep at all) We would make our way through three extremely busy airports on two of the busiest travel days of the year. We would emerge our taste buds in Airport Chicken. We would survive a plane ride with no earplugs and an infant screaming in our ears for two hours straight and we would dream (while tragically awake) about what a goods night's sleep once was. But all that came along with worldwide travel during the Christmas holidays!
Thank God for Heathrow Airport and the scrumptious Cauliflower and Kale Pasty and mash I consumed at E.A.T It had to have been ten years since I had visited England and although we only breezed through Heathrow for an hour, the filling English hot food did not disappoint after twelve hours of airplane food, especially American Airline's signature dish; Airline Chicken.
"What kind of chicken is it?" I asked the friendly sky waiter.
It's "Airline Chicken," He told me, as he shoved a platter of pale slimy chicken towards me. I had to ponder, is that like Chicken Kyiv? It would appear that Airline Chicken is a certain kind of tasteless chicken that American Airlines brags about. It was almost as painful as their uncomfortable seats that had my back and legs screaming after the first hour of being crammed into Economy between LAX in Los Angeles and Heathrow.
By the time we landed in Dubai at two a.m. yes what I really wanted to do was go to bed, we had a foreign city to explore! Now if only anything was open besides Denny's. Visiting Dubai at three a.m? Denny's is a perfect place to hang out in their comfy booths until the rest of the city awakens. And their cappuccinos are not bad. I had twelve!
A sunrise in Dubai
I work in the horse racing industry over eight thousand miles to the east and it seems unreal that here we sit, at 3 a.m. Waiting for the sun to rise over Dubai, just twelve kilometers from Meydan Race Track where in a month or so a twenty-million dollar horse race, the richest race in the world for equine athletes will be run. I'm kicking myself that I don't have contact information for my Southern California colleagues who are now training a string of ponies at Meydan. Watching the world's fastest Thoroughbreds galloping at Meydan would have been a great way to waste away a few hours between flights in a country that isn't quite awake yet.
But unfortunately for us, Meydan was just too far out of the way and we just didn't have the time to check out some of the most expensive Thoroughbreds in the world on this quick tour through Dubai. We had to high tail it back to the airport to catch our next plane to Bangalore, India, where rumor has it they have some of the most delicious and spicy Chinese food in the whole wide world.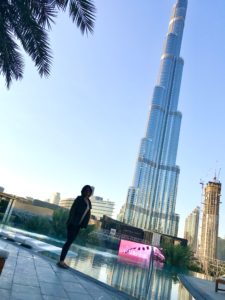 Did you know that Bangalore, India is well known for its tasty spicy Chinese food?
After our pit stop in Dubai, we were finally on our way to southern India. Anytime we visit Bangalore, we always look forward to the amazing spicy Indian food. But did you know that the Chinese food in India is out of this world good? I have never seen Kung Pao on the menu in any of our favorite Bangalore restaurants but all the spicy noodles and chili chicken dishes we have tried are out of this world good.
Now here is a chicken recipe so much tastier than Airline Chicken. I have been dreaming about Kung Pao Chicken for a while now since we have been on a keto diet, but how to make a deliciously spicy and keto-friendly Kung Pao anything? Well first of all using organic agave nectar to sweeten is a must. You can use Stevia if you prefer but I personally hate that bad aftertaste Stevia has.
The other issue with making any Chinese food while on keto, aside from the sugary sweet sauces is how do I thicken it without using carb-laden cornstarch? Ground flax seeds or organic arrowroot powder are your best shots. Arrowroot fiber is high in fiber too so an all-around winner. In this particular recipe, I used rice flour. If using ground flax seeds or arrowroot powder, use the same amount as listed for the rice flour.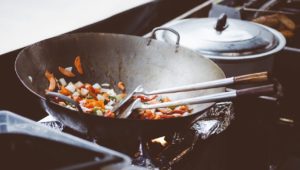 Keto Gluten Free Kung Pao Chicken
1 package frozen chicken thighs, defrosted, cut into bite-size pieces
2 teaspoons sesame oil
1/4 cup soy sauce
1 teaspoon grated garlic
2 teaspoons rice flour or 1 teaspoon organic arrowroot powder
1/2 teaspoon organic agave nectar
1/8 cup homemade chicken bone broth
3 tablespoons hot chili sauce
4 tablespoons of rice wine vinegar
3 teaspoon grated garlic
2 tablespoon grated ginger
2 Zucchinis, spiralized
2 cups chopped Napa cabbage
3-6 Chinese chili's, chopped
1/4 cup peanuts
Marinade the chicken pieces with 1/8 cup soy sauce, 1 teaspoon grated garlic and 1 teaspoon grated ginger for one hour in a ziplock bag. Shake in the rice flour and coat the chicken pieces. In one teaspoon of the sesame oil fry the zucchini pieces and the cabbage.
In a separate pan, heat 1 teaspoon of the sesame oil. Fry the chicken pieces. Add the garlic and ginger.
Mix the rest of the soy sauce, the garlic, ginger, chicken broth. Let boil five minutes until reduced. Add the agave nectar and the rice wine vinegar and simmer five more minutes. Stir in the hot chili sauce. Combine the veggies and the chicken on the stovetop. Stir in the hot chili sauce and cook five minutes. Garnish with hot chilis and peanuts.