I definitely snowshoe up mountains so that I can shove a dark chocolate cake in my face. Did you know that snowshoeing up a mountain burns over one thousand calories an hour? That sounds like a challenge to me! Luckily here in Big Bear Lake, we have two feet of slightly icy snow if you know where to look for it, perfect for a morning of snowshoeing followed by dark chocolate cake face cramming. If it's month eleven of a global pandemic I mean seriously, what else do I have to do but strap on the snowshoes and bake some delicious pastries?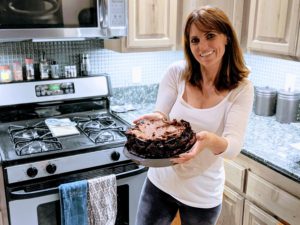 With Valentine's Day on the horizon, and fourteen miles snowshoed yesterday, I made this decadent blackberry cream-filled cake last weekend. (And also Valentine's Day cupcakes to hand out to some friends for Valentine's Day treats.)
The first time I made this dark chocolate cake and then attempted to shove it in my face it was a little bit of a delicious disaster. It may actually have been the ugliest cake ever. No joke, even this Norwegian Forest kitten was ashamed of my baking beauty skills. But what it lost in aesthetics this delicious dark chocolate pastry made up for in flavor. I'm not going to lie, I had to snowshoe a lot of miles to make up for how much dark chocolate cake I shoved at my face in the last week.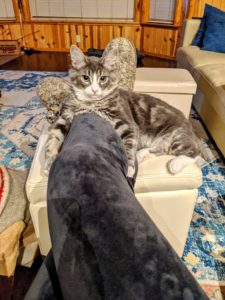 How to make the ugliest most delicious dark chocolate cake on earth
If you want to make this dark chocolate cake in a cupcake form you will want to fill the muffin tins halfway with batter, add a teaspoon of mascarpone cream and then more batter on top. Then they are ready to bake.
The key to baking a delicious dark chocolate cake is good quality dark chocolate. Sure, you could bake a cake with Hershey's cocoa powder but you could also bake a cake from a box. I may not be Betty Crocker but I'm not a Duncan Hikes boxed cake baker either. Baking a dense, moist delicious dark chocolate cake from scratch is your choice. It starts with high-quality ingredients, like organic butter, organic sugar and high-quality dark chocolate.
Dark Chocolate Cake

2 cups organic sugar
1 3/4 cups flour
3/4 cup baking chocolate
1 1/2 teaspoon baking soda
1 1/2 teaspoon baking powder
1 teaspoon salt
2 eggs
1 cup milk
1/2 cup organic butter, melted
2 teaspoons vanilla paste
1 cup very warm water
Preheat oven to 350. Grease and flour two baking round cake pans. In a saucepan, melt the butter and chocolate. Turn off the heat and mix in the organic sugar. Let cool for five minutes and add the vanilla paste. Let cool completely, another fifteen minutes and transfer to a stand-up mixer. Add in the eggs and the milk. Mix in the dry ingredients. Slowly add the hot water last.
Pour the dark chocolate cake batter into the greased baking pans (Or muffin tins) and bake for thirty minutes.
I made this as a slightly deconstructed cake as trying to bake a layer cake at over seven thousand feet is just a lesson in patience and led to a lot of wine drinking, a few tears and eventually shoving ugly cake in my hungry face. When choosing to bake a dark chocolate cake at altitude I recommend baking this as a sheet cake and serving it with a dollop of the mascarpone berry cream.
Mascarpone Blackberry Cream
1/2 cup mascarpone cream
2 egg yolks
1/2 cup fresh blackberries
4 teaspoons sugar
1 teaspoon vanilla paste
Heat the berries over high heat in a saucepan until reduced, five minutes. Add sugar and vanilla. Stir with the heat off. Drain off 3 teaspoons of the juice and set aside. Let cool just a bit. Mix in the egg yolks with the slightly warm berry juice. Heat juice slightly over a double boiler. Remove from heat. Mix in the rest of the berries. (Now cooled) Mix in the mascarpone cream.
Dark Chocolate Buttercream Frosting
1 cup Dark chocolate chips
1 cup butter
1 1/2 cups powdered sugar
1 teaspoon vanilla paste
1 teaspoon milk
Melt the butter and chocolate squares in a saucepan until the chocolate is just melted. Put in the freezer for twenty minutes. Let come back to room temperature and add to a stand-alone mixer. Beat for 2 minutes until thick. Add in the vanilla, milk and powdered sugar. Spread this delicious butter cream frosting on your dark chocolate cake.