The afternoon our train pulled into the Monte Marc station felt so safe.
We disembarked and made our way into the warm welcoming arms of Paris; crepes, café cremes and stinky cheeses. As my boots touched the streets of Paris and I looked for the piles of dog poo I had read about as we planned this glorious vacation, my first trip abroad, each step I felt so at home, and yes, safe in this nation that loved cheese of the goat the same way I did. This was my first real trip out of the United States (Sun and booze soaked trips to Baja don't count) and with every step, even as we searched out our hotel near Le Sexadrome (Who knew we booked in the Marquis!) and us very conservative girls were offered hash from a guy on a moped we still felt so safe.
This was 2005. As the images of blood and gore and sadness and the heart-break flash on my television screen I am heart-broken for the citizens of this glorious gorgeous city.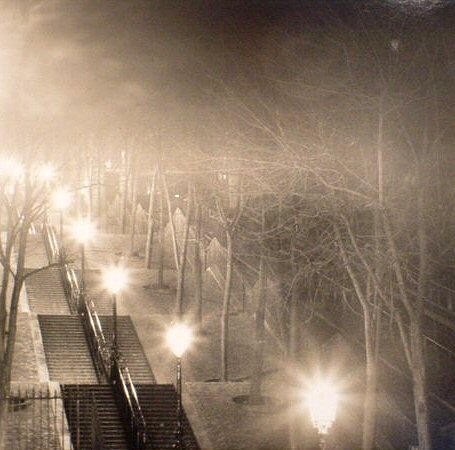 Just a week ago I saw these images flashing across my iPhone as I scrolled the morning news.
And that was the latest image in my head of Paris a week ago as a monstrous fog covered Europe. I was jealous. I love fog.
This evening, I can't keep the images of a different Paris out of my head. Our good friends just holidayed in this, one of the most romantic cities in the world just a few short weeks ago and it seems incomprendable, as the violence stretches in front of us that our friends were just there a few weeks ago.
Years ago I felt while traveling abroad for the first time what a safe city this was. Fuck, I even took pictures in the tube with my camera, dumb American I was.
My heart is aching for the Parisians tonight as my eyes are glued to the screen of Fox News. My ears are attuned to Shep Smith as he repeats words I can't even comprehend.