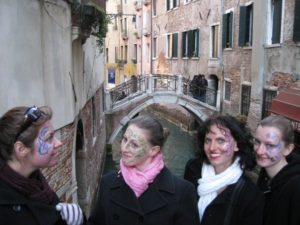 I miss the streets of Paris and roaming the narrow alleyways of Venice. I feel so blessed for the days in my twenties when I was able to sneak into a café in Italy and try a cappuccino and a zeppole filled with marsala cream. I can still remember how sweet the donut like pastry smelled as I took that first bite at seven a.m. as my travel mates slept away their Italian hangovers from to much delicious prosecco. I have vague memories of wandering into the neighborhood market (So American like, not bringing my own shopping bag! Shame!) and buying arm fulls of delicious Italian espresso to bring back home as gifts (I literally had to carry it back to the hotel, my arms full as I had not brought my own shopping bag and could not haggle my way into asking for one with my feeble Spanish and no Italian besides "buon giorno" That was pretty much the only phrase I could throw out the whole time we were in Italy besides "chow" and "scusi" and "grazie"
Watching the news this morning as the day is breaking in France and the world is a mess with tragedy I'm heart broken for the people of France of course.  I'm also very sad that it will be decades, if ever before I make my way through the carnevale crowded streets of Venice again, shouting "Scusi" at the top of my lungs while leading a group of American travelers towards our water taxi. Europe is just such an unsafe place with all the terrorism over in the EU. It breaks my heart and I worry for my friends who live and are traveling abroad.
I hope and pray that some day the world can be a safe place for travelers to enjoy their wanderlust in peace again.