Today the ocean tried to murder me but I did not give in!
I don't care if the ocean tried to make me her bitch today; I still love Manly!
Manly Beach is a cute little subdivision of Sydney, Australia. You take a ferry ride from Sydney Harbor about twenty minutes across the bay to the cute little hamlet of Manly Beach.
As soon as we disembarked the boat I was in a great mood with the hot Australian sun shining on my face ( and it wasn't just because I made it twenty minutes on a boat without puking!) The day before I had learned how to swim in our hotels pool and as soon as we got off the boat I felt like a little kid. I was dying to jump back in the water!
The ferry let us off right in Manly Harbor and there were no waves here so I found it the perfect place to practice my pathetic doggie paddle.
I seriously had such an awesome time swimming around for an hour or so on the warm afternoon. I had to admit the water was freezing after being on tropical Fitzroy Island for days though with sea water that felt like a Jacuzzi!
After an hour or so of swimming and enjoying a continent where it was 85 degrees in January we were getting hungry and decided that besides some food, a margarita would really hit the spot.
Looking around us, there was one restaurant with seating overlooking the harbor and beach. I asked the friendly bartender if they knew how to make a margarita ( after getting a cup of triple sec on ice at the Cairns airport we learned that Australia is not Baja. Some people in this country do not know what a margarita is) and was told that yes they make great margaritas.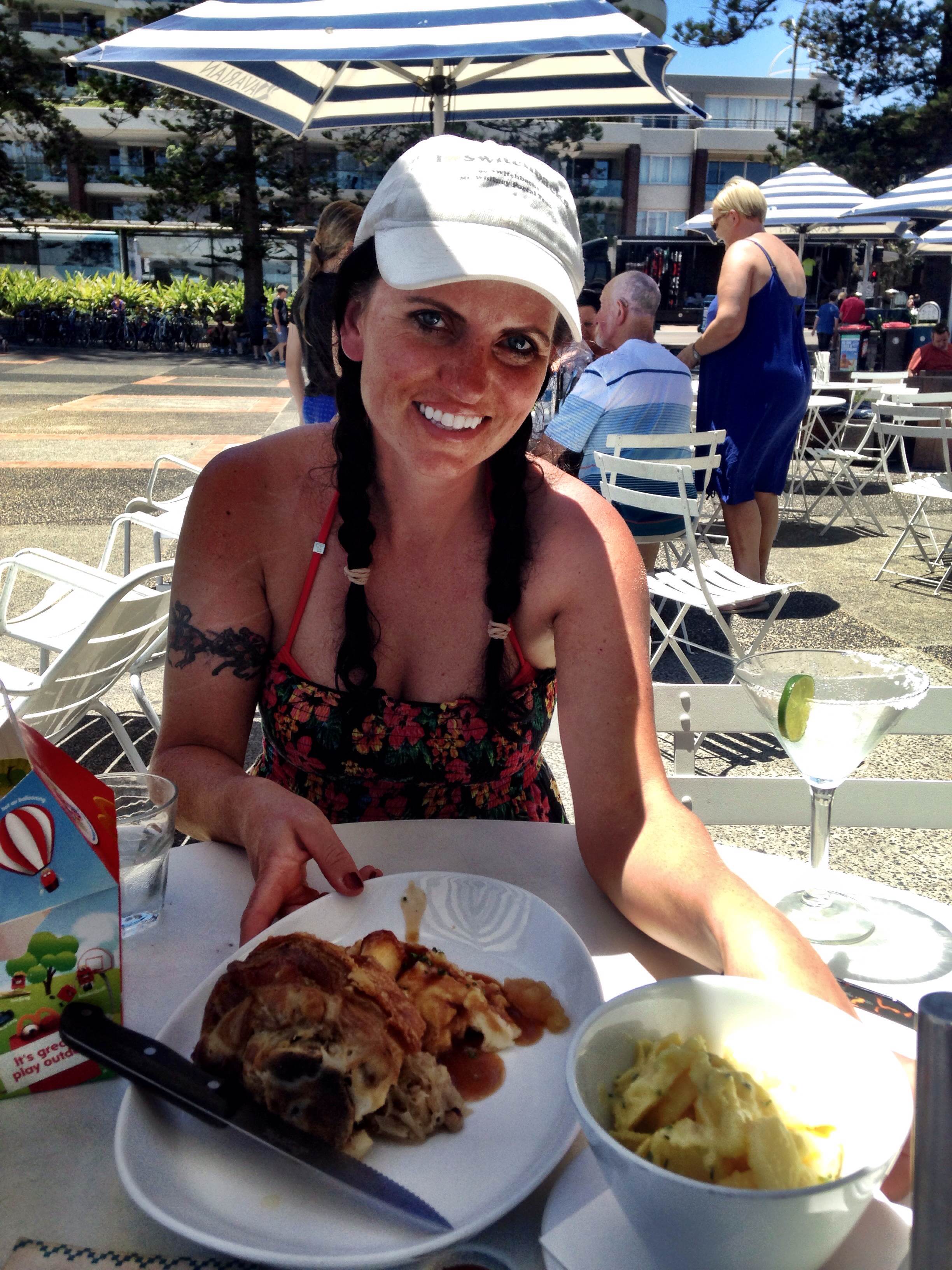 That is how we ended up knowing down on some delicious pork knuckles at a German restaurant in Australia on a summers day. We enjoyed our margaritas on the veranda as the German rock music played and we ate delicious German style potato salad and fried pork goodness.
The Bavarian Bier Cafe was a great lunch time stop and the best part was it was so close to the beach that I could jump in the ocean to cool off in between margarita refills!
After a few drinks, swims and pork knuckles we decided to explore Manly on some rented bikes. (Biking and drinking! Sounds like an excellent plan!) We rode the rented bikes through the shopping center and over to where the waves were crashing against the sand on the other side of Manly Beach. At this point the margaritas had filled me with courage and I felt like I could do anything! I am seriously thinking about getting my own bike, maybe an electric one? I'll have to check out the Glow Worm Electric Bikes website to see what they may have for me!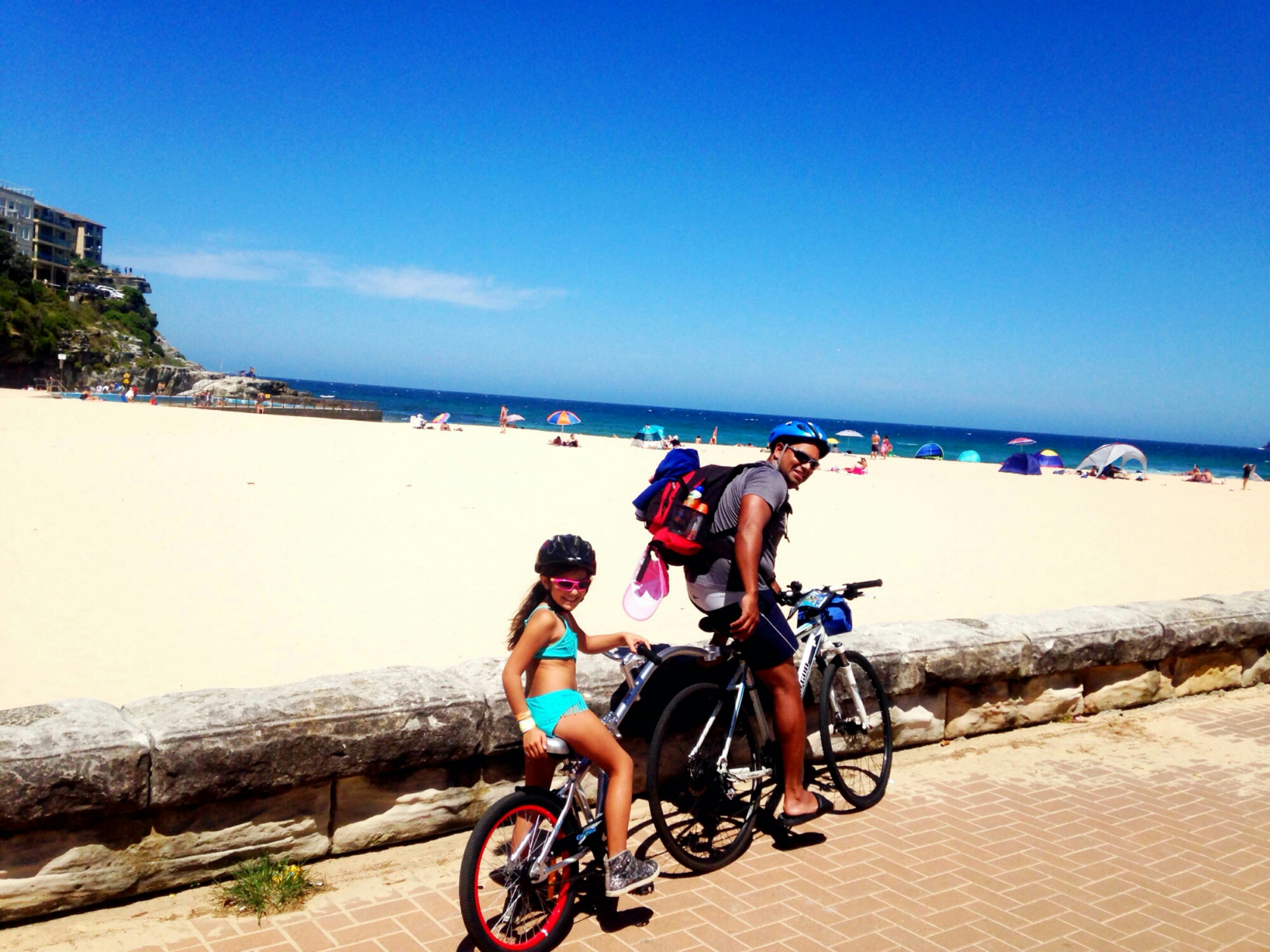 Ride a random bike drunk?
Sure!
Go body surfing?
Why not! I mean, yesterday I learned how to swim! I strapped some goggles over my eyes and ran towards the Australian surf…
Next thing I knew I was doing a handstand with my face in the white swirling sea-foam as the Coral Sea tried to make me it's bitch.
I came up spitting out salt water and coughing and almost throwing up salty sea-foam like an old sailor but I would live to fight another day!
Even as I stood there looking like a drowned rat, still coughing and spitting up seaweed my boyfriend was already grabbing my hand to tug me back into the oceans dangerous lair.
I told myself not to be afraid of the ocean
" you can almost swim now, kind of" I told myself I also asked myself if it was margarita time, again, yet.