We all know that American traveler from Texas, you know the one, with the long blonde extensions and the Texas tramp stamp on her booty, in those low-slung True Religion jeans. She probably just cut in line with her travel companions at Costa Coffee and then in a demanding twangy Fort Worth accent ordered a diabetes-filled frappe latte. Yes, I have been the one traveling with these kinds of Americans before and witnessed the glares and eye rolls from other world travelers. Well, I can't help Americans mind their manners when overseas on holidays, but what I can do is give some great advice on how to travel a bit more sustainable, a bit more conservatively, and a hell of a lot less annoyingly, and without hauling two or three suitcases through an international airport all while sporting a MAGA hat, obviously.
Make America Great Another Day
Some of us here in the good old U.S. of A most certainly love our forty-fifth president more than others. As an American, my friends, family and neighbors do feel at home in our baseball caps singing our love of Donald Trump from the rooftops, which is fine in the heartland of the United States. I just don't want to be that 'Merican traveling in velour jogging pants and a MAGA trucker hat. Trucker hats, baseball caps and Make America Great Again hats kind of belong in the United States and believe me, you will get some stares wearing your MAGA hat through the Dubai International Airport. The same thing can be said with shorty shorts. If they don't cover your bum, ladies, leave the True Religion bootie shorts at home, especially if traveling through conservative areas like Kerala, India or Israel. Yes, even if you buy the most conservative bathing suit possible, people will point and glare at you in the pool. I know this from personal experience.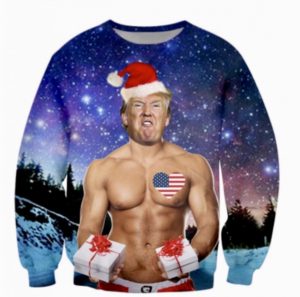 The holiday season 2019 finds us traveling from Los Angles to Dubai to sweaty Bangalore to freezing cold London to not so freezing Rome and back to icicles in London again. And we are attempting to travel light. Yes, that means there is no room in my one suitcase for my MAGA hat, darn it. I barely have room for a wardrobe to get me from desert to humidity to freezing cold winter to the Amalfi Coast in January. And I need to pack a winter coat, swimwear and something to hike in. In one suitcase. It sounds like a challenge, right?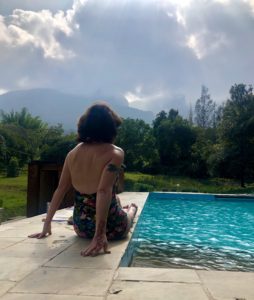 Here is the issue with our particular overseas trip. This winter we are going to be on holiday in the summertime, but really Christmas, in Bangalore, India. We then make our way south to the mountain jungles in the state of Tamil Nadu. We are then on to tropical Goa for five days. After that, we are stopping in freezing cold London and slightly not freezing in January, Rome. So I need to pack one carryon suitcase full of gently used recycled clothing for three completely different climates, ranging from ninety degrees Fahrenheit to twenty degrees Fahrenheit. See why packing for this trip is just a bit complicated?
It kills me to not be able to pack my favorite Minnetonka gently used boots for London and Rome. They are just too big and bulky and take up way to much suitcase space on this trip. Instead, I packed my compact lace-up booties. I figure I can wear these comfy booties walking all over Rome, plus, I don't care if I step in cow dung in them on the streets of Bangalore.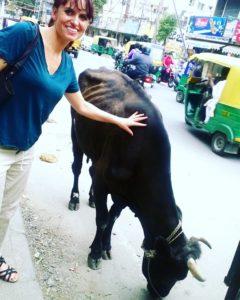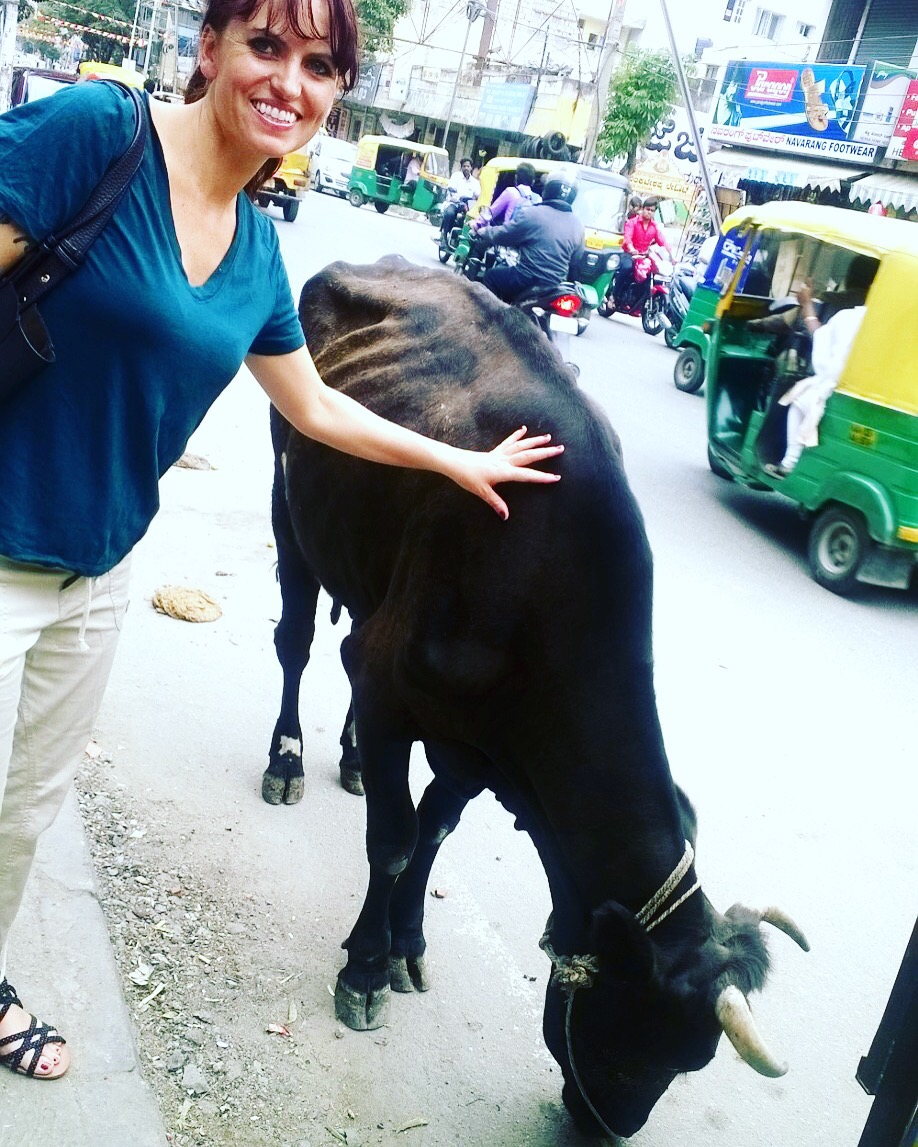 My favorite short boots pair well with shorts or skirts for Europe and I can even hike in them in the jungles of Tamil Nadu. This all sounded like a fantastic plan, until on the first hike in the blue mountains of the Nilgiris when I fell straight into a muddy creek. That was hike number one for the day and I had to go back to our cottage, wash my boots out in the river, then wear wet boots for hike number two on the morning. By eleven a.m. as I dodged cow patties on the jungle paths, I wondered how these boots were going to make it with me to Europe. The glue that holds the soles of these boots together had basically evaporated. I still had a week of vacation hikes left to go!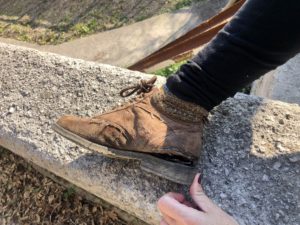 The perfect coat for travel
Flashback to November, a few months before our big trip, I was at my favorite thrift store in Los Angeles shopping for items for my winter overseas wardrobe. I needed a long peacoat for our London part of the trip (I wanted one just like the one I wore in London fifteen years ago, and sold on eBay when I was in my twenties) Which apparently is not a coat made anymore. Instead, I found a drug smuggling coat at my favorite thrift store. Why is it so complicated to find a coat that never had drugs smuggled in it? Is this a problem only I have?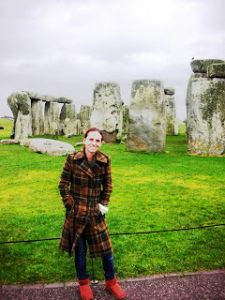 The problem with vintage and thrift shopping is it's hard to find things like jackets that fit perfectly. But after a month of trolling thrift shops, I found the perfect Poetry plaid peacoat! Until I attempted to try it on and the inside was completely torn out! Now, Poetry is a trendy brand, I believe they carry their products at Nordstrom, why would someone do this to such an expensive coat? I was positive this coat had been used for smuggling drugs. The coat was absolutely perfect on the outside but I started to get paranoid as I waited in line with it in my arms; A sweet find for six bucks and my mom could sew up the lining no problem! But what if the coat smelled like drugs? I mean, I was planning to wear it when we flew out of LAX December eighteenth. (I freeze at airports even in warm destinations) What if my recycled clothing coat smelled like the drugs that had been smuggled (Maybe) in it still? Did I really want to take any chances of missing an international flight because I was wearing a cocaine crusted coat? I thought about calling a dry cleaner to see if they could guarantee to get the smell of possibly cocaine or heroin out of fabric but then decided that most dry cleaners may think I sound a bit wacky. All this over a six dollar coat!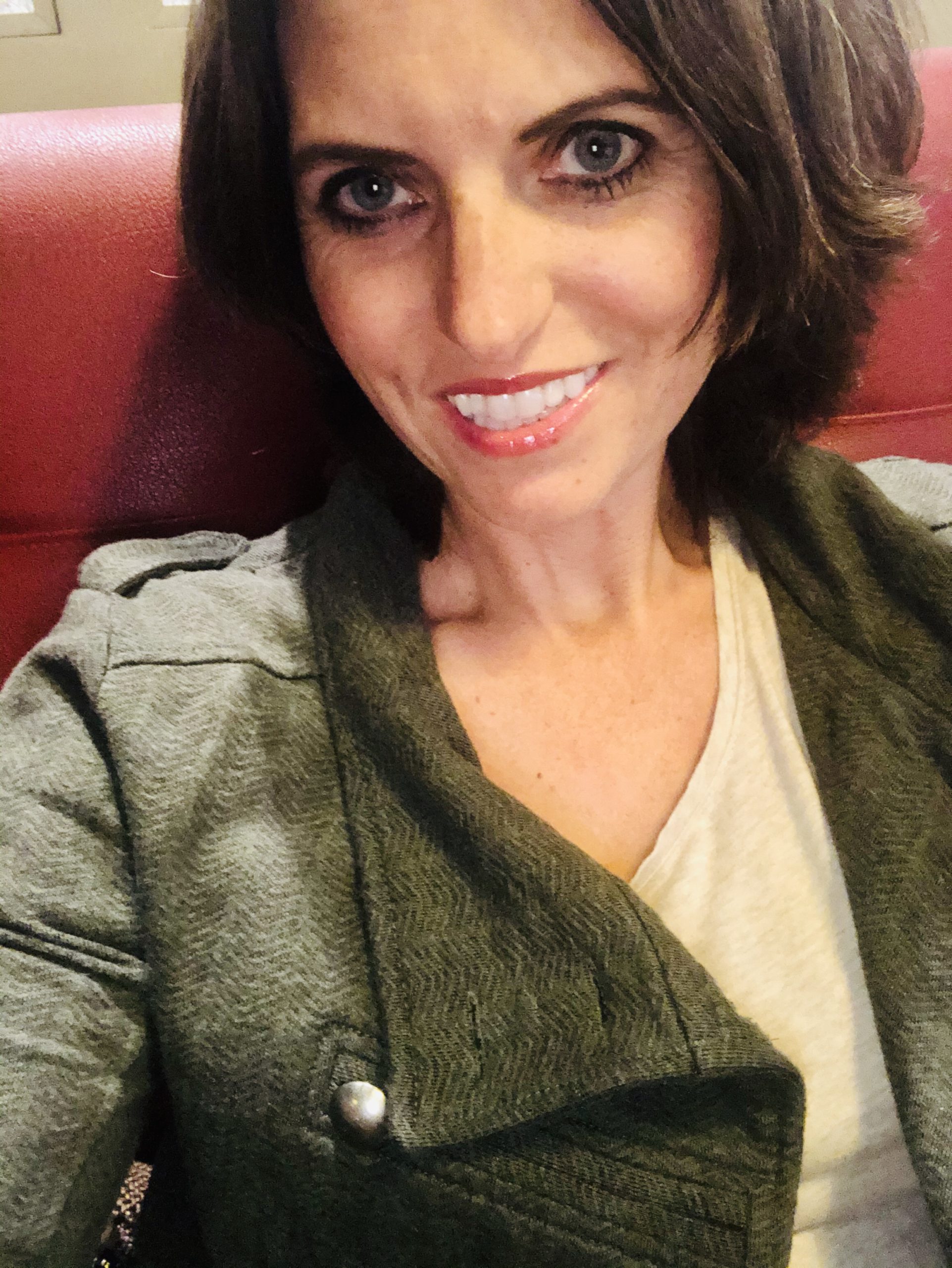 How to pack smart for all climates
It's tough to be prepared to travel to a lot of different climates where there might be varying weather. I hate to be that traveler, struggling through a crowded international terminal with more than one heavy suitcase and a heavy carry on loaded with my tablet, water and a book, weighing me down. Ugh, no thank you. Smart lightweight packing is the way to go!
Check the extended forecast before you start to prep for your trip. Look at what the weather is usually like at your destination the week you will be there.
Pack pieces that go together for the entire trip; Boots you can wear in multiple destinations, tank tops you can layer under sweaters.
If packing for hikes and treks, make sure your footwear can be worn on other occasions as well.
Obviously comfortable shoes you can walk for miles in are a must.
Pack only one of everything, no multiples. You could go through the likes of Stateside clothing to find the latest styles of casual clothing.
If you pack a neck brace for flights make sure it is deflatable
You only need one visor, one piece of swimwear, one scarf, one winter hat, etc.
If packing boots, make sure they are as small as possible. Stick socks in them to save room when packing.
Bring a travel-size sunscreen, and travel size of all toiletries. Bigger bottles take up too much room. If you have any samples of shampoos and beauty products this is a great time to use them.
If you bring an old school book, as I insist on, make sure it's one you want to donate when you are done reading instead of packing to take back home. This really saves on weight in your suitcase when you are traveling back home with souvenirs.
Travel safe, travel smart
One thing I really think about when traveling internationally is how to not get mugged or having my wallet stolen while traveling in a foreign country. I had friends recently traveling through Greece. They put their wallet in a backpack and were pickpocketed in just an hour. It is no fun to spend an entire day of your holiday in line at an embassy trying to get a temporary passport. Don't be that guy.
When traveling abroad, if you bring a backpack, don't put anything in it, you don't want to be stolen. Cross body bags are a way safer option when traveling to areas with crowded subways like Rome and other high theft areas in Italy. I came across this scarf where you can hide your passport in your scarf. I'm not sure how I feel about this. Is this safe? Is it a safe place to keep your passport around your neck? I mean a guess a pickpocket would have to basically choke you or hug you to lift your passport? Apparently, these infinity scarves that you can hide your passport or iPhone in are very trendy, at least that is what Amazon tells me.
When I am looking for a handbag for safety travel overseas I looked at a lot of bags at second-hand stores. I like a bag that has a lot of interior zippers. This way, I figure, a thief has to get through multiple layers to get to a passport or wallet. I also like a handbag that has to rest just under my hand so I can keep my hand on my bag while on subways or in crowded markets. Obviously buying a bag with a zipper is a must.
After shopping at many different Goodwill Donation Centers, I came across this grey wool Sherpani handbag that matches my pea coat. This shoulder bag has lots of zipped compartments, has a strong zipper and fits just under my arm; Perfect! Let's not get mugged!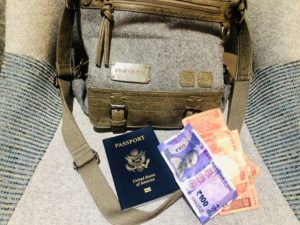 All these sustainable clothing travel tips may sound intense but when on holiday in a deeply Muslim country like the United Arab Emirates it's better to not be that traveler. As it was on our recent trip through Dubai, we were stared at from the moment we departed our aircraft. Imagine if I hadn't left the shorty shorts and MAGA cap at home in California!